Cutoff Wheels for Metallurgical Testing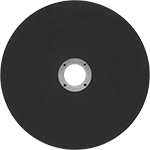 Side View
Create the nearly polished finish required for testing metal with these non-reinforced aluminum oxide wheels. They are not for use on hand-held saws.
Warning: Use wheels that have a greater rpm rating than the no-load rpm of your tool.
For technical drawings and 3-D models, click on a part number.
Thick.

For
Hardness
Arbor
Hole
Size

Max.




Speed,


rpm
Type
Shape
Abrasive
Material
For
Use
On
Grit
Each
0.063"
Rockwell C30-C40
1

1/4

"
4,025
Type 1
Straight
Aluminum Oxide
Iron, Stainless Steel, Steel
90
0000000
000000
0.063"
Rockwell C40-C55
1

1/4

"
4,025
Type 1
Straight
Aluminum Oxide
Iron, Stainless Steel, Steel
100
0000000
00000
0.063"
Rockwell C55-C68
1

1/4

"
4,025
Type 1
Straight
Aluminum Oxide
Stainless Steel, Steel
100
0000000
00000
0.063"
Rockwell C30-C40
1

1/4

"
3,500
Type 1
Straight
Aluminum Oxide
Iron, Stainless Steel, Steel
90
0000000
00000
0.063"
Rockwell C40-C55
1

1/4

"
3,500
Type 1
Straight
Aluminum Oxide
Iron, Stainless Steel, Steel
100
0000000
00000
0.063"
Rockwell C55-C68
1

1/4

"
3,500
Type 1
Straight
Aluminum Oxide
Stainless Steel, Steel
100
0000000
00000
0.078"
Rockwell C30-C40
1

1/4

"
3,820
Type 1
Straight
Aluminum Oxide
Iron, Stainless Steel, Steel
80
0000000
00000
0.078"
Rockwell C40-C55
1

1/4

"
3,820
Type 1
Straight
Aluminum Oxide
Iron, Stainless Steel, Steel
90
0000000
00000
0.078"
Rockwell C55-C68
1

1/4

"
3,820
Type 1
Straight
Aluminum Oxide
Stainless Steel, Steel
90
0000000
00000
0.098"
Rockwell C30-C40
1

1/4

"
2,770
Type 1
Straight
Aluminum Oxide
Iron, Stainless Steel, Steel
70
0000000
00000
0.098"
Rockwell C40-C55
1

1/4

"
2,770
Type 1
Straight
Aluminum Oxide
Iron, Stainless Steel, Steel
80
0000000
00000
0.098"
Rockwell C55-C68
1

1/4

"
2,770
Type 1
Straight
Aluminum Oxide
Stainless Steel, Steel
80
0000000
00000