How to

Identify and Measure Fittings
Pipe size is an industry designation, not the actual size. View information about how to measure threaded and unthreaded pipe and pipe fittings.
Schrader
Quick-Disconnect

Hose Couplings for Air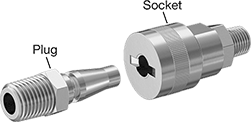 A complete coupling consists of a plug and a socket (both sold separately) that connect and disconnect quickly. Use them if you need frequent access to a line. All Schrader plugs are compatible with any of the Schrader sockets of the same coupling size, regardless of the pipe size or barbed hose ID.
Plugs are also known as nipples.
Sockets have a shut-off valve that stops the flow when the coupling is separated, so air won't leak from the line. They are push-to-connect style. To connect, push the plug into the socket until you hear a click. To disconnect, twist the sleeve on the socket and pull out the plug. This twist-to-disconnect feature reduces the chance of accidental disconnection.
Plugs and sockets with a barbed end insert into plastic or rubber hose and secure with a clamp or a crimp-on hose ferrule.
Zinc-plated steel is stronger and more durable than other metals. It has fair corrosion resistance, so it should be used primarily in dry environments. Aluminum is lighter in weight than other metals and has good corrosion resistance. 303 stainless steel has very good corrosion resistance, so it's the best choice for high-humidity environments.
Note: To ensure a correct fit, make sure that the plug and socket have the same coupling size.
For technical drawings and 3-D models, click on a part number.