Counterbalancing Positioning Arms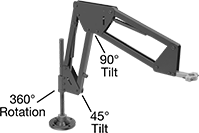 A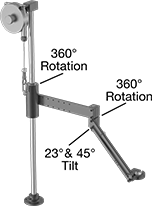 B
Reduce hand fatigue in continuous fastening and grinding applications. Arms are counterbalanced to support the full weight of the tool as well as absorb torque. Mount the base to a flat surface and secure the object you want to position to the attaching end.
To see the product in motion, click on a part number.
For technical drawings and 3-D models, click on a part number.
Min.

Max.

Min.

Max.

Material
Color

Mount.


Fasteners
Included

Dia.

No.

of


Mount.


Holes

Mount.


Hole


Dia.

Attaching
End
Mount Type

Max.


Opening


Dia.

Each

10

ft.-lbs.

Max.

Tool Torque

A
19"
37"
1
3
Powder-Coated Aluminum
Black
No
5

1/2

"
4

13/32

"
Clamp
2"
00000000
0000000
A
19"
37"
4
7
Powder-Coated Aluminum
Black
No
5

1/2

"
4

13/32

"
Clamp
2"
00000000
000000
A
19"
37"
8
10
Powder-Coated Aluminum
Black
No
5

1/2

"
4

13/32

"
Clamp
2"
00000000
000000
B
12.333"
21"
1.1
2.6
Powder-Coated Aluminum
Red
No
3"
3

3/8

"
Clamp
1.5"
00000000
00000000

20

ft.-lbs.

Max.

Tool Torque

B
12

7/8

"
21

1/2

"
2.2
4.8
Powder-Coated Aluminum
Red
No
3"
3

3/8

"
Clamp
2"
00000000
00000000