EMI/RFI-Shielding

Enclosure Vents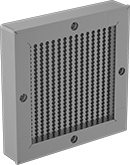 These conductive aluminum screens block electromagnetic interference (EMI) and radio frequency interference (RFI) to prevent electrical problems such as radio static and faulty signals. Made of mesh, they let air flow through, so the pressure in your enclosure stays constant as temperatures fluctuate.
Screw through the vent frame to mount on the surface of your enclosure. A shielded foam gasket fills the gap between the enclosure and the vent.
Also known as attenuation, interference reduction at frequency measures how much interference is blocked. These vents have high attenuation and work for most applications.
For technical drawings and 3-D models, click on a part number.
Width
Height
Width
Height
Depth
Interference
Reduction
@ Frequency
Frame
Material
Screen
Material
Mounting
Fasteners
Included
Number
of
Diameter
Each
2"
2"
3"
3"

3/4

"
65 dB @ 1 GHz
Chromate-Coated Aluminum
Chromate-Coated Aluminum
No
4

1/4

"
0000000
000000
3"
3"
4"
4"

3/4

"
65 dB @ 1 GHz
Chromate-Coated Aluminum
Chromate-Coated Aluminum
No
4

1/4

"
0000000
00000
4"
4"
5"
5"

3/4

"
65 dB @ 1 GHz
Chromate-Coated Aluminum
Chromate-Coated Aluminum
No
6

1/4

"
0000000
00000
5"
5"
6"
6"

3/4

"
65 dB @ 1 GHz
Chromate-Coated Aluminum
Chromate-Coated Aluminum
No
8

1/4

"
0000000
000000