Screw Conveyors
Add on to an existing screw conveyor or keep it running like new.
Screws are designed for right-hand operation. Screws with a thicker edge offer longer service life for abrasive materials.
Discharge spouts can be welded to a cutout in the trough.
Coupling shafts connect two screws together. End shafts support the end conveyor section. Coupling bolts connect shafts to the screw.
End-shaft seals prevent material contamination and discharge.
End-shaft bearings support the end of the shaft and help the screw rotate.
Bearing hangers mount inside the trough.
Hardwood bearings are oil impregnated and are often used in agricultural applications. UHMW bearings work well with chemicals and wet environments. Iron bearings are oil impregnated and offer longer life for abrasive materials. Bronze bearings are oil impregnated.
For technical drawings and 3-D models, click on a part number.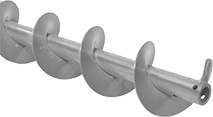 Screw


Dia.

Lg.

Edge


Thick.

Shaft


Dia.

Pitch
Each

Steel

6"
9'10"

1/16

"
1

1/2

"
6"
0000000
0000000
9"
9'10"

3/16

"
1

1/2

"
9"
0000000
000000
9"
9'10"

3/16

"
2"
9"
0000000
000000
12"
11'10"

3/16

"
2"
12"
0000000
000000
12"
11'9"

3/16

"
2

7/16

"
12"
0000000
000000
14"
11'9"

1/8

"
2

7/16

"
14"
0000000
000000

Stainless Steel

6"
9'10"
__
1

1/2

"
6"
00000000
00000000
9"
9'10"
__
1

1/2

"
9"
00000000
00000000
12"
11'10"
__
2"
12"
00000000
00000000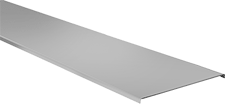 For Screw


Dia.

Lg.

For Shaft


Dia.

Includes
Each

Steel

6"
10'
__
10 Cover Clamps, Rubber Seal
0000000
0000000
9"
10'
__
10 Cover Clamps, Rubber Seal
0000000
000000
12"
12'
__
10 Cover Clamps, Rubber Seal
0000000
000000
14"
12'
__
10 Cover Clamps, Rubber Seal
0000000
000000

Stainless Steel

9"
10'
2"
__
00000000
000000
12"
12'
2"
__
00000000
000000

For Screw


Dia.

For Shaft


Dia.

Max.




Temp.,

°F

Each

Hardwood

6", 9"
1

1/2

"
__
0000000
000000
9", 12"
2"
__
0000000
00000
12", 14"
2

7/16

"
__
0000000
00000

UHMW Polyethylene Plastic

(FDA

Compliant 21 CFR

177.1520)

6", 9"
1

1/2

"
__
0000000
00000
9", 12"
2"
__
0000000
00000
12", 14"
2

7/16

"
__
0000000
00000

Iron

6", 9"
1

1/2

"
__
0000000
00000
9", 12"
2"
__
0000000
00000
12", 14"
2

7/16

"
__
0000000
00000

Bronze

6", 9"
1

1/2

"
850°
0000000
000000
9", 12"
2"
850°
0000000
000000