About Paint and Protective Coatings
Clean-Away

Coatings for Metal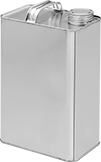 Protect metal parts from corrosion. Also known as rust-inhibiting film, these coatings can be removed with a simple degreaser or mineral spirits.
Wax coatings meet MIL-C-16173 for corrosion-resistant compounds that dry to thin, easily removable films. Grade 2 coatings dry to a slightly tacky, self-healing film that lubricates as it protects.
Coatings in a jug can be dipped, brushed, or sprayed.
Coatings that cannot be sold to the regions listed are restricted by product labeling requirements or exceed local regulatory limits on VOCs (volatile organic compounds).
Mfr.

Mfr.


Model


No.

Size,




gal.

Net


Weight,




oz.

Indoor,




mo.

Outdoor,




mo.

Touch

Overall,




hrs.

Approx.


Coverage
@

Thick.

Max.




Temp.,




°F

Application


Temp.




Range,

°F

Specifications
Met
For
Use
On
Color
Cannot
Be
Sold To

1-11

12-Up

Solvent Based Wax Coatings

LPS
LPS #3
__
11
24
6
3.5 hrs.
24
38 sq. ft. @ 1 mil
175°
0° to 70°
MIL-C-16173 Grade 2
Steel, Iron
Transparent Yellow
Los Angeles County, CA; Orange County, CA; Outside United States; Riverside County, CA; San Bernardino County, CA
0000000
000000
000000
LPS
LPS #3
1
__
24
6
3.5 hrs.
24
380 sq. ft. @ 1 mil
175°
0° to 70°
MIL-C-16173 Grade 2
Steel, Iron
Transparent Yellow
Los Angeles County, CA; Orange County, CA; Outside United States; Riverside County, CA; San Bernardino County, CA
00000000
000000
00