High-Tension

Seals for Plastic Strapping

Serrated
Crimp these seals with a sealer to hold strapping in place after pulling it tight with a tensioner.
Serrated seals have teeth for a stronger hold than smooth seals.
Note: To match with compatible strapping, choose items with the same strapping material and width or material and strapping group number.
Sealers for Plastic Strapping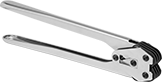 For Strapping
Group

No.

For Seal
Type
For Strapping


Wd.

For Strapping


Thick.

For Use With
Handle


Lg.

Each
14
Serrated

1/2

"
0.015"-0.040"
Smooth Polyester Strapping
17"
00000000
0000000
15, 16
Serrated

5/8

"
0.020"-0.050"
Smooth Polyester Strapping
17"
00000000
000000
17
Serrated

3/4

"
0.020"-0.050"
Smooth Polyester Strapping
17"
00000000
000000