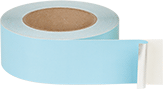 Blue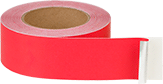 Red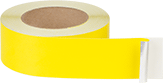 Yellow
A layer of foil inside this tape will set off metal detectors if it falls into your food processing line, alerting you to the contamination. Write on the paper surface to label items around your facility—it's brightly colored to help you identify tools, packaging, or other equipment. Tough enough for repairs, this tape has strong adhesive that will stick to smooth or rough surfaces. It also helps you comply with Hazard Analysis and Critical Control Point (HACCP) programs.
This tape has FDA-compliant adhesive, so it is safe for use with food in packaging, transportation, or storage applications.
Dissolvable Repair Tape for Pipes

Create dams in pipes before welding, then wash away with water or steam. This tape leaves no residue behind.