Seismic Swivel Leveling Mounts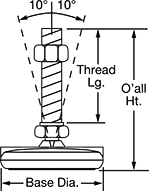 Adjust the swivels on these mounts to level equipment on uneven surfaces for protection during earthquakes. All meet NZS 4219, a New Zealand standard for seismic-rated components. Use the threaded stud to raise equipment for cleaning and inspection, and the mounting holes to bolt equipment down and keep it in place. A rubber cushion helps reduce vibration to cut down on noise, protect floors, and extend machine life. Made of 304 stainless steel, these leveling mounts won't corrode from frequent washdowns and harsh cleaners.
For technical drawings and 3-D models, click on a part number.
Thread
Size

Thread


Pitch,


mm
Thread
Length
Load
Pull
Base
Diameter
Overall
Height
Temperature


Range,




°F

Mounting
Fasteners
Included
Number
of
Diameter

Center-to-Center


Length
Specifications
Met
Each

304 Stainless Steel with Rubber Cushion

M30

3.5
7

1/8

"
13,480
6,290
5

7/8

"
11

3/8

"
0° to 230°
No
3

17/32

"
4

3/32

"
NZS 4219
00000000
0000000
M30

3.5
7

1/8

"
13,480
8,540
7

7/8

"
11

3/8

"
0° to 230°
No
4

5/8

"
4

15/32

"
NZS 4219
00000000
000000
M36

4
7

1/8

"
21,580
6,290
5

7/8

"
11

3/8

"
0° to 230°
No
3

17/32

"
4

3/32

"
NZS 4219
00000000
000000
M36

4
7

1/8

"
21,580
8,540
7

7/8

"
11

3/8

"
0° to 230°
No
4

5/8

"
4

15/32

"
NZS 4219
00000000
000000
M42

4.5
7

5/16

"
31,470
6,290
5

7/8

"
11

3/4

"
0° to 230°
No
3

17/32

"
4

3/32

"
NZS 4219
00000000
000000
M42

4.5
7

5/16

"
31,470
8,540
7

7/8

"
11

3/4

"
0° to 230°
No
4

5/8

"
4

15/32

"
NZS 4219
00000000
000000
M48

5
9

1/8

"
31,470
6,290
5

7/8

"
13

1/2

"
0° to 230°
No
3

17/32

"
4

3/32

"
NZS 4219
00000000
000000
M48

5
9

1/8

"
31,470
8,540
7

7/8

"
13

1/2

"
0° to 230°
No
4

5/8

"
4

15/32

"
NZS 4219
00000000
00000000