Drilling Screw Assortments for Metal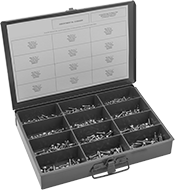 Drilling screws save you time and effort by drilling their own holes and fastening metal up to 0.500" thick in a single operation. Length is measured from under the head.
Corrosion-resistant-coated steel screws are more corrosion resistant than zinc-plated screws and minimize reactions between dissimilar metals.
Zinc-plated steel screws resist corrosion in wet environments.
410 stainless steel screws are wear resistant, magnetic, and mildly chemical resistant.
Number
of Pieces
Sizes Included
Container
Type
Each

Corrosion-Resistant-Coated

Steel

525
No. 8 to

1/4

" in

1/2

" to 1

1/2

" Lengths
Metal Box
000000000
0000000
525
No. 8 to

1/4

" in

1/2

" to 1

1/2

" Lengths
Metal Box
000000000
000000

410 Stainless Steel

525
No. 8 to

1/4

" in

1/2

" to 1

1/2

" Lengths
Metal Box
000000000
000000