Service Entrance Weatherheads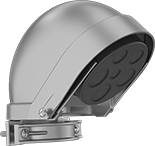 Create a connection point to route overhead service wire and cable from utility poles to electrical meters, bringing power to buildings. Protected by a rounded hood and plastic insulators in unused routing holes, these weatherheads meet NEMA 3R for protection from falling rain, sleet, snow, and dirt, as well as light splashing. Made of aluminum, they resist corrosion in outdoor conditions and are lightweight for easy installation. All meet UL safety standards for conduit, tubing, and cable fittings.
For technical drawings and 3-D models, click on a part number.
Conduit
Trade
Size

Conduit
Connection
Type
Gender
For Maximum
Cable OD


(Number of)

Length
Width
Height
Insulation
Material
Includes
Environmental
Rating
Specifications
Met
Each

For

EMT,

IMC,

RMC Conduit

Aluminum

1/2

Screw Clamp
Female

19/64

" (4)
2

11/16

"
2

1/4

"
2

3/4

"
Plastic
Set Screws
NEMA 3R

UL Listed, UL 514B
0000000
000000

3/4

Screw Clamp
Female

3/8

" (2),

13/32

" (3)
3

1/16

"
2

7/16

"
2

3/4

"
Plastic
Set Screws
NEMA 3R

UL Listed, UL 514B
0000000
00000
1

Screw Clamp
Female

1/2

" (3),

7/16

" (2)
3

3/8

"
2

3/4

"
3

1/16

"
Plastic
Set Screws
NEMA 3R

UL Listed, UL 514B
0000000
00000
1

1/4

Screw Clamp
Female

5/8

" (3),

7/16

" (2)
4

3/16

"
3

1/16

"
3

1/2

"
Plastic
Set Screws
NEMA 3R

UL Listed, UL 514B
0000000
00000
1

1/2

Screw Clamp
Female

3/4

" (3),

19/32

" (2),

7/16

" (1)
5

1/16

"
3

3/4

"
4

3/8

"
Plastic
Set Screws
NEMA 3R

UL Listed, UL 514B
0000000
00000
2

Screw Clamp
Female
1" (3),

3/4

" (2),

17/32

" (1)
6

11/16

"
4

1/4

"
5

7/8

"
Plastic
Set Screws
NEMA 3R

UL Listed, UL 514B
0000000
00000
2

1/2

Screw Clamp
Female
1

5/16

" (3),

7/8

" (3), 1" (1)
9

1/4

"
6

5/16

"
7"
Plastic
Set Screws
NEMA 3R

UL Listed, UL 514B
0000000
00000
3

Screw Clamp
Female
1

5/16

" (3),

7/8

" (3), 1" (1)
10

15/16

"
7

3/4

"
7

1/4

"
Plastic
Set Screws
NEMA 3R

UL Listed, UL 514B
0000000
000000
4

Screw Clamp
Female
1

3/4

" (3), 1

1/8

" (4)
12

3/4

"
7

3/4

"
8

5/8

"
Plastic
Set Screws
NEMA 3R

UL Listed, UL 514B
0000000
000000