About Shaft Collars
Shaft collars are useful for holding and positioning components on a shaft. They can also serve as mechanical stops and stroke limiters.
Quick-Release

Shaft Collar Handles

These threaded handles take the place of a set screw, allowing you to move set screw shaft collars without additional tools—useful for when the collar serves as a stroke limiter or mounting clamp. The handle keeps your collar secure on the shaft, then lets you loosen and tighten the collar for quick adjustments.
Black-oxide steel handles have some corrosion resistance. 303 stainless steel handles have excellent corrosion resistance. Aluminum handles are lightweight and have good corrosion resistance.
For technical drawings and 3-D models, click on a part number.
Low-Profile

Adjustable Handles

With Threaded Stud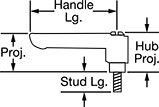 With Threaded Stud
Choose these handles when vertical space is limited. Also known as clamping handles, use them for applications involving frequent positioning, tightening, and holding adjustments. Lift the handle to rotate freely. Release it to engage and tighten.
Nylon plastic handles are a lightweight alternative to metal. They resist oil, grease, and solvents.
Zinc handles have good corrosion resistance.
Threaded-stud handles mount into a threaded hole.
Size

Pitch,


mm
Stud

Lg.

Handle


Lg.

Projection
Hub
Projection
Stud
Material

Temp.




Range,

°F

Each

Threaded Stud

Black Nylon Plastic

1/4

"-20

__

3/4

"
1

3/4

"

7/8

"

7/8

"
Steel
-20° to 230°
0000000
00000

1/4

"-20

__
1

1/4

"
1

3/4

"

7/8

"

7/8

"
Steel
-20° to 230°
0000000
0000

5/16

"-18

__

3/4

"
2

7/16

"
1

1/8

"
1

1/8

"
Steel
-20° to 230°
0000000
00000

5/16

"-18

__
1

1/4

"
2

7/16

"
1

1/8

"
1

1/8

"
Steel
-20° to 230°
0000000
00000

3/8

"-16

__

3/4

"
3

1/16

"
1

5/16

"
1

5/16

"
Steel
-20° to 230°
0000000
00000

3/8

"-16

__
1

1/4

"
3

1/16

"
1

5/16

"
1

5/16

"
Steel
-20° to 230°
0000000
00000
M6

1
20mm
45mm
25mm
22mm
Steel
-20° to 230°
0000000
0000
M6

1
32mm
45mm
25mm
22mm
Steel
-20° to 230°
0000000
0000
M8

1.25
20mm
78mm
36mm
34mm
Steel
-20° to 230°
0000000
00000
M8

1.25
32mm
78mm
36mm
34mm
Steel
-20° to 230°
0000000
00000
M10

1.5
20mm
78mm
36mm
34mm
Steel
-20° to 230°
0000000
00000
M10

1.5
32mm
78mm
36mm
34mm
Steel
-20° to 230°
0000000
00000
10-32

__

5/8

"
1

3/16

"

7/8

"

15/16

"
Steel
-40° to 220°
0000000
00000
10-32

__

15/16

"
1

3/16

"

7/8

"

15/16

"
Steel
-40° to 220°
0000000
00000

1/4

"-20

__

13/16

"
2

9/16

"
1

1/8

"
1

1/8

"
Steel
-40° to 155°
0000000
00000

1/4

"-20

__
1

3/16

"
2

9/16

"
1

1/8

"
1

1/8

"
Steel
-40° to 155°
0000000
00000

1/4

"-20

__
1

9/16

"
2

9/16

"
1

1/8

"
1

1/8

"
Steel
-40° to 155°
0000000
00000

5/16

"-18

__

13/16

"
3

1/8

"
1

1/2

"
1

7/16

"
Steel
-40° to 155°
0000000
00000

5/16

"-18

__
1

3/16

"
3

1/8

"
1

1/2

"
1

7/16

"
Steel
-40° to 155°
0000000
00000

5/16

"-18

__
1

9/16

"
2

9/16

"
1

1/8

"
1

1/8

"
Steel
-40° to 155°
0000000
00000

5/16

"-18

__
1

15/16

"
2

7/16

"
1

1/8

"
1

1/4

"
Steel
-40° to 220°
0000000
00000

5/16

"-18

__
2

7/16

"
2

7/16

"
1

1/8

"
1

1/4

"
Steel
-40° to 220°
0000000
00000

3/8

"-16

__

13/16

"
3

1/8

"
1

1/2

"
1

7/16

"
Steel
-40° to 155°
0000000
00000

3/8

"-16

__
1

3/16

"
3

1/8

"
1

1/2

"
1

7/16

"
Steel
-40° to 155°
0000000
00000

3/8

"-16

__
1

9/16

"
3

1/8

"
1

1/2

"
1

1/2

"
Steel
-40° to 155°
0000000
00000

3/8

"-16

__
1

15/16

"
3

1/16

"
1

5/16

"
1

7/16

"
Steel
-40° to 220°
0000000
00000
M4

0.7
20mm
30mm
25mm
22mm
Steel
-40° to 220°
0000000
00000
M5

0.8
20mm
45mm
25mm
23mm
Steel
-40° to 220°
0000000
00000
M5

0.8
40mm
45mm
25mm
24mm
Steel
-40° to 220°
0000000
00000
M6

1
20mm
65mm
30mm
29mm
Steel
-40° to 155°
0000000
00000
M6

1
30mm
65mm
30mm
29mm
Steel
-40° to 155°
0000000
00000
M6

1
40mm
45mm
25mm
25mm
Steel
-40° to 220°
0000000
00000
M8

1.25
20mm
80mm
38mm
37mm
Steel
-40° to 155°
0000000
00000
M8

1.25
30mm
80mm
38mm
37mm
Steel
-40° to 155°
0000000
00000
M8

1.25
40mm
65mm
29mm
29mm
Steel
-40° to 155°
0000000
00000
M8

1.25
50mm
65mm
29mm
29mm
Steel
-40° to 155°
0000000
00000
M8

1.25
63mm
63mm
31mm
29mm
Steel
-40° to 220°
0000000
00000
M10

1.5
20mm
80mm
38mm
37mm
Steel
-40° to 155°
0000000
00000
M10

1.5
30mm
80mm
38mm
37mm
Steel
-40° to 155°
0000000
00000
M10

1.5
40mm
78mm
36mm
34mm
Steel
-40° to 220°
0000000
00000
M10

1.5
50mm
78mm
36mm
34mm
Steel
-40° to 220°
0000000
00000
M10

1.5
63mm
78mm
36mm
34mm
Steel
-40° to 220°
0000000
00000
M12

1.75
32mm
78mm
36mm
34mm
Steel
-40° to 220°
0000000
00000
M12

1.75
40mm
78mm
36mm
34mm
Steel
-40° to 220°
0000000
00000
M12

1.75
50mm
78mm
36mm
34mm
Steel
-40° to 220°
0000000
00000
M12

1.75
63mm
78mm
36mm
34mm
Steel
-40° to 220°
0000000
00000