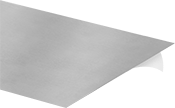 A durable acrylic adhesive keeps this shim stock from sliding out of place. Cut it into custom shapes to fit your application. Shim stock is corrosion resistant. It includes a material certificate with traceable lot number and test report.
316 stainless steel shim stock has high corrosion resistance. For precise leveling, 18-8 stainless steel shim stock is hard enough to resist scratching and deforming.
Aluminum and brass shim stock are softer than stainless steel, so they can be used as wear plates between components that rub together, preventing damage to equipment. Aluminum shim stock is lighter than brass. Brass shim stock is more corrosion resistant than aluminum.
Copper shim stock is a good conductor of heat and electricity, so it's often used when installing heat sinks.
For technical drawings and 3-D models, click on a part number.
Thick.

Thick.


Tolerance
Material


Thick.

Adhesive


Thick.

Adhesive
Type

Min.

Max.

Temper
Rating
Specifications
Met
Liner
Type
Magnetic
Properties
Each

316 Stainless Steel

0.004"
-0.0001" to 0.0001"
0.002"
0.002"
Acrylic
__
Rockwell B88
Softened (Annealed)
ASTM A666
Paper
May Be Mildly Magnetic
00000000
000000
0.005"
-0.00015" to 0.00015"
0.003"
0.002"
Acrylic
__
Rockwell B88
Softened (Annealed)
ASTM A666
Paper
May Be Mildly Magnetic
00000000
00000
0.006"
-0.0002" to 0.0002"
0.004"
0.002"
Acrylic
__
Rockwell B88
Softened (Annealed)
ASTM A666
Paper
May Be Mildly Magnetic
00000000
00000
0.007"
-0.00025" to 0.00025"
0.005"
0.002"
Acrylic
__
Rockwell B88
Softened (Annealed)
ASTM A666
Paper
May Be Mildly Magnetic
00000000
00000
0.008"
-0.0003" to 0.0003"
0.006"
0.002"
Acrylic
__
Rockwell B88
Softened (Annealed)
ASTM A666
Paper
May Be Mildly Magnetic
00000000
00000
0.009"
-0.00035" to 0.00035"
0.007"
0.002"
Acrylic
__
Rockwell B88
Softened (Annealed)
ASTM A666
Paper
May Be Mildly Magnetic
00000000
00000
0.01"
-0.0004" to 0.0004"
0.008"
0.002"
Acrylic
__
Rockwell B88
Softened (Annealed)
ASTM A666
Paper
May Be Mildly Magnetic
00000000
00000
0.012"
-0.0005" to 0.0005"
0.01"
0.002"
Acrylic
__
Rockwell B88
Softened (Annealed)
ASTM A666
Paper
May Be Mildly Magnetic
00000000
00000
0.014"
-0.0006" to 0.0006"
0.012"
0.002"
Acrylic
__
Rockwell B88
Softened (Annealed)
ASTM A666
Paper
May Be Mildly Magnetic
00000000
00000
0.017"
-0.001" to 0.001"
0.015"
0.002"
Acrylic
__
Rockwell B88
Softened (Annealed)
ASTM A666
Paper
May Be Mildly Magnetic
00000000
00000
0.022"
-0.001" to 0.001"
0.02"
0.002"
Acrylic
__
Rockwell B88
Softened (Annealed)
ASTM A666
Paper
May Be Mildly Magnetic
00000000
00000
0.027"
-0.001" to 0.001"
0.025"
0.002"
Acrylic
__
Rockwell B88
Softened (Annealed)
ASTM A666
Paper
May Be Mildly Magnetic
00000000
00000
0.033"
-0.001" to 0.001"
0.031"
0.002"
Acrylic
__
Rockwell B88
Softened (Annealed)
ASTM A666
Paper
May Be Mildly Magnetic
00000000
00000
0.003"
-0.00005" to 0.00005"
0.001"
0.002"
Acrylic
Rockwell C40
__
Full Hard
ASTM A666
Paper
May Be Mildly Magnetic
0000000
00000
0.004"
-0.0001" to 0.0001"
0.002"
0.002"
Acrylic
Rockwell C40
__
Full Hard
ASTM A666
Paper
May Be Mildly Magnetic
00000000
00000
0.005"
-0.00015" to 0.00015"
0.003"
0.002"
Acrylic
Rockwell C40
__
Full Hard
ASTM A666
Paper
May Be Mildly Magnetic
00000000
00000
0.006"
-0.002" to 0.002"
0.004"
0.002"
Acrylic
Rockwell C40
__
Full Hard
ASTM A666
Paper
May Be Mildly Magnetic
00000000
00000
0.007"
-0.00025" to 0.00025"
0.005"
0.002"
Acrylic
Rockwell C40
__
Full Hard
ASTM A666
Paper
May Be Mildly Magnetic
00000000
00000
0.008"
-0.0003" to 0.0003"
0.006"
0.002"
Acrylic
Rockwell C40
__
Full Hard
ASTM A666
Paper
May Be Mildly Magnetic
00000000
00000
0.009"
-0.00035" to 0.00035"
0.007"
0.002"
Acrylic
Rockwell C40
__
Full Hard
ASTM A666
Paper
May Be Mildly Magnetic
00000000
00000
0.01"
-0.0004" to 0.0004"
0.008"
0.002"
Acrylic
Rockwell C40
__
Full Hard
ASTM A666
Paper
May Be Mildly Magnetic
00000000
00000
0.011"
-0.00045" to 0.00045"
0.009"
0.002"
Acrylic
Rockwell C40
__
Full Hard
ASTM A666
Paper
May Be Mildly Magnetic
00000000
00000
0.012"
-0.0005" to 0.0005"
0.01"
0.002"
Acrylic
Rockwell C40
__
Full Hard
ASTM A666
Paper
May Be Mildly Magnetic
00000000
00000
0.014"
-0.0006" to 0.0006"
0.012"
0.002"
Acrylic
Rockwell C40
__
Full Hard
ASTM A666
Paper
May Be Mildly Magnetic
0000000
00000
0.017"
-0.0009" to 0.0009"
0.015"
0.002"
Acrylic
Rockwell C40
__
Full Hard
ASTM A666
Paper
May Be Mildly Magnetic
00000000
00000
0.022"
-0.001" to 0.001"
0.02"
0.002"
Acrylic
Rockwell C40
__
Full Hard
ASTM A666
Paper
May Be Mildly Magnetic
00000000
00000
0.027"
-0.001" to 0.001"
0.025"
0.002"
Acrylic
Rockwell C40
__
Full Hard
ASTM A666
Paper
May Be Mildly Magnetic
00000000
00000
0.033"
-0.001" to 0.001"
0.031"
0.002"
Acrylic
Rockwell C40
__
Full Hard
ASTM A666
Paper
May Be Mildly Magnetic
00000000
00000

1100 Aluminum

0.008"
-0.0006" to 0.0006"
0.006"
0.002"
Acrylic
Not Rated
__
Softened (Annealed)
ASTM B209
Paper
Nonmagnetic
00000000
00000
0.01"
-0.0008" to 0.0008"
0.008"
0.002"
Acrylic
Not Rated
__
Softened (Annealed)
ASTM B209
Paper
Nonmagnetic
00000000
00000
0.012"
-0.001" to 0.001"
0.01"
0.002"
Acrylic
Not Rated
__
Softened (Annealed)
ASTM B209
Paper
Nonmagnetic
00000000
00000
0.017"
-0.0015" to 0.0015"
0.015"
0.002"
Acrylic
Not Rated
__
Softened (Annealed)
ASTM B209
Paper
Nonmagnetic
00000000
00000
0.022"
-0.002" to 0.002"
0.02"
0.002"
Acrylic
Not Rated
__
Softened (Annealed)
ASTM B209
Paper
Nonmagnetic
00000000
00000
0.034"
-0.002" to 0.002"
0.032"
0.002"
Acrylic
Not Rated
__
Softened (Annealed)
ASTM B209
Paper
Nonmagnetic
00000000
00000
0.042"
-0.004" to 0.004"
0.04"
0.002"
Acrylic
Not Rated
__
Softened (Annealed)
ASTM B209
Paper
Nonmagnetic
00000000
00000
0.052"
-0.0045" to 0.0045"
0.05"
0.002"
Acrylic
Not Rated
__
Softened (Annealed)
ASTM B209
Paper
Nonmagnetic
00000000
00000
0.065"
-0.0045" to 0.0045"
0.063"
0.002"
Acrylic
Not Rated
__
Softened (Annealed)
ASTM B209
Paper
Nonmagnetic
00000000
00000
0.082"
-0.0045" to 0.0045"
0.08"
0.002"
Acrylic
Not Rated
__
Softened (Annealed)
ASTM B209
Paper
Nonmagnetic
00000000
00000
0.092"
-0.0045" to 0.0045"
0.09"
0.002"
Acrylic
Not Rated
__
Softened (Annealed)
ASTM B209
Paper
Nonmagnetic
00000000
00000

1235 Aluminum

0.003"
-0.0001" to 0.0001"
0.001"
0.002"
Acrylic
Not Rated
__
Softened (Annealed)
ASTM B479
Paper
Nonmagnetic
00000000
00000
0.004"
-0.0002" to 0.0002"
0.002"
0.002"
Acrylic
Not Rated
__
Softened (Annealed)
ASTM B479
Paper
Nonmagnetic
00000000
00000
0.005"
-0.0003" to 0.0003"
0.003"
0.002"
Acrylic
Not Rated
__
Softened (Annealed)
ASTM B479
Paper
Nonmagnetic
0000000
00000
0.006"
-0.0004" to 0.0004"
0.004"
0.002"
Acrylic
Not Rated
__
Softened (Annealed)
ASTM B479
Paper
Nonmagnetic
00000000
00000
0.007"
-0.0005" to 0.0005"
0.005"
0.002"
Acrylic
Not Rated
__
Softened (Annealed)
ASTM B479
Paper
Nonmagnetic
00000000
00000

260 Brass

0.003"
-0.0001" to 0.0001"
0.001"
0.002"
Acrylic
Rockwell 30T56
__
1/2 Hard
ASTM B36
Paper
Nonmagnetic
00000000
00000
0.004"
-0.0002" to 0.0002"
0.002"
0.002"
Acrylic
Rockwell 30T56
__
1/2 Hard
ASTM B36
Paper
Nonmagnetic
00000000
00000
0.005"
-0.0003" to 0.0003"
0.003"
0.002"
Acrylic
Rockwell 30T56
__
1/2 Hard
ASTM B36
Paper
Nonmagnetic
00000000
00000
0.006"
-0.0004" to 0.0004"
0.004"
0.002"
Acrylic
Rockwell 30T56
__
1/2 Hard
ASTM B36
Paper
Nonmagnetic
00000000
00000
0.007"
-0.0005" to 0.0005"
0.005"
0.002"
Acrylic
Rockwell 30T56
__
1/2 Hard
ASTM B36
Paper
Nonmagnetic
00000000
00000
0.008"
-0.0006" to 0.0006"
0.006"
0.002"
Acrylic
Rockwell 30T56
__
1/2 Hard
ASTM B36
Paper
Nonmagnetic
0000000
00000
0.01"
-0.0008" to 0.0008"
0.008"
0.002"
Acrylic
Rockwell 30T56
__
1/2 Hard
ASTM B36
Paper
Nonmagnetic
00000000
00000
0.012"
-0.001" to 0.001"
0.01"
0.002"
Acrylic
Rockwell 30T56
__
1/2 Hard
ASTM B36
Paper
Nonmagnetic
00000000
00000
0.014"
-0.0012" to 0.0012"
0.012"
0.002"
Acrylic
Rockwell 30T56
__
1/2 Hard
ASTM B36
Paper
Nonmagnetic
00000000
00000
0.017"
-0.0015" to 0.0015"
0.015"
0.002"
Acrylic
Rockwell 30T56
__
1/2 Hard
ASTM B36
Paper
Nonmagnetic
00000000
00000
0.022"
-0.002" to 0.002"
0.02"
0.002"
Acrylic
Rockwell 30T56
__
1/2 Hard
ASTM B36
Paper
Nonmagnetic
00000000
00000
0.027"
-0.0025" to 0.0025"
0.025"
0.002"
Acrylic
Rockwell 30T56
__
1/2 Hard
ASTM B36
Paper
Nonmagnetic
00000000
00000
0.033"
-0.003" to 0.003"
0.031"
0.002"
Acrylic
Rockwell 30T56
__
1/2 Hard
ASTM B36
Paper
Nonmagnetic
00000000
00000

110 Copper

0.017"
-0.0009" to 0.0009"
0.015"
0.002"
Acrylic
Not Rated
__
Softened (Annealed)
ASTM B152
Paper
Nonmagnetic
00000000
00000
0.022"
-0.001" to 0.001"
0.02"
0.002"
Acrylic
Not Rated
__
Softened (Annealed)
ASTM B152
Paper
Nonmagnetic
00000000
00000
0.027"
-0.001" to 0.001"
0.025"
0.002"
Acrylic
Not Rated
__
Softened (Annealed)
ASTM B152
Paper
Nonmagnetic
00000000
00000