Color-Coded

Shim Stock Sets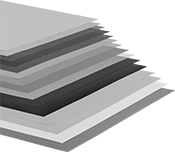 Keep shim stock in a variety of thicknesses on hand with these sets, which are color-coded by thickness for easy identification. The sheets come flat packed; cut them into custom shapes to fit your application. Shim stock is corrosion resistant.
Painted aluminum shim stock is stronger than plastic stock. Sets include a material certificate with traceable lot number and test report.
Plastic shim stock works well in light duty applications. It's easier to cut than aluminum stock.
For technical drawings and 3-D models, click on a part number.
No.


of
Pieces
Includes

Wd.

Lg.

Min.


Hardness
Certification
Magnetic
Properties
Each

Sheet

10
One 0.002" thick (±0.0002") red 1200 Aluminum sheet
One 0.003" thick (±0.0003") green 1200 Aluminum sheet
One 0.004" thick (±0.0004") beige 1100 Aluminum sheet
One 0.005" thick (±0.0005") blue 1200 Aluminum sheet
One 0.007" thick (±0.0007") natural 1100 Aluminum sheet
One 0.01" thick (±0.001") brown 1100 Aluminum sheet
One 0.015" thick (±0.0015") pink 3003 Aluminum sheet
One 0.02" thick (±0.002") yellow 3003 Aluminum sheet
One 0.025" thick (±0.0025") white 3003 Aluminum sheet
One 0.03" thick (±0.003") coral 3003 Aluminum sheet
5"
5"
Brinell 32
Material Certificate with Traceable Lot Number and Test Report
Nonmagnetic
0000000
000000
10
One 0.002" thick (±0.0002") red 1200 Aluminum sheet
One 0.003" thick (±0.0003") green 1200 Aluminum sheet
One 0.004" thick (±0.0004") beige 1100 Aluminum sheet
One 0.005" thick (±0.0005") blue 1200 Aluminum sheet
One 0.007" thick (±0.0007") natural 1100 Aluminum sheet
One 0.01" thick (±0.001") brown 1100 Aluminum sheet
One 0.015" thick (±0.0015") pink 3003 Aluminum sheet
One 0.02" thick (±0.002") yellow 3003 Aluminum sheet
One 0.025" thick (±0.0025") white 3003 Aluminum sheet
One 0.03" thick (±0.003") coral 3003 Aluminum sheet
5"
10"
Brinell 32
Material Certificate with Traceable Lot Number and Test Report
Nonmagnetic
0000000
00000
10
One 0.002" thick (±0.0002") red 1200 Aluminum sheet
One 0.003" thick (±0.0003") green 1200 Aluminum sheet
One 0.004" thick (±0.0004") beige 1100 Aluminum sheet
One 0.005" thick (±0.0005") blue 1200 Aluminum sheet
One 0.007" thick (±0.0007") natural 1100 Aluminum sheet
One 0.01" thick (±0.001") brown 1100 Aluminum sheet
One 0.015" thick (±0.0015") pink 3003 Aluminum sheet
One 0.02" thick (±0.002") yellow 3003 Aluminum sheet
One 0.025" thick (±0.0025") white 3003 Aluminum sheet
One 0.03" thick (±0.003") coral 3003 Aluminum sheet
6"
24"
Brinell 32
Material Certificate with Traceable Lot Number and Test Report
Nonmagnetic
0000000
00000
10
One 0.002" thick (±0.0002") red 1200 Aluminum sheet
One 0.003" thick (±0.0003") green 1200 Aluminum sheet
One 0.004" thick (±0.0004") beige 1100 Aluminum sheet
One 0.005" thick (±0.0005") blue 1200 Aluminum sheet
One 0.007" thick (±0.0007") natural 1100 Aluminum sheet
One 0.01" thick (±0.001") brown 1100 Aluminum sheet
One 0.015" thick (±0.0015") pink 3003 Aluminum sheet
One 0.02" thick (±0.002") yellow 3003 Aluminum sheet
One 0.025" thick (±0.0025") white 3003 Aluminum sheet
One 0.03" thick (±0.003") coral 3003 Aluminum sheet
10"
20"
Brinell 32
Material Certificate with Traceable Lot Number and Test Report
Nonmagnetic
000000
00000
10
One 0.002" thick (±0.0002") red 1200 Aluminum sheet
One 0.003" thick (±0.0003") green 1200 Aluminum sheet
One 0.004" thick (±0.0004") beige 1100 Aluminum sheet
One 0.005" thick (±0.0005") blue 1200 Aluminum sheet
One 0.007" thick (±0.0007") natural 1100 Aluminum sheet
One 0.01" thick (±0.001") brown 1100 Aluminum sheet
One 0.015" thick (±0.0015") pink 3003 Aluminum sheet
One 0.02" thick (±0.002") yellow 3003 Aluminum sheet
One 0.025" thick (±0.0025") white 3003 Aluminum sheet
One 0.03" thick (±0.003") coral 3003 Aluminum sheet
12"
24"
Brinell 32
Material Certificate with Traceable Lot Number and Test Report
Nonmagnetic
0000000
000000
20
Two 0.002" thick (±0.0002") red 1200 Aluminum sheet
Two 0.003" thick (±0.0003") green 1200 Aluminum sheet
Two 0.004" thick (±0.0004") beige 1100 Aluminum sheet
Two 0.005" thick (±0.0005") blue 1200 Aluminum sheet
Two 0.007" thick (±0.0007") natural 1100 Aluminum sheet
Two 0.01" thick (±0.001") brown 1100 Aluminum sheet
Two 0.015" thick (±0.0015") pink 3003 Aluminum sheet
Two 0.02" thick (±0.002") yellow 3003 Aluminum sheet
Two 0.025" thick (±0.0025") white 3003 Aluminum sheet
Two 0.03" thick (±0.003") coral 3003 Aluminum sheet
6"
24"
Brinell 32
Material Certificate with Traceable Lot Number and Test Report
Nonmagnetic
00000000
000000
No.

of
Pieces
Includes

Wd.

Lg.

Polyester,




°F

PETG,




°F

Each

Sheet

15
One 0.0005" thick (±0.0002") silver polyester sheet
One 0.00075" thick (±0.0002") gold polyester sheet
One 0.001" thick (±0.0002") amber polyester sheet
One 0.0015" thick (±0.0002") purple polyester sheet
One 0.002" thick (±0.0002") red polyester sheet
One 0.003" thick (±0.0002") green polyester sheet
One 0.004" thick (±0.0002") beige polyester sheet
One 0.005" thick (±0.0002") blue polyester sheet
One 0.0075" thick (±0.0004") gray polyester sheet
One 0.010" thick (±0.0005") brown polyester sheet
One 0.0125" thick (±0.00063") black polyester sheet
One 0.015" thick (±0.0015") pink PETG sheet
One 0.020" thick (±0.002") yellow PETG sheet
One 0.025" thick (±0.0025") white PETG sheet
One 0.030" thick (±0.003") coral PETG sheet
5"
5"
200°
140°
00000000
000000
15
One 0.0005" thick (±0.0002") silver polyester sheet
One 0.00075" thick (±0.0002") gold polyester sheet
One 0.001" thick (±0.0002") amber polyester sheet
One 0.0015" thick (±0.0002") purple polyester sheet
One 0.002" thick (±0.0002") red polyester sheet
One 0.003" thick (±0.0002") green polyester sheet
One 0.004" thick (±0.0002") beige polyester sheet
One 0.005" thick (±0.0002") blue polyester sheet
One 0.0075" thick (±0.0004") gray polyester sheet
One 0.010" thick (±0.0005") brown polyester sheet
One 0.0125" thick (±0.00063") black polyester sheet
One 0.015" thick (±0.0015") pink PETG sheet
One 0.020" thick (±0.002") yellow PETG sheet
One 0.025" thick (±0.0025") white PETG sheet
One 0.030" thick (±0.003") coral PETG sheet
5"
10"
200°
140°
00000000
00000
15
One 0.0005" thick (±0.0002") silver polyester sheet
One 0.00075" thick (±0.0002") gold polyester sheet
One 0.001" thick (±0.0002") amber polyester sheet
One 0.0015" thick (±0.0002") purple polyester sheet
One 0.002" thick (±0.0002") red polyester sheet
One 0.003" thick (±0.0002") green polyester sheet
One 0.004" thick (±0.0002") beige polyester sheet
One 0.005" thick (±0.0002") blue polyester sheet
One 0.0075" thick (±0.0004") gray polyester sheet
One 0.010" thick (±0.0005") brown polyester sheet
One 0.0125" thick (±0.00063") black polyester sheet
One 0.015" thick (±0.0015") pink PETG sheet
One 0.020" thick (±0.002") yellow PETG sheet
One 0.025" thick (±0.0025") white PETG sheet
One 0.030" thick (±0.003") coral PETG sheet
5"
20"
200°
140°
0000000
00000
15
One 0.0005" thick (±0.0002") silver polyester sheet
One 0.00075" thick (±0.0002") gold polyester sheet
One 0.001" thick (±0.0002") amber polyester sheet
One 0.0015" thick (±0.0002") purple polyester sheet
One 0.002" thick (±0.0002") red polyester sheet
One 0.003" thick (±0.0002") green polyester sheet
One 0.004" thick (±0.0002") beige polyester sheet
One 0.005" thick (±0.0002") blue polyester sheet
One 0.0075" thick (±0.0004") gray polyester sheet
One 0.010" thick (±0.0005") brown polyester sheet
One 0.0125" thick (±0.00063") black polyester sheet
One 0.015" thick (±0.0015") pink PETG sheet
One 0.020" thick (±0.002") yellow PETG sheet
One 0.025" thick (±0.0025") white PETG sheet
One 0.030" thick (±0.003") coral PETG sheet
10"
20"
200°
140°
0000000
00000
15
One 0.0005" thick (±0.0002") silver polyester sheet
One 0.00075" thick (±0.0002") gold polyester sheet
One 0.001" thick (±0.0002") amber polyester sheet
One 0.0015" thick (±0.0002") purple polyester sheet
One 0.002" thick (±0.0002") red polyester sheet
One 0.003" thick (±0.0002") green polyester sheet
One 0.004" thick (±0.0002") beige polyester sheet
One 0.005" thick (±0.0002") blue polyester sheet
One 0.0075" thick (±0.0004") gray polyester sheet
One 0.010" thick (±0.0005") brown polyester sheet
One 0.0125" thick (±0.00063") black polyester sheet
One 0.015" thick (±0.0015") pink PETG sheet
One 0.020" thick (±0.002") yellow PETG sheet
One 0.025" thick (±0.0025") white PETG sheet
One 0.030" thick (±0.003") coral PETG sheet
12"
24"
200°
140°
0000000
000000
15
One 0.0005" thick (±0.0002") silver polyester sheet
One 0.00075" thick (±0.0002") gold polyester sheet
One 0.001" thick (±0.0002") amber polyester sheet
One 0.0015" thick (±0.0002") purple polyester sheet
One 0.002" thick (±0.0002") red polyester sheet
One 0.003" thick (±0.0002") green polyester sheet
One 0.004" thick (±0.0002") beige polyester sheet
One 0.005" thick (±0.0002") blue polyester sheet
One 0.0075" thick (±0.0004") gray polyester sheet
One 0.010" thick (±0.0005") brown polyester sheet
One 0.0125" thick (±0.00063") black polyester sheet
One 0.015" thick (±0.0015") pink PETG sheet
One 0.020" thick (±0.002") yellow PETG sheet
One 0.025" thick (±0.0025") white PETG sheet
One 0.030" thick (±0.003") coral PETG sheet
20"
20"
200°
140°
0000000
000000
15
One 0.0005" thick (±0.0002") silver polyester sheet
One 0.00075" thick (±0.0002") gold polyester sheet
One 0.001" thick (±0.0002") amber polyester sheet
One 0.0015" thick (±0.0002") purple polyester sheet
One 0.002" thick (±0.0002") red polyester sheet
One 0.003" thick (±0.0002") green polyester sheet
One 0.004" thick (±0.0002") beige polyester sheet
One 0.005" thick (±0.0002") blue polyester sheet
One 0.0075" thick (±0.0004") gray polyester sheet
One 0.010" thick (±0.0005") brown polyester sheet
One 0.0125" thick (±0.00063") black polyester sheet
One 0.015" thick (±0.0015") pink PETG sheet
One 0.020" thick (±0.002") yellow PETG sheet
One 0.025" thick (±0.0025") white PETG sheet
One 0.030" thick (±0.003") coral PETG sheet
20"
50"
200°
140°
0000000
000000
30
Two 0.0005" thick (±0.0002") silver polyester sheet
Two 0.00075" thick (±0.0002") gold polyester sheet
Two 0.001" thick (±0.0002") amber polyester sheet
Two 0.0015" thick (±0.0002") purple polyester sheet
Two 0.002" thick (±0.0002") red polyester sheet
Two 0.003" thick (±0.0002") green polyester sheet
Two 0.004" thick (±0.0002") beige polyester sheet
Two 0.005" thick (±0.0002") blue polyester sheet
Two 0.0075" thick (±0.0004") gray polyester sheet
Two 0.010" thick (±0.0005") brown polyester sheet
Two 0.0125" thick (±0.00063") black polyester sheet
Two 0.015" thick (±0.0015") pink PETG sheet
Two 0.020" thick (±0.002") yellow PETG sheet
Two 0.025" thick (±0.0025") white PETG sheet
Two 0.030" thick (±0.003") coral PETG sheet
5"
20"
200°
140°
000000000
00000
30
Two 0.0005" thick (±0.0002") silver polyester sheet
Two 0.00075" thick (±0.0002") gold polyester sheet
Two 0.001" thick (±0.0002") amber polyester sheet
Two 0.0015" thick (±0.0002") purple polyester sheet
Two 0.002" thick (±0.0002") red polyester sheet
Two 0.003" thick (±0.0002") green polyester sheet
Two 0.004" thick (±0.0002") beige polyester sheet
Two 0.005" thick (±0.0002") blue polyester sheet
Two 0.0075" thick (±0.0004") gray polyester sheet
Two 0.010" thick (±0.0005") brown polyester sheet
Two 0.0125" thick (±0.00063") black polyester sheet
Two 0.015" thick (±0.0015") pink PETG sheet
Two 0.020" thick (±0.002") yellow PETG sheet
Two 0.025" thick (±0.0025") white PETG sheet
Two 0.030" thick (±0.003") coral PETG sheet
10"
20"
200°
140°
000000000
000000