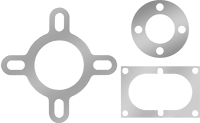 For unique shim shapes or sizes, send a dimensioned STEP or DXF file to chi.sales@mcmaster.com and we'll precision cut your shim. Shims include a material certificate with traceable lot number and test report.
Please leave at least 1/8" wall between shim edge and holes. Minimum hole size is 1/8". Shims should be no smaller than 1" × 1" square or 1" OD. Maximum shim dimension is the largest overall length, width, or diameter of your custom shim.
For accurate leveling, choose materials such as steel or stainless steel, which are hard enough to resist scratching and deforming. Softer shims, like brass, can be used as wear plates between components that rub together, preventing damage to equipment.
Stainless steel shims are more corrosion resistant than carbon steel shims. 316 stainless steel shims have the best corrosion resistance of our stainless steel shims.
Carbon steel shims have excellent strength and can be welded, but they aren't as corrosion resistant as other shims.
Brass shims are corrosion resistant and nonmagnetic.
For technical drawings and 3-D models, click on a part number.
Thick.

Thick.


Tolerance

Min.

Hole
Size

Min.


Wall


Thick.

Cutout
Tolerance

Min.


Hardness

Max.


Hardness

Pkg.




of 16

18-8

Stainless

Steel—

ASTM A240

0.001"
-0.00005" to 0.00005"

1/8

"

1/8

"
-0.02" to 0.02"
Rockwell C42
__
000000000
000000
0.002"
-0.0001" to 0.0001"

1/8

"

1/8

"
-0.02" to 0.02"
Rockwell C42
__
000000000
00000
0.003"
-0.00015" to 0.00015"

1/8

"

1/8

"
-0.02" to 0.02"
Rockwell C42
__
000000000
00000
0.004"
-0.0002" to 0.0002"

1/8

"

1/8

"
-0.02" to 0.02"
Rockwell C42
__
000000000
00000
0.005"
-0.00025" to 0.00025"

1/8

"

1/8

"
-0.02" to 0.02"
Rockwell C42
__
000000000
00000
0.006"
-0.0003" to 0.0003"

1/8

"

1/8

"
-0.02" to 0.02"
Rockwell C42
__
000000000
00000
0.007"
-0.00035" to 0.00035"

1/8

"

1/8

"
-0.02" to 0.02"
Rockwell C42
__
000000000
00000
0.008"
-0.0004" to 0.0004"

1/8

"

1/8

"
-0.02" to 0.02"
Rockwell C42
__
000000000
00000
0.009"
-0.00045" to 0.00045"

1/8

"

1/8

"
-0.02" to 0.02"
Rockwell C42
__
000000000
00000
0.01"
-0.0005" to 0.0005"

1/8

"

1/8

"
-0.02" to 0.02"
Rockwell C42
__
000000000
00000
0.015"
-0.00075" to 0.00075"

1/8

"

1/8

"
-0.02" to 0.02"
Rockwell C42
__
000000000
00000
0.02"
-0.001" to 0.001"

1/8

"

1/8

"
-0.02" to 0.02"
Rockwell C42
__
000000000
00000
0.025"
-0.00125" to 0.00125"

1/8

"

1/8

"
-0.02" to 0.02"
Rockwell C42
__
000000000
00000
0.031"
-0.00155" to 0.00155"

1/8

"

1/8

"
-0.02" to 0.02"
Rockwell C42
__
000000000
00000

1008-1010

Carbon

Steel—

ASTM

A109,

Fed.

Spec.

QQ-S-698

0.001"
-0.00005" to 0.00005"

1/8

"

1/8

"
-0.02" to 0.02"
Rockwell B90
__
000000000
00000
0.002"
-0.0001" to 0.0001"

1/8

"

1/8

"
-0.02" to 0.02"
Rockwell B90
__
000000000
00000
0.003"
-0.00015" to 0.00015"

1/8

"

1/8

"
-0.02" to 0.02"
Rockwell B90
__
000000000
00000
0.004"
-0.0002" to 0.0002"

1/8

"

1/8

"
-0.02" to 0.02"
Rockwell B90
__
000000000
00000
0.005"
-0.00025" to 0.00025"

1/8

"

1/8

"
-0.02" to 0.02"
Rockwell B90
__
000000000
00000
0.006"
-0.0003" to 0.0003"

1/8

"

1/8

"
-0.02" to 0.02"
Rockwell B90
__
000000000
00000
0.007"
-0.00035" to 0.00035"

1/8

"

1/8

"
-0.02" to 0.02"
Rockwell B90
__
000000000
00000
0.008"
-0.0004" to 0.0004"

1/8

"

1/8

"
-0.02" to 0.02"
Rockwell B90
__
000000000
00000
0.009"
-0.00045" to 0.00045"

1/8

"

1/8

"
-0.02" to 0.02"
Rockwell B90
__
000000000
00000
0.01"
-0.0005" to 0.0005"

1/8

"

1/8

"
-0.02" to 0.02"
Rockwell B90
__
000000000
00000
0.015"
-0.00075" to 0.00075"

1/8

"

1/8

"
-0.02" to 0.02"
Rockwell B90
__
000000000
00000
0.02"
-0.001" to 0.001"

1/8

"

1/8

"
-0.02" to 0.02"
Rockwell B90
__
000000000
00000
0.025"
-0.00125" to 0.00125"

1/8

"

1/8

"
-0.02" to 0.02"
Rockwell B90
__
000000000
00000
0.031"
-0.00155" to 0.00155"

1/8

"

1/8

"
-0.02" to 0.02"
Rockwell B90
__
000000000
00000

260

Brass—

ASTM

B36,

Fed.

Spec.

QQ-B-613

0.001"
-0.00005" to 0.00005"

1/8

"

1/8

"
-0.02" to 0.02"
Rockwell B60
__
000000000
00000
0.002"
-0.0001" to 0.0001"

1/8

"

1/8

"
-0.02" to 0.02"
Rockwell B60
__
000000000
00000
0.003"
-0.00015" to 0.00015"

1/8

"

1/8

"
-0.02" to 0.02"
Rockwell B60
__
000000000
00000
0.004"
-0.0002" to 0.0002"

1/8

"

1/8

"
-0.02" to 0.02"
Rockwell B60
__
000000000
00000
0.005"
-0.00025" to 0.00025"

1/8

"

1/8

"
-0.02" to 0.02"
Rockwell B60
__
000000000
00000
0.01"
-0.0005" to 0.0005"

1/8

"

1/8

"
-0.02" to 0.02"
Rockwell B60
__
000000000
00000
0.02"
-0.001" to 0.001"

1/8

"

1/8

"
-0.02" to 0.02"
Rockwell B60
__
000000000
00000
0.025"
-0.00125" to 0.00125"

1/8

"

1/8

"
-0.02" to 0.02"
Rockwell B60
__
000000000
00000
0.031"
-0.00155" to 0.00155"

1/8

"

1/8

"
-0.02" to 0.02"
Rockwell B60
__
000000000
00000

316 Stainless

Steel—

ASTM

A240,

Fed.

Spec.

QQ-S-766

0.001"
-0.00005" to 0.00005"

1/8

"

1/8

"
-0.02" to 0.02"
__
Rockwell B95
000000000
00000
0.002"
-0.0001" to 0.0001"

1/8

"

1/8

"
-0.02" to 0.02"
__
Rockwell B95
000000000
00000
0.003"
-0.00015" to 0.00015"

1/8

"

1/8

"
-0.02" to 0.02"
__
Rockwell B95
000000000
00000
0.004"
-0.0002" to 0.0002"

1/8

"

1/8

"
-0.02" to 0.02"
__
Rockwell B95
000000000
00000
0.005"
-0.00025" to 0.00025"

1/8

"

1/8

"
-0.02" to 0.02"
__
Rockwell B95
000000000
00000
0.006"
-0.0003" to 0.0003"

1/8

"

1/8

"
-0.02" to 0.02"
__
Rockwell B95
000000000
00000
0.007"
-0.00035" to 0.00035"

1/8

"

1/8

"
-0.02" to 0.02"
__
Rockwell B95
000000000
00000
0.008"
-0.0004" to 0.0004"

1/8

"

1/8

"
-0.02" to 0.02"
__
Rockwell B95
000000000
00000
0.009"
-0.00045" to 0.00045"

1/8

"

1/8

"
-0.02" to 0.02"
__
Rockwell B95
000000000
00000
0.01"
-0.0005" to 0.0005"

1/8

"

1/8

"
-0.02" to 0.02"
__
Rockwell B95
000000000
00000
0.015"
-0.00075" to 0.00075"

1/8

"

1/8

"
-0.02" to 0.02"
__
Rockwell B95
000000000
00000
0.02"
-0.001" to 0.001"

1/8

"

1/8

"
-0.02" to 0.02"
__
Rockwell B95
000000000
00000
0.025"
-0.00125" to 0.00125"

1/8

"

1/8

"
-0.02" to 0.02"
__
Rockwell B95
000000000
00000
0.031"
-0.00155" to 0.00155"

1/8

"

1/8

"
-0.02" to 0.02"
__
Rockwell B95
000000000
00000

Pkg.

of 4

18-8

Stainless

Steel—

ASTM A240

0.001"
-0.00005" to 0.00005"

1/8

"

1/8

"
-0.02" to 0.02"
Rockwell C42
__
000000000
00000
0.002"
-0.0001" to 0.0001"

1/8

"

1/8

"
-0.02" to 0.02"
Rockwell C42
__
000000000
00000
0.003"
-0.00015" to 0.00015"

1/8

"

1/8

"
-0.02" to 0.02"
Rockwell C42
__
000000000
00000
0.004"
-0.0002" to 0.0002"

1/8

"

1/8

"
-0.02" to 0.02"
Rockwell C42
__
000000000
00000
0.005"
-0.00025" to 0.00025"

1/8

"

1/8

"
-0.02" to 0.02"
Rockwell C42
__
000000000
00000
0.006"
-0.0003" to 0.0003"

1/8

"

1/8

"
-0.02" to 0.02"
Rockwell C42
__
000000000
00000
0.007"
-0.00035" to 0.00035"

1/8

"

1/8

"
-0.02" to 0.02"
Rockwell C42
__
000000000
00000
0.008"
-0.0004" to 0.0004"

1/8

"

1/8

"
-0.02" to 0.02"
Rockwell C42
__
000000000
00000
0.009"
-0.00045" to 0.00045"

1/8

"

1/8

"
-0.02" to 0.02"
Rockwell C42
__
000000000
00000
0.01"
-0.0005" to 0.0005"

1/8

"

1/8

"
-0.02" to 0.02"
Rockwell C42
__
000000000
00000
0.015"
-0.00075" to 0.00075"

1/8

"

1/8

"
-0.02" to 0.02"
Rockwell C42
__
000000000
00000
0.02"
-0.001" to 0.001"

1/8

"

1/8

"
-0.02" to 0.02"
Rockwell C42
__
000000000
00000
0.025"
-0.00125" to 0.00125"

1/8

"

1/8

"
-0.02" to 0.02"
Rockwell C42
__
000000000
00000
0.031"
-0.00155" to 0.00155"

1/8

"

1/8

"
-0.02" to 0.02"
Rockwell C42
__
000000000
00000

1008-1010

Carbon

Steel—

ASTM

A109,

Fed.

Spec.

QQ-S-698

0.001"
-0.00005" to 0.00005"

1/8

"

1/8

"
-0.02" to 0.02"
Rockwell B90
__
000000000
00000
0.002"
-0.0001" to 0.0001"

1/8

"

1/8

"
-0.02" to 0.02"
Rockwell B90
__
000000000
00000
0.003"
-0.00015" to 0.00015"

1/8

"

1/8

"
-0.02" to 0.02"
Rockwell B90
__
000000000
00000
0.004"
-0.0002" to 0.0002"

1/8

"

1/8

"
-0.02" to 0.02"
Rockwell B90
__
000000000
00000
0.005"
-0.00025" to 0.00025"

1/8

"

1/8

"
-0.02" to 0.02"
Rockwell B90
__
000000000
00000
0.006"
-0.0003" to 0.0003"

1/8

"

1/8

"
-0.02" to 0.02"
Rockwell B90
__
000000000
00000
0.007"
-0.00035" to 0.00035"

1/8

"

1/8

"
-0.02" to 0.02"
Rockwell B90
__
000000000
00000
0.008"
-0.0004" to 0.0004"

1/8

"

1/8

"
-0.02" to 0.02"
Rockwell B90
__
000000000
00000
0.009"
-0.00045" to 0.00045"

1/8

"

1/8

"
-0.02" to 0.02"
Rockwell B90
__
000000000
00000
0.01"
-0.0005" to 0.0005"

1/8

"

1/8

"
-0.02" to 0.02"
Rockwell B90
__
000000000
00000
0.015"
-0.00075" to 0.00075"

1/8

"

1/8

"
-0.02" to 0.02"
Rockwell B90
__
000000000
00000
0.02"
-0.001" to 0.001"

1/8

"

1/8

"
-0.02" to 0.02"
Rockwell B90
__
000000000
00000
0.025"
-0.00125" to 0.00125"

1/8

"

1/8

"
-0.02" to 0.02"
Rockwell B90
__
000000000
00000
0.031"
-0.00155" to 0.00155"

1/8

"

1/8

"
-0.02" to 0.02"
Rockwell B90
__
000000000
00000