Slotted Shims
The slot lets you insert, remove, and adjust the shims without disassembling your machinery, while the tab keeps fingers and tools away from machine feet. Use an insertion tool (sold separately) for better leverage and reach. Shims are etched with the thickness.
316 stainless steel shims have the best corrosion resistance.
18-8 stainless steel shims have a balance of strength and corrosion resistance.
For technical drawings and 3-D models, click on a part number.
Thick.

Thick.


Tolerance

Lg.

Wd.

Wd.

Dp.

For

Max.


Screw
Size

Min.


Hardness
Magnetic
Properties

1-9

10-Up

Each
0.005"
-0.0001" to 0.0001"
2"
2"

5/8

"
1

9/32

"
9/16"

Rockwell C36
May Be Mildly Magnetic
000000000
00000
00000
000000000
00000
0.01"
-0.0005" to 0.0005"
2"
2"

5/8

"
1

9/32

"
9/16"

Rockwell C36
May Be Mildly Magnetic
000000000
0000
0000
000000000
0000
0.015"
-0.0005" to 0.0005"
2"
2"

5/8

"
1

9/32

"
9/16"

Rockwell C36
May Be Mildly Magnetic
000000000
0000
0000
000000000
0000
0.02"
-0.00025" to 0.00025"
2"
2"

5/8

"
1

9/32

"
9/16"

Rockwell C36
May Be Mildly Magnetic
000000000
0000
0000
000000000
0000
0.025"
-0.0008" to 0.0008"
2"
2"

5/8

"
1

9/32

"
9/16"

Rockwell C36
May Be Mildly Magnetic
000000000
0000
0000
000000000
0000
0.05"
-0.002" to 0.002"
2"
2"

5/8

"
1

9/32

"
9/16"

Rockwell C36
May Be Mildly Magnetic
000000000
0000
0000
000000000
0000
0.125"
-0.003" to 0.003"
2"
2"

5/8

"
1

9/32

"
9/16"

Rockwell C36
May Be Mildly Magnetic
000000000
0000
0000
000000000
0000
0.005"
-0.0001" to 0.0001"
3"
3"

7/8

"
2

1/8

"
3/4"

Rockwell C36
May Be Mildly Magnetic
000000000
0000
0000
000000000
0000
0.01"
-0.0005" to 0.0005"
3"
3"

7/8

"
2

1/8

"
3/4"

Rockwell C36
May Be Mildly Magnetic
000000000
0000
0000
000000000
0000
0.015"
-0.0005" to 0.0005"
3"
3"

7/8

"
2

1/8

"
3/4"

Rockwell C36
May Be Mildly Magnetic
000000000
0000
0000
000000000
0000
0.02"
-0.00025" to 0.00025"
3"
3"

7/8

"
2

1/8

"
3/4"

Rockwell C36
May Be Mildly Magnetic
000000000
0000
0000
000000000
0000
0.025"
-0.0008" to 0.0008"
3"
3"

7/8

"
2

1/8

"
3/4"

Rockwell C36
May Be Mildly Magnetic
000000000
0000
0000
000000000
0000
0.05"
-0.002" to 0.002"
3"
3"

7/8

"
2

1/8

"
3/4"

Rockwell C36
May Be Mildly Magnetic
000000000
0000
0000
000000000
0000
0.125"
-0.003" to 0.003"
3"
3"

7/8

"
2

1/8

"
3/4"

Rockwell C36
May Be Mildly Magnetic
000000000
0000
0000
000000000
0000
0.005"
-0.0001" to 0.0001"
4"
4"
1

1/4

"
2

3/4

"
1 1/8"

Rockwell C36
May Be Mildly Magnetic
000000000
0000
0000
000000000
0000
0.01"
-0.0005" to 0.0005"
4"
4"
1

1/4

"
2

3/4

"
1 1/8"

Rockwell C36
May Be Mildly Magnetic
000000000
0000
0000
000000000
0000
0.015"
-0.0005" to 0.0005"
4"
4"
1

1/4

"
2

3/4

"
1 1/8"

Rockwell C36
May Be Mildly Magnetic
000000000
0000
0000
000000000
0000
0.02"
-0.00025" to 0.00025"
4"
4"
1

1/4

"
2

3/4

"
1 1/8"

Rockwell C36
May Be Mildly Magnetic
000000000
0000
0000
000000000
0000
0.025"
-0.0008" to 0.0008"
4"
4"
1

1/4

"
2

3/4

"
1 1/8"

Rockwell C36
May Be Mildly Magnetic
000000000
0000
0000
000000000
0000
0.05"
-0.002" to 0.002"
4"
4"
1

1/4

"
2

3/4

"
1 1/8"

Rockwell C36
May Be Mildly Magnetic
000000000
0000
0000
000000000
0000
0.125"
-0.003" to 0.003"
4"
4"
1

1/4

"
2

3/4

"
1 1/8"

Rockwell C36
May Be Mildly Magnetic
000000000
0000
0000
000000000
0000
18-8 Stainless Steel—Inch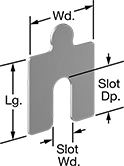 Thick.

Thick.


Tolerance

Lg.

Wd.

Wd.

Dp.

For

Max.


Screw
Size

Min.


Hardness
Magnetic
Properties

1-9

10-Up

Each
0.001"
-0.00005" to 0.00005"
2"
2"

9/16

"
1

9/32

"
1/2"

Rockwell B85
May Be Mildly Magnetic
0000000
00000
00000
000000000
00000
0.002"
-0.0001" to 0.0001"
2"
2"

9/16

"
1

9/32

"
1/2"

Rockwell B85
May Be Mildly Magnetic
0000000
0000
0000
000000000
0000
0.003"
-0.00015" to 0.00015"
2"
2"

9/16

"
1

9/32

"
1/2"

Rockwell B85
May Be Mildly Magnetic
0000000
0000
0000
000000000
0000
0.004"
-0.0002" to 0.0002"
2"
2"

9/16

"
1

9/32

"
1/2"

Rockwell B85
May Be Mildly Magnetic
0000000
0000
0000
000000000
0000
0.005"
-0.00025" to 0.00025"
2"
2"

9/16

"
1

9/32

"
1/2"

Rockwell B85
May Be Mildly Magnetic
0000000
0000
0000
000000000
0000
0.008"
-0.0004" to 0.0004"
2"
2"

9/16

"
1

9/32

"
1/2"

Rockwell C42
May Be Mildly Magnetic
00000000
0000
0000
000000
00
0.01"
-0.0005" to 0.0005"
2"
2"

9/16

"
1

9/32

"
1/2"

Rockwell B85
May Be Mildly Magnetic
0000000
0000
0000
000000000
0000
0.012"
-0.0006" to 0.0006"
2"
2"

9/16

"
1

9/32

"
1/2"

Rockwell C42
May Be Mildly Magnetic
00000000
0000
0000
000000
00
0.015"
-0.00075" to 0.00075"
2"
2"

9/16

"
1

9/32

"
1/2"

Rockwell B85
May Be Mildly Magnetic
0000000
0000
0000
000000000
0000
0.02"
-0.001" to 0.001"
2"
2"

9/16

"
1

9/32

"
1/2"

Rockwell B85
May Be Mildly Magnetic
0000000
0000
0000
000000000
0000
0.025"
-0.00125" to 0.00125"
2"
2"

9/16

"
1

9/32

"
1/2"

Rockwell B85
May Be Mildly Magnetic
0000000
0000
0000
000000000
0000
0.03"
-0.0015" to 0.0015"
2"
2"

9/16

"
1

9/32

"
1/2"

Rockwell B85
May Be Mildly Magnetic
00000000
0000
0000
000000000
0000
0.04"
-0.003" to 0.003"
2"
2"

9/16

"
1

9/32

"
1/2"

Rockwell B70
May Be Mildly Magnetic
00000000
0000
0000
000000
00
0.05"
-0.002" to 0.002"
2"
2"

9/16

"
1

9/32

"
1/2"

Rockwell B85
May Be Mildly Magnetic
0000000
0000
0000
000000000
0000
0.06"
-0.003" to 0.003"
2"
2"

9/16

"
1

9/32

"
1/2"

Rockwell B85
May Be Mildly Magnetic
00000000
0000
0000
000000000
0000
0.075"
-0.002" to 0.002"
2"
2"

9/16

"
1

9/32

"
1/2"

Rockwell B85
May Be Mildly Magnetic
0000000
0000
0000
000000000
0000
0.1"
-0.004" to 0.004"
2"
2"

9/16

"
1

9/32

"
1/2"

Rockwell B85
May Be Mildly Magnetic
0000000
0000
0000
000000000
0000
0.125"
-0.004" to 0.004"
2"
2"

9/16

"
1

9/32

"
1/2"

Rockwell B85
May Be Mildly Magnetic
0000000
0000
0000
000000000
0000
0.187"
-0.01" to 0.01"
2"
2"

9/16

"
1

9/32

"
1/2"

Rockwell B70
May Be Mildly Magnetic
00000000
00000
00000
000000
00
0.25"
-0.01" to 0.01"
2"
2"

9/16

"
1

9/32

"
1/2"

Rockwell B85
May Be Mildly Magnetic
00000000
00000
00000
000000000
0000
0.375"
-0.01" to 0.01"
2"
2"

9/16

"
1

9/32

"
1/2"

Rockwell B85
May Be Mildly Magnetic
00000000
00000
00000
000000000
0000
0.5"
-0.015" to 0.015"
2"
2"

9/16

"
1

9/32

"
1/2"

Rockwell B85
May Be Mildly Magnetic
00000000
00000
00000
000000000
0000
0.75"
-0.06" to 0.06"
2"
2"

9/16

"
1

9/32

"
1/2"

Rockwell B70
May Be Mildly Magnetic
00000000
00000
00000
000000
00
1"
-0.07" to 0.07"
2"
2"

9/16

"
1

9/32

"
1/2"

Rockwell B70
May Be Mildly Magnetic
00000000
00000
00000
000000
00

Shim Trade Size AA

0.001"
-0.00005" to 0.00005"
1

1/2

"
1

1/2

"

7/16

"

61/64

"
3/8"

Rockwell B85
May Be Mildly Magnetic
000000000
0000
000
0000000
0000
0.002"
-0.0001" to 0.0001"
1

1/2

"
1

1/2

"

7/16

"

61/64

"
3/8"

Rockwell B85
May Be Mildly Magnetic
000000000
0000
000
0000000
0000
0.003"
-0.00015" to 0.00015"
1

1/2

"
1

1/2

"

7/16

"

61/64

"
3/8"

Rockwell B85
May Be Mildly Magnetic
000000000
0000
000
0000000
0000
0.004"
-0.0002" to 0.0002"
1

1/2

"
1

1/2

"

7/16

"

61/64

"
3/8"

Rockwell B85
May Be Mildly Magnetic
000000000
0000
000
0000000
0000
0.005"
-0.00025" to 0.00025"
1

1/2

"
1

1/2

"

7/16

"

61/64

"
3/8"

Rockwell B85
May Be Mildly Magnetic
000000000
0000
000
0000000
0000
0.008"
-0.0004" to 0.0004"
1

1/2

"
1

1/2

"

7/16

"

61/64

"
3/8"

Rockwell C42
May Be Mildly Magnetic
000000000
000
000
000000
00
0.01"
-0.0005" to 0.0005"
1

1/2

"
1

1/2

"

7/16

"

61/64

"
3/8"

Rockwell B85
May Be Mildly Magnetic
000000000
000
000
0000000
0000
0.012"
-0.0006" to 0.0006"
1

1/2

"
1

1/2

"

7/16

"

61/64

"
3/8"

Rockwell C42
May Be Mildly Magnetic
000000000
000
000
000000
00
0.015"
-0.00075" to 0.00075"
1

1/2

"
1

1/2

"

7/16

"

61/64

"
3/8"

Rockwell B85
May Be Mildly Magnetic
000000000
0000
000
0000000
0000
0.02"
-0.001" to 0.001"
1

1/2

"
1

1/2

"

7/16

"

61/64

"
3/8"

Rockwell B85
May Be Mildly Magnetic
000000000
0000
000
0000000
0000
0.025"
-0.00125" to 0.00125"
1

1/2

"
1

1/2

"

7/16

"

61/64

"
3/8"

Rockwell B85
May Be Mildly Magnetic
000000000
0000
0000
0000000
0000
0.03"
-0.0015" to 0.0015"
1

1/2

"
1

1/2

"

7/16

"

61/64

"
3/8"

Rockwell B85
May Be Mildly Magnetic
000000000
0000
0000
0000000
0000
0.04"
-0.003" to 0.003"
1

1/2

"
1

1/2

"

7/16

"

61/64

"
3/8"

Rockwell B70
May Be Mildly Magnetic
000000000
0000
0000
000000
00
0.05"
-0.002" to 0.002"
1

1/2

"
1

1/2

"

7/16

"

61/64

"
3/8"

Rockwell B85
May Be Mildly Magnetic
000000000
0000
0000
0000000
0000
0.06"
-0.003" to 0.003"
1

1/2

"
1

1/2

"

7/16

"

61/64

"
3/8"

Rockwell B85
May Be Mildly Magnetic
000000000
0000
0000
0000000
0000
0.075"
-0.002" to 0.002"
1

1/2

"
1

1/2

"

7/16

"

61/64

"
3/8"

Rockwell B85
May Be Mildly Magnetic
000000000
0000
0000
0000000
0000
0.1"
-0.004" to 0.004"
1

1/2

"
1

1/2

"

7/16

"

61/64

"
3/8"

Rockwell B85
May Be Mildly Magnetic
000000000
0000
0000
0000000
0000
0.125"
-0.004" to 0.004"
1

1/2

"
1

1/2

"

7/16

"

61/64

"
3/8"

Rockwell B85
May Be Mildly Magnetic
000000000
0000
0000
0000000
0000
0.187"
-0.01" to 0.01"
1

1/2

"
1

1/2

"

7/16

"

61/64

"
3/8"

Rockwell B70
May Be Mildly Magnetic
000000000
00000
00000
000000
00
0.25"
-0.01" to 0.01"
1

1/2

"
1

1/2

"

7/16

"

61/64

"
3/8"

Rockwell B85
May Be Mildly Magnetic
000000000
00000
00000
0000000
0000
0.375"
-0.01" to 0.01"
1

1/2

"
1

1/2

"

7/16

"

61/64

"
3/8"

Rockwell B85
May Be Mildly Magnetic
000000000
00000
00000
0000000
0000
0.5"
-0.015" to 0.015"
1

1/2

"
1

1/2

"

7/16

"

61/64

"
3/8"

Rockwell B85
May Be Mildly Magnetic
00000000
00000
00000
0000000
0000
0.75"
-0.06" to 0.06"
1

1/2

"
1

1/2

"

7/16

"

61/64

"
3/8"

Rockwell B70
May Be Mildly Magnetic
000000000
00000
00000
000000
00
1"
-0.07" to 0.07"
1

1/2

"
1

1/2

"

7/16

"

61/64

"
3/8"

Rockwell B70
May Be Mildly Magnetic
000000000
00000
00000
000000
00

Shim Trade Size AAA

0.001"
-0.00005" to 0.00005"
1"
1"

1/4

"

5/8

"
1/4"

Rockwell C42
May Be Mildly Magnetic
000000000
0000
0000
00000000
0000
0.002"
-0.0001" to 0.0001"
1"
1"

1/4

"

5/8

"
1/4"

Rockwell C42
May Be Mildly Magnetic
000000000
0000
0000
00000000
0000
0.003"
-0.00015" to 0.00015"
1"
1"

1/4

"

5/8

"
1/4"

Rockwell C42
May Be Mildly Magnetic
000000000
0000
0000
00000000
0000
0.004"
-0.0002" to 0.0002"
1"
1"

1/4

"

5/8

"
1/4"

Rockwell C42
May Be Mildly Magnetic
000000000
0000
0000
00000000
0000
0.005"
-0.00025" to 0.00025"
1"
1"

1/4

"

5/8

"
1/4"

Rockwell C42
May Be Mildly Magnetic
000000000
0000
0000
00000000
0000
0.01"
-0.0005" to 0.0005"
1"
1"

1/4

"

5/8

"
1/4"

Rockwell C42
May Be Mildly Magnetic
000000000
0000
0000
00000000
0000
0.015"
-0.00075" to 0.00075"
1"
1"

1/4

"

5/8

"
1/4"

Rockwell C42
May Be Mildly Magnetic
000000000
0000
0000
00000000
0000
0.02"
-0.001" to 0.001"
1"
1"

1/4

"

5/8

"
1/4"

Rockwell C42
May Be Mildly Magnetic
000000000
0000
0000
00000000
0000
0.025"
-0.00125" to 0.00125"
1"
1"

1/4

"

5/8

"
1/4"

Rockwell C42
May Be Mildly Magnetic
000000000
0000
0000
00000000
0000
0.03"
-0.002" to 0.002"
1"
1"

1/4

"

5/8

"
1/4"

Rockwell C42
May Be Mildly Magnetic
000000000
0000
0000
00000000
0000
0.05"
-0.002" to 0.002"
1"
1"

1/4

"

5/8

"
1/4"

Rockwell B70
May Be Mildly Magnetic
000000000
0000
0000
00000000
0000
0.06"
-0.003" to 0.003"
1"
1"

1/4

"

5/8

"
1/4"

Rockwell B70
May Be Mildly Magnetic
000000000
0000
0000
00000000
0000
0.075"
-0.002" to 0.002"
1"
1"

1/4

"

5/8

"
1/4"

Rockwell B70
May Be Mildly Magnetic
000000000
0000
0000
00000000
0000
0.1"
-0.004" to 0.004"
1"
1"

1/4

"

5/8

"
1/4"

Rockwell B70
May Be Mildly Magnetic
000000000
0000
0000
00000000
0000
0.125"
-0.004" to 0.004"
1"
1"

1/4

"

5/8

"
1/4"

Rockwell B70
May Be Mildly Magnetic
000000000
0000
0000
00000000
0000
0.001"
-0.00005" to 0.00005"
3"
3"

13/16

"
1

29/32

"
3/4"

Rockwell B85
May Be Mildly Magnetic
0000000
0000
0000
00000000
0000
0.002"
-0.0001" to 0.0001"
3"
3"

13/16

"
1

29/32

"
3/4"

Rockwell B85
May Be Mildly Magnetic
0000000
0000
0000
00000000
0000
0.003"
-0.00015" to 0.00015"
3"
3"

13/16

"
1

29/32

"
3/4"

Rockwell B85
May Be Mildly Magnetic
0000000
0000
0000
00000000
0000
0.004"
-0.0002" to 0.0002"
3"
3"

13/16

"
1

29/32

"
3/4"

Rockwell B85
May Be Mildly Magnetic
0000000
0000
0000
00000000
0000
0.005"
-0.00025" to 0.00025"
3"
3"

13/16

"
1

29/32

"
3/4"

Rockwell B85
May Be Mildly Magnetic
0000000
0000
0000
00000000
0000
0.008"
-0.0004" to 0.0004"
3"
3"

13/16

"
1

29/32

"
3/4"

Rockwell C42
May Be Mildly Magnetic
00000000
0000
0000
000000
00
0.01"
-0.0005" to 0.0005"
3"
3"

13/16

"
1

29/32

"
3/4"

Rockwell B85
May Be Mildly Magnetic
0000000
0000
0000
00000000
0000
0.012"
-0.0006" to 0.0006"
3"
3"

13/16

"
1

29/32

"
3/4"

Rockwell C42
May Be Mildly Magnetic
00000000
0000
0000
000000
00
0.015"
-0.00075" to 0.00075"
3"
3"

13/16

"
1

29/32

"
3/4"

Rockwell B85
May Be Mildly Magnetic
0000000
0000
0000
00000000
0000
0.02"
-0.001" to 0.001"
3"
3"

13/16

"
1

29/32

"
3/4"

Rockwell B85
May Be Mildly Magnetic
0000000
0000
0000
00000000
0000
0.025"
-0.00125" to 0.00125"
3"
3"

13/16

"
1

29/32

"
3/4"

Rockwell B85
May Be Mildly Magnetic
0000000
0000
0000
00000000
0000
0.03"
-0.0015" to 0.0015"
3"
3"

13/16

"
1

29/32

"
3/4"

Rockwell B85
May Be Mildly Magnetic
00000000
0000
0000
00000000
0000
0.04"
-0.003" to 0.003"
3"
3"

13/16

"
1

29/32

"
3/4"

Rockwell B70
May Be Mildly Magnetic
00000000
0000
0000
000000
00
0.05"
-0.002" to 0.002"
3"
3"

13/16

"
1

29/32

"
3/4"

Rockwell B85
May Be Mildly Magnetic
0000000
0000
0000
00000000
0000
0.06"
-0.003" to 0.003"
3"
3"

13/16

"
1

29/32

"
3/4"

Rockwell B85
May Be Mildly Magnetic
00000000
0000
0000
00000000
0000
0.075"
-0.002" to 0.002"
3"
3"

13/16

"
1

29/32

"
3/4"

Rockwell B85
May Be Mildly Magnetic
0000000
0000
0000
00000000
0000
0.1"
-0.004" to 0.004"
3"
3"

13/16

"
1

29/32

"
3/4"

Rockwell B85
May Be Mildly Magnetic
0000000
0000
0000
00000000
0000
0.125"
-0.004" to 0.004"
3"
3"

13/16

"
1

29/32

"
3/4"

Rockwell B85
May Be Mildly Magnetic
0000000
0000
0000
00000000
0000
0.187"
-0.01" to 0.01"
3"
3"

13/16

"
1

29/32

"
3/4"

Rockwell B70
May Be Mildly Magnetic
00000000
00000
00000
000000
00
0.25"
-0.01" to 0.01"
3"
3"

13/16

"
1

29/32

"
3/4"

Rockwell B85
May Be Mildly Magnetic
00000000
00000
00000
00000000
0000
0.375"
-0.01" to 0.01"
3"
3"

13/16

"
1

29/32

"
3/4"

Rockwell B85
May Be Mildly Magnetic
00000000
00000
00000
00000000
0000
0.5"
-0.015" to 0.015"
3"
3"

13/16

"
1

29/32

"
3/4"

Rockwell B85
May Be Mildly Magnetic
00000000
00000
00000
00000000
0000
0.75"
-0.06" to 0.06"
3"
3"

13/16

"
1

29/32

"
3/4"

Rockwell B70
May Be Mildly Magnetic
00000000
00000
00000
000000
00
1"
-0.07" to 0.07"
3"
3"

13/16

"
1

29/32

"
3/4"

Rockwell B70
May Be Mildly Magnetic
00000000
000000
00000
000000
00

Shim Trade Size BB

0.001"
-0.00005" to 0.00005"
2

1/2

"
2

1/2

"

11/16

"
1

19/32

"
5/8"

Rockwell B85
May Be Mildly Magnetic
000000000
0000
0000
000000000
0000
0.002"
-0.0001" to 0.0001"
2

1/2

"
2

1/2

"

11/16

"
1

19/32

"
5/8"

Rockwell B85
May Be Mildly Magnetic
000000000
0000
0000
000000000
0000
0.003"
-0.00015" to 0.00015"
2

1/2

"
2

1/2

"

11/16

"
1

19/32

"
5/8"

Rockwell B85
May Be Mildly Magnetic
000000000
0000
0000
000000000
0000
0.004"
-0.0002" to 0.0002"
2

1/2

"
2

1/2

"

11/16

"
1

19/32

"
5/8"

Rockwell B85
May Be Mildly Magnetic
000000000
0000
0000
000000000
0000
0.005"
-0.00025" to 0.00025"
2

1/2

"
2

1/2

"

11/16

"
1

19/32

"
5/8"

Rockwell B85
May Be Mildly Magnetic
000000000
0000
0000
000000000
0000
0.008"
-0.0004" to 0.0004"
2

1/2

"
2

1/2

"

11/16

"
1

19/32

"
5/8"

Rockwell C42
May Be Mildly Magnetic
000000000
0000
0000
000000
00
0.01"
-0.0005" to 0.0005"
2

1/2

"
2

1/2

"

11/16

"
1

19/32

"
5/8"

Rockwell B85
May Be Mildly Magnetic
000000000
0000
0000
000000000
0000
0.012"
-0.0006" to 0.0006"
2

1/2

"
2

1/2

"

11/16

"
1

19/32

"
5/8"

Rockwell C42
May Be Mildly Magnetic
000000000
0000
0000
000000
00
0.015"
-0.00075" to 0.00075"
2

1/2

"
2

1/2

"

11/16

"
1

19/32

"
5/8"

Rockwell B85
May Be Mildly Magnetic
000000000
0000
0000
000000000
0000
0.02"
-0.001" to 0.001"
2

1/2

"
2

1/2

"

11/16

"
1

19/32

"
5/8"

Rockwell B85
May Be Mildly Magnetic
000000000
0000
0000
000000000
0000
0.025"
-0.00125" to 0.00125"
2

1/2

"
2

1/2

"

11/16

"
1

19/32

"
5/8"

Rockwell B85
May Be Mildly Magnetic
000000000
0000
0000
000000000
0000
0.03"
-0.0015" to 0.0015"
2

1/2

"
2

1/2

"

11/16

"
1

19/32

"
5/8"

Rockwell B85
May Be Mildly Magnetic
00000000
0000
0000
000000000
0000
0.04"
-0.003" to 0.003"
2

1/2

"
2

1/2

"

11/16

"
1

19/32

"
5/8"

Rockwell B70
May Be Mildly Magnetic
000000000
0000
0000
000000
00
0.05"
-0.002" to 0.002"
2

1/2

"
2

1/2

"

11/16

"
1

19/32

"
5/8"

Rockwell B85
May Be Mildly Magnetic
000000000
0000
0000
000000000
0000
0.06"
-0.003" to 0.003"
2

1/2

"
2

1/2

"

11/16

"
1

19/32

"
5/8"

Rockwell B85
May Be Mildly Magnetic
000000000
0000
0000
000000000
0000
0.075"
-0.002" to 0.002"
2

1/2

"
2

1/2

"

11/16

"
1

19/32

"
5/8"

Rockwell B85
May Be Mildly Magnetic
000000000
0000
0000
000000000
0000
0.1"
-0.004" to 0.004"
2

1/2

"
2

1/2

"

11/16

"
1

19/32

"
5/8"

Rockwell B85
May Be Mildly Magnetic
000000000
0000
0000
000000000
0000
0.125"
-0.004" to 0.004"
2

1/2

"
2

1/2

"

11/16

"
1

19/32

"
5/8"

Rockwell B85
May Be Mildly Magnetic
000000000
0000
0000
000000000
0000
0.187"
-0.01" to 0.01"
2

1/2

"
2

1/2

"

11/16

"
1

19/32

"
5/8"

Rockwell B70
May Be Mildly Magnetic
000000000
00000
00000
000000
00
0.25"
-0.01" to 0.01"
2

1/2

"
2

1/2

"

11/16

"
1

19/32

"
5/8"

Rockwell B85
May Be Mildly Magnetic
000000000
00000
00000
000000000
0000
0.375"
-0.01" to 0.01"
2

1/2

"
2

1/2

"

11/16

"
1

19/32

"
5/8"

Rockwell B85
May Be Mildly Magnetic
000000000
00000
00000
000000000
0000
0.5"
-0.015" to 0.015"
2

1/2

"
2

1/2

"

11/16

"
1

19/32

"
5/8"

Rockwell B85
May Be Mildly Magnetic
000000000
00000
00000
000000000
0000
0.75"
-0.06" to 0.06"
2

1/2

"
2

1/2

"

11/16

"
1

19/32

"
5/8"

Rockwell B70
May Be Mildly Magnetic
000000000
00000
00000
000000
00
1"
-0.07" to 0.07"
2

1/2

"
2

1/2

"

11/16

"
1

19/32

"
5/8"

Rockwell B70
May Be Mildly Magnetic
000000000
00000
00000
000000
00
0.001"
-0.00005" to 0.00005"
4"
4"
1

3/16

"
2

19/32

"
1 1/8"

Rockwell B85
May Be Mildly Magnetic
0000000
0000
0000
00000000
0000
0.002"
-0.0001" to 0.0001"
4"
4"
1

3/16

"
2

19/32

"
1 1/8"

Rockwell B85
May Be Mildly Magnetic
0000000
0000
0000
00000000
0000
0.003"
-0.00015" to 0.00015"
4"
4"
1

3/16

"
2

19/32

"
1 1/8"

Rockwell B85
May Be Mildly Magnetic
0000000
0000
0000
00000000
0000
0.004"
-0.0002" to 0.0002"
4"
4"
1

3/16

"
2

19/32

"
1 1/8"

Rockwell B85
May Be Mildly Magnetic
0000000
0000
0000
00000000
0000
0.005"
-0.00025" to 0.00025"
4"
4"
1

3/16

"
2

19/32

"
1 1/8"

Rockwell B85
May Be Mildly Magnetic
0000000
0000
0000
00000000
0000
0.008"
-0.0004" to 0.0004"
4"
4"
1

3/16

"
2

19/32

"
1 1/8"

Rockwell C42
May Be Mildly Magnetic
00000000
0000
0000
000000
00
0.01"
-0.0005" to 0.0005"
4"
4"
1

3/16

"
2

19/32

"
1 1/8"

Rockwell B85
May Be Mildly Magnetic
0000000
0000
0000
00000000
0000
0.012"
-0.0006" to 0.0006"
4"
4"
1

3/16

"
2

19/32

"
1 1/8"

Rockwell C42
May Be Mildly Magnetic
00000000
0000
0000
000000
00
0.015"
-0.00075" to 0.00075"
4"
4"
1

3/16

"
2

19/32

"
1 1/8"

Rockwell B85
May Be Mildly Magnetic
0000000
0000
0000
00000000
0000
0.02"
-0.001" to 0.001"
4"
4"
1

3/16

"
2

19/32

"
1 1/8"

Rockwell B85
May Be Mildly Magnetic
0000000
0000
0000
00000000
0000
0.025"
-0.00125" to 0.00125"
4"
4"
1

3/16

"
2

19/32

"
1 1/8"

Rockwell B85
May Be Mildly Magnetic
0000000
0000
0000
00000000
0000
0.03"
-0.0015" to 0.0015"
4"
4"
1

3/16

"
2

19/32

"
1 1/8"

Rockwell B85
May Be Mildly Magnetic
00000000
0000
0000
00000000
0000
0.04"
-0.003" to 0.003"
4"
4"
1

3/16

"
2

19/32

"
1 1/8"

Rockwell B70
May Be Mildly Magnetic
00000000
0000
0000
000000
00
0.05"
-0.002" to 0.002"
4"
4"
1

3/16

"
2

19/32

"
1 1/8"

Rockwell B85
May Be Mildly Magnetic
0000000
0000
0000
00000000
0000
0.06"
-0.003" to 0.003"
4"
4"
1

3/16

"
2

19/32

"
1 1/8"

Rockwell B85
May Be Mildly Magnetic
00000000
0000
0000
00000000
0000
0.075"
-0.002" to 0.002"
4"
4"
1

3/16

"
2

19/32

"
1 1/8"

Rockwell B85
May Be Mildly Magnetic
0000000
0000
0000
00000000
0000
0.1"
-0.004" to 0.004"
4"
4"
1

3/16

"
2

19/32

"
1 1/8"

Rockwell B85
May Be Mildly Magnetic
0000000
0000
0000
00000000
0000
0.125"
-0.004" to 0.004"
4"
4"
1

3/16

"
2

19/32

"
1 1/8"

Rockwell B85
May Be Mildly Magnetic
0000000
0000
0000
00000000
0000
0.187"
-0.01" to 0.01"
4"
4"
1

3/16

"
2

19/32

"
1 1/8"

Rockwell B70
May Be Mildly Magnetic
00000000
00000
00000
000000
00
0.25"
-0.01" to 0.01"
4"
4"
1

3/16

"
2

19/32

"
1 1/8"

Rockwell B85
May Be Mildly Magnetic
00000000
00000
00000
00000000
0000
0.375"
-0.01" to 0.01"
4"
4"
1

3/16

"
2

19/32

"
1 1/8"

Rockwell B85
May Be Mildly Magnetic
00000000
00000
00000
00000000
0000
0.5"
-0.015" to 0.015"
4"
4"
1

3/16

"
2

19/32

"
1 1/8"

Rockwell B85
May Be Mildly Magnetic
00000000
00000
00000
00000000
0000
0.75"
-0.06" to 0.06"
4"
4"
1

3/16

"
2

19/32

"
1 1/8"

Rockwell B70
May Be Mildly Magnetic
00000000
000000
000000
000000
00
1"
-0.07" to 0.07"
4"
4"
1

3/16

"
2

19/32

"
1 1/8"

Rockwell B70
May Be Mildly Magnetic
00000000
000000
000000
000000
00
0.001"
-0.00005" to 0.00005"
5"
5"
1

9/16

"
3

9/32

"
1 1/2"

Rockwell B85
May Be Mildly Magnetic
0000000
0000
0000
000000000
0000
0.002"
-0.0001" to 0.0001"
5"
5"
1

9/16

"
3

9/32

"
1 1/2"

Rockwell B85
May Be Mildly Magnetic
0000000
0000
0000
000000000
0000
0.003"
-0.00015" to 0.00015"
5"
5"
1

9/16

"
3

9/32

"
1 1/2"

Rockwell B85
May Be Mildly Magnetic
0000000
0000
0000
000000000
0000
0.004"
-0.0002" to 0.0002"
5"
5"
1

9/16

"
3

9/32

"
1 1/2"

Rockwell B85
May Be Mildly Magnetic
0000000
0000
0000
000000000
0000
0.005"
-0.00025" to 0.00025"
5"
5"
1

9/16

"
3

9/32

"
1 1/2"

Rockwell B85
May Be Mildly Magnetic
0000000
0000
0000
000000000
0000
0.008"
-0.0004" to 0.0004"
5"
5"
1

9/16

"
3

9/32

"
1 1/2"

Rockwell C42
May Be Mildly Magnetic
00000000
0000
0000
000000
00
0.01"
-0.0005" to 0.0005"
5"
5"
1

9/16

"
3

9/32

"
1 1/2"

Rockwell B85
May Be Mildly Magnetic
0000000
0000
0000
000000000
0000
0.012"
-0.0006" to 0.0006"
5"
5"
1

9/16

"
3

9/32

"
1 1/2"

Rockwell C42
May Be Mildly Magnetic
00000000
0000
0000
000000
00
0.015"
-0.00075" to 0.00075"
5"
5"
1

9/16

"
3

9/32

"
1 1/2"

Rockwell B85
May Be Mildly Magnetic
0000000
0000
0000
000000000
0000
0.02"
-0.001" to 0.001"
5"
5"
1

9/16

"
3

9/32

"
1 1/2"

Rockwell B85
May Be Mildly Magnetic
0000000
0000
0000
000000000
0000
0.025"
-0.00125" to 0.00125"
5"
5"
1

9/16

"
3

9/32

"
1 1/2"

Rockwell B85
May Be Mildly Magnetic
0000000
0000
0000
000000000
0000
0.03"
-0.0015" to 0.0015"
5"
5"
1

9/16

"
3

9/32

"
1 1/2"

Rockwell B85
May Be Mildly Magnetic
00000000
0000
0000
000000000
0000
0.04"
-0.003" to 0.003"
5"
5"
1

9/16

"
3

9/32

"
1 1/2"

Rockwell B70
May Be Mildly Magnetic
00000000
0000
0000
000000
00
0.05"
-0.002" to 0.002"
5"
5"
1

9/16

"
3

9/32

"
1 1/2"

Rockwell B85
May Be Mildly Magnetic
0000000
0000
0000
000000000
0000
0.06"
-0.003" to 0.003"
5"
5"
1

9/16

"
3

9/32

"
1 1/2"

Rockwell B85
May Be Mildly Magnetic
00000000
0000
0000
000000000
0000
0.075"
-0.002" to 0.002"
5"
5"
1

9/16

"
3

9/32

"
1 1/2"

Rockwell B85
May Be Mildly Magnetic
0000000
00000
0000
000000000
0000
0.1"
-0.004" to 0.004"
5"
5"
1

9/16

"
3

9/32

"
1 1/2"

Rockwell B85
May Be Mildly Magnetic
0000000
00000
0000
000000000
0000
0.125"
-0.004" to 0.004"
5"
5"
1

9/16

"
3

9/32

"
1 1/2"

Rockwell B85
May Be Mildly Magnetic
0000000
00000
00000
000000000
0000
0.187"
-0.01" to 0.01"
5"
5"
1

9/16

"
3

9/32

"
1 1/2"

Rockwell B70
May Be Mildly Magnetic
00000000
00000
00000
000000
00
0.25"
-0.01" to 0.01"
5"
5"
1

9/16

"
3

9/32

"
1 1/2"

Rockwell B85
May Be Mildly Magnetic
00000000
00000
00000
000000000
0000
0.375"
-0.01" to 0.01"
5"
5"
1

9/16

"
3

9/32

"
1 1/2"

Rockwell B85
May Be Mildly Magnetic
00000000
00000
00000
000000000
0000
0.5"
-0.015" to 0.015"
5"
5"
1

9/16

"
3

9/32

"
1 1/2"

Rockwell B85
May Be Mildly Magnetic
00000000
00000
00000
000000000
0000
0.75"
-0.06" to 0.06"
5"
5"
1

9/16

"
3

9/32

"
1 1/2"

Rockwell B70
May Be Mildly Magnetic
00000000
000000
000000
000000
00
1"
-0.07" to 0.07"
5"
5"
1

9/16

"
3

9/32

"
1 1/2"

Rockwell B70
May Be Mildly Magnetic
00000000
000000
000000
000000
00

Shim Trade Size DD

0.001"
-0.0005" to 0.0005"
6"
5"
1

9/16

"
4

1/2

"
1 1/2"

Rockwell C42
May Be Mildly Magnetic
000000000
0000
0000
000000
00
0.002"
-0.0001" to 0.0001"
6"
5"
1

9/16

"
4

1/2

"
1 1/2"

Rockwell C42
May Be Mildly Magnetic
000000000
0000
0000
000000
00
0.003"
-0.00015" to 0.00015"
6"
5"
1

9/16

"
4

1/2

"
1 1/2"

Rockwell C42
May Be Mildly Magnetic
000000000
0000
0000
000000
00
0.004"
-0.0002" to 0.0002"
6"
5"
1

9/16

"
4

1/2

"
1 1/2"

Rockwell C42
May Be Mildly Magnetic
000000000
0000
0000
000000
00
0.005"
-0.00025" to 0.00025"
6"
5"
1

9/16

"
4

1/2

"
1 1/2"

Rockwell C42
May Be Mildly Magnetic
000000000
0000
0000
000000
00
0.01"
-0.0005" to 0.0005"
6"
5"
1

9/16

"
4

1/2

"
1 1/2"

Rockwell C42
May Be Mildly Magnetic
000000000
0000
0000
000000
00
0.015"
-0.00075" to 0.00075"
6"
5"
1

9/16

"
4

1/2

"
1 1/2"

Rockwell C42
May Be Mildly Magnetic
000000000
0000
0000
000000
00
0.02"
-0.001" to 0.001"
6"
5"
1

9/16

"
4

1/2

"
1 1/2"

Rockwell C42
May Be Mildly Magnetic
000000000
0000
0000
000000
00
0.025"
-0.00125" to 0.00125"
6"
5"
1

9/16

"
4

1/2

"
1 1/2"

Rockwell C42
May Be Mildly Magnetic
000000000
0000
0000
000000
00
0.03"
-0.0015" to 0.0015"
6"
5"
1

9/16

"
4

1/2

"
1 1/2"

Rockwell C42
May Be Mildly Magnetic
000000000
0000
0000
000000
00
0.05"
-0.002" to 0.002"
6"
5"
1

9/16

"
4

1/2

"
1 1/2"

Rockwell B70
May Be Mildly Magnetic
000000000
0000
0000
000000
00
0.06"
-0.003" to 0.003"
6"
5"
1

9/16

"
4

1/2

"
1 1/2"

Rockwell B70
May Be Mildly Magnetic
000000000
00000
0000
000000
00
0.075"
-0.002" to 0.002"
6"
5"
1

9/16

"
4

1/2

"
1 1/2"

Rockwell B70
May Be Mildly Magnetic
000000000
00000
0000
000000
00
0.1"
-0.004" to 0.004"
6"
5"
1

9/16

"
4

1/2

"
1 1/2"

Rockwell B70
May Be Mildly Magnetic
000000000
00000
00000
000000
00
0.125"
-0.004" to 0.004"
6"
5"
1

9/16

"
4

1/2

"
1 1/2"

Rockwell B70
May Be Mildly Magnetic
000000000
00000
00000
000000
00
0.001"
-0.00005" to 0.00005"
6"
6"
1

15/16

"
4"
1 7/8"
Rockwell B85
May Be Mildly Magnetic
000000000
0000
0000
00000000
0000
0.002"
-0.0001" to 0.0001"
6"
6"
1

15/16

"
4"
1 7/8"
Rockwell B85
May Be Mildly Magnetic
000000000
0000
0000
00000000
0000
0.003"
-0.00015" to 0.00015"
6"
6"
1

15/16

"
4"
1 7/8"
Rockwell B85
May Be Mildly Magnetic
000000000
0000
0000
00000000
0000
0.004"
-0.0002" to 0.0002"
6"
6"
1

15/16

"
4"
1 7/8"
Rockwell B85
May Be Mildly Magnetic
000000000
0000
0000
00000000
0000
0.005"
-0.00025" to 0.00025"
6"
6"
1

15/16

"
4"
1 7/8"
Rockwell B85
May Be Mildly Magnetic
000000000
0000
0000
00000000
0000
0.008"
-0.0004" to 0.0004"
6"
6"
1

15/16

"
4"
1 7/8"
Rockwell C42
May Be Mildly Magnetic
000000000
0000
0000
000000
00
0.01"
-0.0005" to 0.0005"
6"
6"
1

15/16

"
4"
1 7/8"
Rockwell B85
May Be Mildly Magnetic
000000000
0000
0000
00000000
0000
0.012"
-0.0006" to 0.0006"
6"
6"
1

15/16

"
4"
1 7/8"
Rockwell C42
May Be Mildly Magnetic
000000000
0000
0000
000000
00
0.015"
-0.00075" to 0.00075"
6"
6"
1

15/16

"
4"
1 7/8"
Rockwell B85
May Be Mildly Magnetic
000000000
0000
0000
00000000
0000
0.02"
-0.001" to 0.001"
6"
6"
1

15/16

"
4"
1 7/8"
Rockwell B85
May Be Mildly Magnetic
000000000
0000
0000
00000000
0000
0.025"
-0.00125" to 0.00125"
6"
6"
1

15/16

"
4"
1 7/8"
Rockwell B85
May Be Mildly Magnetic
000000000
0000
0000
00000000
0000
0.03"
-0.0015" to 0.0015"
6"
6"
1

15/16

"
4"
1 7/8"
Rockwell B85
May Be Mildly Magnetic
000000000
0000
0000
00000000
0000
0.04"
-0.003" to 0.003"
6"
6"
1

15/16

"
4"
1 7/8"
Rockwell B70
May Be Mildly Magnetic
000000000
0000
0000
000000
00
0.05"
-0.002" to 0.002"
6"
6"
1

15/16

"
4"
1 7/8"
Rockwell B85
May Be Mildly Magnetic
000000000
0000
0000
00000000
0000
0.06"
-0.003" to 0.003"
6"
6"
1

15/16

"
4"
1 7/8"
Rockwell B85
May Be Mildly Magnetic
000000000
00000
00000
00000000
0000
0.075"
-0.002" to 0.002"
6"
6"
1

15/16

"
4"
1 7/8"
Rockwell B85
May Be Mildly Magnetic
000000000
00000
00000
00000000
0000
0.1"
-0.004" to 0.004"
6"
6"
1

15/16

"
4"
1 7/8"
Rockwell B85
May Be Mildly Magnetic
000000000
00000
00000
00000000
0000
0.125"
-0.004" to 0.004"
6"
6"
1

15/16

"
4"
1 7/8"
Rockwell B85
May Be Mildly Magnetic
000000000
00000
00000
00000000
0000
0.25"
-0.01" to 0.01"
6"
6"
1

15/16

"
4"
1 7/8"
Rockwell B85
May Be Mildly Magnetic
000000000
00000
00000
00000000
0000
0.375"
-0.01" to 0.01"
6"
6"
1

15/16

"
4"
1 7/8"
Rockwell B85
May Be Mildly Magnetic
00000000
00000
00000
00000000
0000
0.5"
-0.015" to 0.015"
6"
6"
1

15/16

"
4"
1 7/8"
Rockwell B85
May Be Mildly Magnetic
000000000
00000
00000
00000000
0000
0.001"
-0.00005" to 0.00005"
6"
6"
2

5/16

"
4

3/16

"
2 1/4"

Rockwell B85
May Be Mildly Magnetic
000000000
0000
0000
00000000
0000
0.002"
-0.0001" to 0.0001"
6"
6"
2

5/16

"
4

3/16

"
2 1/4"

Rockwell B85
May Be Mildly Magnetic
000000000
0000
0000
00000000
0000
0.003"
-0.00015" to 0.00015"
6"
6"
2

5/16

"
4

3/16

"
2 1/4"

Rockwell B85
May Be Mildly Magnetic
000000000
0000
0000
00000000
0000
0.004"
-0.0002" to 0.0002"
6"
6"
2

5/16

"
4

3/16

"
2 1/4"

Rockwell B85
May Be Mildly Magnetic
000000000
0000
0000
00000000
0000
0.005"
-0.00025" to 0.00025"
6"
6"
2

5/16

"
4

3/16

"
2 1/4"

Rockwell B85
May Be Mildly Magnetic
000000000
0000
0000
00000000
0000
0.008"
-0.0004" to 0.0004"
6"
6"
2

5/16

"
4

3/16

"
2 1/4"

Rockwell C42
May Be Mildly Magnetic
000000000
0000
0000
000000
00
0.01"
-0.0005" to 0.0005"
6"
6"
2

5/16

"
4

3/16

"
2 1/4"

Rockwell B85
May Be Mildly Magnetic
000000000
0000
0000
00000000
0000
0.012"
-0.0006" to 0.0006"
6"
6"
2

5/16

"
4

3/16

"
2 1/4"

Rockwell C42
May Be Mildly Magnetic
000000000
0000
0000
000000
00
0.015"
-0.00075" to 0.00075"
6"
6"
2

5/16

"
4

3/16

"
2 1/4"

Rockwell B85
May Be Mildly Magnetic
000000000
0000
0000
00000000
0000
0.02"
-0.001" to 0.001"
6"
6"
2

5/16

"
4

3/16

"
2 1/4"

Rockwell B85
May Be Mildly Magnetic
000000000
0000
0000
00000000
0000
0.025"
-0.00125" to 0.00125"
6"
6"
2

5/16

"
4

3/16

"
2 1/4"

Rockwell B85
May Be Mildly Magnetic
000000000
0000
0000
00000000
0000
0.03"
-0.0015" to 0.0015"
6"
6"
2

5/16

"
4

3/16

"
2 1/4"

Rockwell B85
May Be Mildly Magnetic
000000000
0000
0000
00000000
0000
0.04"
-0.003" to 0.003"
6"
6"
2

5/16

"
4

3/16

"
2 1/4"

Rockwell B70
May Be Mildly Magnetic
000000000
0000
0000
000000
00
0.05"
-0.002" to 0.002"
6"
6"
2

5/16

"
4

3/16

"
2 1/4"

Rockwell B85
May Be Mildly Magnetic
000000000
0000
0000
00000000
0000
0.06"
-0.003" to 0.003"
6"
6"
2

5/16

"
4

3/16

"
2 1/4"

Rockwell B85
May Be Mildly Magnetic
000000000
00000
00000
00000000
0000
0.075"
-0.002" to 0.002"
6"
6"
2

5/16

"
4

3/16

"
2 1/4"

Rockwell B85
May Be Mildly Magnetic
000000000
00000
00000
00000000
0000
0.1"
-0.004" to 0.004"
6"
6"
2

5/16

"
4

3/16

"
2 1/4"

Rockwell B85
May Be Mildly Magnetic
000000000
00000
00000
00000000
0000
0.125"
-0.004" to 0.004"
6"
6"
2

5/16

"
4

3/16

"
2 1/4"

Rockwell B85
May Be Mildly Magnetic
000000000
00000
00000
00000000
0000
0.25"
-0.01" to 0.01"
6"
6"
2

5/16

"
4

3/16

"
2 1/4"

Rockwell B85
May Be Mildly Magnetic
000000000
00000
00000
00000000
0000
0.375"
-0.01" to 0.01"
6"
6"
2

5/16

"
4

3/16

"
2 1/4"

Rockwell B85
May Be Mildly Magnetic
00000000
00000
00000
00000000
0000
0.5"
-0.015" to 0.015"
6"
6"
2

5/16

"
4

3/16

"
2 1/4"

Rockwell B85
May Be Mildly Magnetic
000000000
00000
00000
00000000
0000
0.001"
-0.00005" to 0.00005"
8"
8"
2

5/16

"
5

3/16

"
2 1/4"

Rockwell B85
May Be Mildly Magnetic
000000000
0000
0000
000000000
0000
0.002"
-0.0001" to 0.0001"
8"
8"
2

5/16

"
5

3/16

"
2 1/4"

Rockwell B85
May Be Mildly Magnetic
000000000
0000
0000
000000000
0000
0.003"
-0.00015" to 0.00015"
8"
8"
2

5/16

"
5

3/16

"
2 1/4"

Rockwell B85
May Be Mildly Magnetic
000000000
0000
0000
000000000
0000
0.004"
-0.0002" to 0.0002"
8"
8"
2

5/16

"
5

3/16

"
2 1/4"

Rockwell B85
May Be Mildly Magnetic
000000000
0000
0000
000000000
0000
0.005"
-0.00025" to 0.00025"
8"
8"
2

5/16

"
5

3/16

"
2 1/4"

Rockwell B85
May Be Mildly Magnetic
000000000
0000
0000
000000000
0000
0.008"
-0.0004" to 0.0004"
8"
8"
2

5/16

"
5

3/16

"
2 1/4"

Rockwell C42
May Be Mildly Magnetic
000000000
0000
0000
000000
00
0.01"
-0.0005" to 0.0005"
8"
8"
2

5/16

"
5

3/16

"
2 1/4"

Rockwell B85
May Be Mildly Magnetic
000000000
0000
0000
000000000
0000
0.012"
-0.0006" to 0.0006"
8"
8"
2

5/16

"
5

3/16

"
2 1/4"

Rockwell C42
May Be Mildly Magnetic
000000000
0000
0000
000000
00
0.015"
-0.00075" to 0.00075"
8"
8"
2

5/16

"
5

3/16

"
2 1/4"

Rockwell B85
May Be Mildly Magnetic
000000000
0000
0000
000000000
0000
0.02"
-0.001" to 0.001"
8"
8"
2

5/16

"
5

3/16

"
2 1/4"

Rockwell B85
May Be Mildly Magnetic
000000000
0000
0000
000000000
0000
0.025"
-0.00125" to 0.00125"
8"
8"
2

5/16

"
5

3/16

"
2 1/4"

Rockwell B85
May Be Mildly Magnetic
000000000
0000
0000
000000000
0000
0.03"
-0.0015" to 0.0015"
8"
8"
2

5/16

"
5

3/16

"
2 1/4"

Rockwell B85
May Be Mildly Magnetic
000000000
0000
0000
000000000
0000
0.04"
-0.003" to 0.003"
8"
8"
2

5/16

"
5

3/16

"
2 1/4"

Rockwell B70
May Be Mildly Magnetic
000000000
0000
0000
000000
00
0.05"
-0.002" to 0.002"
8"
8"
2

5/16

"
5

3/16

"
2 1/4"

Rockwell B85
May Be Mildly Magnetic
000000000
0000
0000
000000000
0000
0.06"
-0.003" to 0.003"
8"
8"
2

5/16

"
5

3/16

"
2 1/4"

Rockwell B85
May Be Mildly Magnetic
000000000
00000
00000
000000000
0000
0.075"
-0.002" to 0.002"
8"
8"
2

5/16

"
5

3/16

"
2 1/4"

Rockwell B85
May Be Mildly Magnetic
000000000
00000
00000
000000000
0000
0.1"
-0.004" to 0.004"
8"
8"
2

5/16

"
5

3/16

"
2 1/4"

Rockwell B85
May Be Mildly Magnetic
000000000
00000
00000
000000000
0000
0.125"
-0.004" to 0.004"
8"
8"
2

5/16

"
5

3/16

"
2 1/4"

Rockwell B85
May Be Mildly Magnetic
000000000
00000
00000
000000000
0000
0.25"
-0.01" to 0.01"
8"
8"
2

5/16

"
5

3/16

"
2 1/4"

Rockwell B85
May Be Mildly Magnetic
000000000
00000
00000
000000000
0000
0.375"
-0.01" to 0.01"
8"
8"
2

5/16

"
5

3/16

"
2 1/4"

Rockwell B85
May Be Mildly Magnetic
00000000
00000
00000
000000000
0000
0.5"
-0.015" to 0.015"
8"
8"
2

5/16

"
5

3/16

"
2 1/4"

Rockwell B85
May Be Mildly Magnetic
000000000
000000
000000
000000000
0000
18-8 Stainless Steel—Metric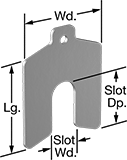 Thick.,


mm

Thick.




Tolerance,


mm

Lg.,


mm

Wd.,


mm

Wd.,


mm

Dp.,


mm
For

Max.


Screw
Size

Min.


Hardness
Magnetic
Properties
Each
Each
0.025
-0.0025 to 0.0025
50
50
15.9
25.4
M15

Rockwell C40
May Be Mildly Magnetic
00000000
00000
000000000
00000
0.05
-0.0035 to 0.0035
50
50
15.9
25.4
M15

Rockwell C40
May Be Mildly Magnetic
00000000
0000
000000000
0000
0.1
-0.007 to 0.007
50
50
15.9
25.4
M15

Rockwell C40
May Be Mildly Magnetic
00000000
0000
000000000
0000
0.2
-0.015 to 0.015
50
50
15.9
25.4
M15

Rockwell C40
May Be Mildly Magnetic
00000000
0000
000000000
0000
0.25
-0.02 to 0.02
50
50
15.9
25.4
M15

Rockwell C40
May Be Mildly Magnetic
00000000
0000
000000000
0000
0.4
-0.032 to 0.032
50
50
15.9
25.4
M15

Rockwell C40
May Be Mildly Magnetic
00000000
0000
000000000
0000
0.5
-0.032 to 0.032
50
50
15.9
25.4
M15

Rockwell C40
May Be Mildly Magnetic
00000000
0000
000000000
0000
0.7
-0.032 to 0.032
50
50
15.9
25.4
M15

Rockwell B70
May Be Mildly Magnetic
00000000
0000
000000000
0000
1
-0.05 to 0.05
50
50
15.9
25.4
M15

Not Rated
May Be Mildly Magnetic
00000000
0000
000000000
0000
2
-0.07 to 0.07
50
50
15.9
25.4
M15

Not Rated
May Be Mildly Magnetic
00000000
0000
000000000
0000
0.025
-0.0025 to 0.0025
75
75
22.3
38.1
M22

Rockwell C40
May Be Mildly Magnetic
00000000
0000
00000000
0000
0.05
-0.0035 to 0.0035
75
75
22.3
38.1
M22

Rockwell C40
May Be Mildly Magnetic
00000000
0000
00000000
0000
0.1
-0.007 to 0.007
75
75
22.3
38.1
M22

Rockwell C40
May Be Mildly Magnetic
00000000
0000
00000000
0000
0.2
-0.015 to 0.015
75
75
22.3
38.1
M22

Rockwell C40
May Be Mildly Magnetic
00000000
0000
00000000
0000
0.25
-0.02 to 0.02
75
75
22.3
38.1
M22

Rockwell C40
May Be Mildly Magnetic
00000000
0000
00000000
0000
0.4
-0.032 to 0.032
75
75
22.3
38.1
M22

Rockwell C40
May Be Mildly Magnetic
00000000
0000
00000000
0000
0.5
-0.032 to 0.032
75
75
22.3
38.1
M22

Rockwell C40
May Be Mildly Magnetic
00000000
0000
00000000
0000
0.7
-0.032 to 0.032
75
75
22.3
38.1
M22

Rockwell B70
May Be Mildly Magnetic
00000000
0000
00000000
0000
1
-0.05 to 0.05
75
75
22.3
38.1
M22

Not Rated
May Be Mildly Magnetic
00000000
0000
00000000
0000
2
-0.07 to 0.07
75
75
22.3
38.1
M22

Not Rated
May Be Mildly Magnetic
00000000
00000
00000000
0000
0.025
-0.0025 to 0.0025
100
100
31.8
50.8
M30
Rockwell C40
May Be Mildly Magnetic
00000000
0000
00000000
0000
0.05
-0.0035 to 0.0035
100
100
31.8
50.8
M30
Rockwell C40
May Be Mildly Magnetic
00000000
0000
00000000
0000
0.1
-0.007 to 0.007
100
100
31.8
50.8
M30
Rockwell C40
May Be Mildly Magnetic
00000000
0000
00000000
0000
0.2
-0.015 to 0.015
100
100
31.8
50.8
M30
Rockwell C40
May Be Mildly Magnetic
00000000
0000
00000000
0000
0.25
-0.02 to 0.02
100
100
31.8
50.8
M30
Rockwell C40
May Be Mildly Magnetic
00000000
0000
00000000
0000
0.4
-0.032 to 0.032
100
100
31.8
50.8
M30
Rockwell C40
May Be Mildly Magnetic
00000000
0000
00000000
0000
0.5
-0.032 to 0.032
100
100
31.8
50.8
M30
Rockwell C40
May Be Mildly Magnetic
00000000
0000
00000000
0000
0.7
-0.032 to 0.032
100
100
31.8
50.8
M30
Rockwell B70
May Be Mildly Magnetic
00000000
00000
00000000
0000
1
-0.05 to 0.05
100
100
31.8
50.8
M30
Not Rated
May Be Mildly Magnetic
00000000
00000
00000000
0000
2
-0.07 to 0.07
100
100
31.8
50.8
M30
Not Rated
May Be Mildly Magnetic
00000000
00000
00000000
0000
0.025
-0.0025 to 0.0025
125
125
41.3
84.1
M40
Rockwell C40
May Be Mildly Magnetic
00000000
00000
000000
00
0.05
-0.0035 to 0.0035
125
125
41.3
84.1
M40
Rockwell C40
May Be Mildly Magnetic
00000000
00000
000000
00
0.1
-0.007 to 0.007
125
125
41.3
84.1
M40
Rockwell C40
May Be Mildly Magnetic
00000000
00000
000000
00
0.2
-0.015 to 0.015
125
125
41.3
84.1
M40
Rockwell C40
May Be Mildly Magnetic
00000000
00000
000000
00
0.25
-0.02 to 0.02
125
125
41.3
84.1
M40
Rockwell C40
May Be Mildly Magnetic
00000000
00000
000000
00
0.4
-0.032 to 0.032
125
125
41.3
84.1
M40
Rockwell C40
May Be Mildly Magnetic
00000000
00000
000000
00
0.5
-0.032 to 0.032
125
125
41.3
84.1
M40
Rockwell C40
May Be Mildly Magnetic
00000000
00000
000000
00
0.7
-0.032 to 0.032
125
125
41.3
84.1
M40
Not Rated
May Be Mildly Magnetic
00000000
00000
000000
00
1
-0.05 to 0.05
125
125
41.3
84.1
M40
Not Rated
May Be Mildly Magnetic
00000000
00000
000000
00
2
-0.07 to 0.07
125
125
41.3
84.1
M40
Not Rated
May Be Mildly Magnetic
00000000
00000
000000
00