Washer Assortments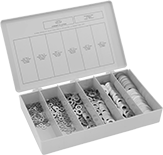 18-8 stainless steel washers have good chemical resistance and may be mildly magnetic.
316 stainless steel washers have excellent resistance to chemicals and salt water and may be mildly magnetic.
Brass washers are corrosion resistant in wet environments, nonmagnetic, and electrically conductive.
Nylon 6/6 washers resist moisture, chemicals, and friction and have good electrical insulation properties.
Zinc-plated steel washers resist corrosion in wet environments.
Number
of Pieces
Sizes Included
Specifications
Met
Container
Type
Each

Inch

550
For No. 8 to

1/2

" Screw Sizes
__
Plastic Box
000000000
000000
1,680
For No. 2 to 1" Screw Sizes
__
Metal Box
000000000
000000

316 Stainless Steel

550
For No. 8 to

1/2

" Screw Sizes
__
Plastic Box
000000000
00000

Brass

550
For No. 8 to

1/2

" Screw Sizes
__
Plastic Box
000000000
000000
1,050
For No. 4 to

3/8

" Screw Sizes
__
Plastic Box
000000000
00000

Metric

825
For M3 to M16 Screw Sizes
DIN 125
Plastic Box
000000000
00000