Shock-Indicating

Shipping Labels
You'll know at a glance if your package has incurred shock.
Liquid-filled glass vial indicators turn a bright color when subjected to shock. The vial is protected by a plastic cover. Use the table to determine the proper label for your package.
Color-indicating arrows turn from red to blue to indicate which surface of the package sustained impact. Mount the labels in the direction you want shock to be monitored. Use three indicating labels to monitor a package in all directions. Arrows can be reset up to 50 times with a paper clip.
Color-indicating window labels start monitoring shock once you peel the covering off the adhesive and secure them to your package. Each of these labels is uniquely numbered and stamped with a barcode to label inventory and track assets. They turn bright red when subjected to shock.
Optional instruction labels inform handlers what to do if a package experiences shock. They also give additional warning that a package is being watched. These labels are only compatible with liquid-filled glass vial indicators and color-indicating window labels. Stick the instruction label onto your package first, then mount your shock-indicating label on top.
Tipped-Package-Indicating

Shipping Labels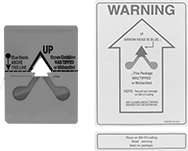 Quickly identify containers that have been tipped during transit. An arrow-shaped window on the red indicator turns blue if the package is tipped 90° or more.
Ht.

Wd.

Material
Color
Message
Color

Min.


Indicating
Angle
Includes

Pkg.




Qty.

Pkg.

3

3/4

"
2

3/4

"
Polystyrene Plastic
White
Red
90°
Five 3-

3/4

" Wd. ×

3/4

" Ht. Warning Labels for the Bill of Lading
Five 3-

3/4

" Wd. × 5-

1/4

" Ht. Warning Labels for the Box
5
0000000
000000