Dispensers and Removers for Clean Room Shoe Covers
Apply and remove Clean Room Shoe Covers without bending down and contaminating your hands. Step into these dispensers and removers to quickly cover or uncover your shoe.
Dispensers have holding bars to keep shoe covers open while you step into them. Insert your foot into the dispenser, then pull back to release the cover onto your shoe. A new cover will automatically pop into place. These dispensers don't need electricity—slotted, self-adjusting tracks hook into the sides of shoe covers to dispense them one at a time. A large loading slot makes them easy to fill. Dispensers for 110 shoe covers are small and portable. For areas with high foot traffic, use dispensers for 220 shoe covers. They have a handle to help you balance when stepping into a cover.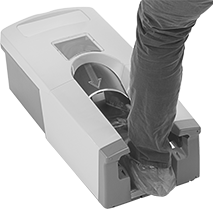 Dispenser for 110 Shoe Covers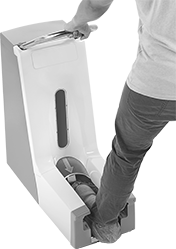 Dispenser for 220 Shoe Covers
Disposable Plastic Film Shoe and Boot Covers
Step into the dispenser and this plastic film clings to the bottom of your shoes and boots, so you don't track dirt into your home or worksite. As you pull your foot out, cut the film from its roll on the serrated blade like you would with regular plastic wrap—you never touch any part with your hands, or even bend down. For moving the dispenser safely, the blade is retractable. These plastic film covers are durable enough that they won't tear easily when you walk, but thin enough to apply multiple layers if you need extra protection or to cover film that's dirty. Use them with any shoe size.
One roll of 1-mil. thick plastic film and one refillable plastic dispenser are included. When you run out of film, replace it with more of the same thickness or use 2-mil. thick film for extra strength and tear resistance.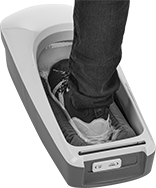 Shoe and Boot Cover
Thickness,


mil

Length,




ft.

Color
For

Men's


Shoe
Size
For


Women's


Shoe Size
Length
Width
Height
Material
Features
Each

Polyethylene Plastic

1
590
Clear
One Size
One Size
23"
9"
4

1/2

"
Plastic
Retractable Serrated Blade
0000000
0000000