Access Ports for Insulated Pipes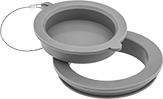 These flexible ports are often used to inspect insulated pipes and tanks for corrosion. Their frame has locking ridges to secure it in insulation that is at least 3/4" thick; no mounting screws or caulk needed. The panel fits snugly into the frame for a watertight seal. Panel opening is up to 1 1/4" smaller than the cutout.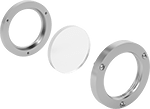 With
Bolt-On
Window
(Unassembled)

With
Screw-Together
Window

With
Screw-Together
Window
(Unassembled)
Weld these sights to single-wall tanks. They're often used to monitor contents in process vessels, mixers, and bulk containers.
316L stainless steel sights are more corrosion resistant than 304 stainless steel sights.
DIN 11851 rated sights meet dairy fitting standards.
Sights with a bolt-on window should be welded to a hole in your tank wall.
Sights with a screw-together window make it easier to access your tank and clean the window than sights with a bolt-on window. To install these sights, place the body in a hole on your tank wall and weld it. Then twist on the window and tighten with a spanner wrench.
For technical drawings and 3-D models, click on a part number.
For
Hole


Dia.

OD
Window


Dia.

Max.


Pressure

Min.

Max.

For
Use
With
Window
Material
Seal
Material
Specifications
Met
Each

304 Stainless Steel

4

11/16

"
5"
3

1/2

"
60 psi @ 70° F
-40°
300°
Water, Hydraulic Fluid
Glass
Silicone Rubber
__
0000000
0000000

316L Stainless Steel

With

Screw-Together

Window

2"
3

5/8

"
2"
150 psi @ 70° F
-20°
390°
Water, Hydraulic Fluid, Compressed Air
Glass
Silicone Rubber
DIN 11851
0000000
000000
2

1/2

"
4

7/16

"
2

1/2

"
150 psi @ 70° F
-20°
390°
Water, Hydraulic Fluid, Compressed Air
Glass
Silicone Rubber
DIN 11851
0000000
000000
3

1/8

"
5"
3

1/8

"
150 psi @ 70° F
-20°
390°
Water, Hydraulic Fluid, Compressed Air
Glass
Silicone Rubber
DIN 11851
0000000
000000
4"
5

13/16

"
4"
150 psi @ 70° F
-20°
390°
Water, Hydraulic Fluid, Compressed Air
Glass
Silicone Rubber
DIN 11851
0000000
000000
5"
7"
5"
90 psi @ 70° F
-20°
390°
Water, Hydraulic Fluid, Compressed Air
Glass
Silicone Rubber
DIN 11851
0000000
000000