About
Flow-Adjustment

Valves
Threaded
Flow-Adjustment

Valves with Garden Hose Outlet
For Use

With:

Oil,

Water
Valve

Type:

Globe
These valves have an NPT inlet and a GHT outlet for attaching garden hose. They gradually open and close with multiple turns of the wheel handle to adjust and regulate flow. All have a nonrising stem that stays in the same position whether the valve is open or closed.
Lockouts (sold separately) thread over the valve outlet and lock in place with a padlock (not included) to prevent unauthorized water use.
For technical drawings and 3-D models, click on a part number.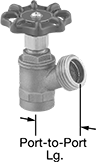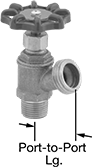 Pipe
Size

Hose
Size

Max.

Pressure
Temperature
Range

Port-to-Port




Lg.

Stem Type
Each

Brass Body

NPT Female × GHT Male

1/2

3/4

125 psi @ 100° F
40° F to 180° F
1

1/2

"
Nonrising
0000000
000000

3/4

3/4

125 psi @ 100° F
40° F to 180° F
1

1/2

"
Nonrising
0000000
00000

NPT Male × GHT Male

1/2

3/4

125 psi @ 100° F
40° F to 180° F
1

9/16

"
Nonrising
0000000
00000

3/4

3/4

125 psi @ 100° F
40° F to 180° F
1

9/16

"
Nonrising
0000000
00000
For Maximum
Shackle Diameter
For Hose
Size
For Thread
Type
Chemical Resistance


(Excellent)

Each

9/32

"
3/4
GHT

Air, Water
0000000
000000