Smoke Generating Candles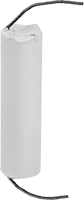 Light the wick to produce a short burst of smoke to detect airflow and leaks in HVAC systems.
Use candles with two wicks to extend burning time. Link the wicks with included cable ties. When the first wick burns down, the second lights. Each wick you link adds 3 minutes of burning time.