Turning Carbide Insert Holders

Secure carbide inserts inside these holders for stable turning. They're also known as indexable insert holders. Select a holder that's compatible with your insert by matching the insert style and inscribed circle diameter (IC). Right-hand holders move from right to left toward the lathe chuck, left-hand holders move from left to right away from the lathe chuck, and neutral holders can cut in either direction.
M-code holders secure inserts with both a top clamp and a pin lock, so they're often used for interrupted or semi-interrupted cuts to keep inserts stable despite vibration. They're the most commonly used holders with negative-rake inserts.
D-code holders require just a quick motion to remove inserts from their wedge clamp. However, they hold inserts less securely than M-code holders.
For technical drawings and 3-D models, click on a part number.
MSDN Holders with Straight Shank—For SNGA, SNGG, SNGX, SNMA, SNMG, SNMM, SNMP, SNMS, SNMU, SNMX Inserts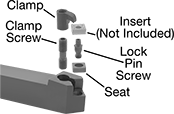 DSDN Holders with Straight Shank—For SNGA, SNGG, SNMA, SNMG, SNMM, SNMP, SNMS, SNMU Inserts