Socket-Saving

Plastic Pipe Extractors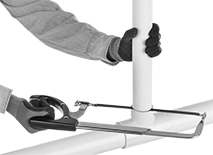 Step
1:
Cut pipe flush to
fitting.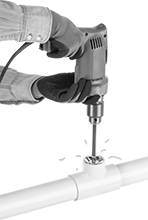 Step
2:
Drill to remove existing
pipe.

Drill old pipe stubs out of fittings when replacing plastic pipe. These extractors let you reuse difficult-to-remove fittings, such as those in concrete floors, and install new pipe. Attach them to a square-drive power drill. Use the washer on the tip of these extractors to guide them down the center of pipe stubs. The cutter is sized to match the ID of your pipe fitting, so the blades remove all of the pipe and none of the fitting. The blades are angled to propel chips backwards so you don't have to fish them out.
For technical drawings and 3-D models, click on a part number.
Size

Schedule
Material
Washer


Dia.

Overall


Lg.

Type
Square
Size
Turns With
Material
Each

1/2

40

ABS Plastic, PVC Plastic

9/16

"
5"
Square
0.313"
Power Drill
Steel
0000000
000000

3/4

40

ABS Plastic, PVC Plastic

3/4

"
5"
Square
0.313"
Power Drill
Steel
0000000
00000
1

40

ABS Plastic, PVC Plastic
1"
5"
Square
0.313"
Power Drill
Steel
0000000
00000
1

1/2

40

ABS Plastic, PVC Plastic
1

9/16

"
5

3/4

"
Square
0.375"
Power Drill
Steel
0000000
00000
2

40

ABS Plastic, PVC Plastic
2

1/16

"
5

3/4

"
Square
0.375"
Power Drill
Steel
0000000
00000
3

40

ABS Plastic, PVC Plastic
3"
5

3/4

"
Square
0.5"
Power Drill
Steel
0000000
00000
4

40

ABS Plastic, PVC Plastic
4"
5

3/4

"
Square
0.5"
Power Drill
Steel
0000000
00000