About Actuated
On/Off

Valves
Solenoid Diverting Valves for Chemicals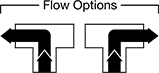 For Use

With:

Acetone,

Air,

Ammonia,

Argon,

Chlorine,

Citric

Acid,

Deionized

Water,

Diesel

Fuel,

Ethylene

Glycol,

Fuel

Oil,

Helium,

Hydrochloric

Acid,

Krypton,

Methanol,

Neon,

Nitric

Acid,

Oil,

Oxygen,

Phosphoric

Acid,

Salt

Water,

Sulfuric

Acid,

Water,

Xenon,

Xylene
Seal

Material:

PTFE Plastic
Often used for chemical analysis and other laboratory testing, these valves have a PTFE seal and body to withstand aggressive and corrosive solutions. All operate on electricity to automatically divert flow between ports. They do not require a pressure drop for operation. Any port can be used as an inlet or an outlet. Valves can direct flow from the inlet port to either outlet port. They cannot shut off flow. The actuator is mounted directly to the valve body to minimize movement and reduce wear.
Flow coefficient (Cv) is the amount of water (in gallons per minute) at 60° F that will flow through a fully open valve with a difference of 1 psi between the inlet and the outlet.
For technical drawings and 3-D models, click on a part number.
Pipe
Size

Thread
Size

Flow
Pattern
Flow
Coefficient


(Cv)

Max.


Pressure
Pressure
Drop

Min.

Pressure
Drop
Required

Temp.




Range,




°F

Actuation
Time
Valve


Lg.

O'all




Ht.

Mounting
Fasteners
Included

No.


of
Thread
Size

Each

PTFE Plastic Body with Wire

Leads—

12V DC

NPSM Female × NPSM Female × NPSM Female

1/8

__
L-Pattern
15.85
30 psi @ 70° F
Zero Pressure Drop
None
35° to 155°
0.04 sec.
1

3/4

"
2"
No
7
4-40

0000000
0000000

UNF Female × UNF Female × UNF Female

__

1/4

"-28

L-Pattern
10.57
30 psi @ 70° F
Zero Pressure Drop
None
35° to 155°
0.02 sec.
1

1/2

"
1

13/16

"
No
7
4-40

0000000
000000
__
10-32

L-Pattern
2.64
30 psi @ 70° F
Zero Pressure Drop
None
35° to 155°
0.02 sec.

3/4

"
1

3/16

"
No
5
2-56

0000000
00000

PTFE Plastic Body with Wire

Leads—

24V DC

NPSM Female × NPSM Female × NPSM Female

1/8

__
L-Pattern
15.85
30 psi @ 70° F
Zero Pressure Drop
None
35° to 155°
0.04 sec.
1

3/4

"
2"
No
7
4-40

0000000
000000

UNF Female × UNF Female × UNF Female

__

1/4

"-28

L-Pattern
10.57
30 psi @ 70° F
Zero Pressure Drop
None
35° to 155°
0.02 sec.
1

1/2

"
1

13/16

"
No
7
4-40

0000000
000000
__
10-32

L-Pattern
2.64
30 psi @ 70° F
Zero Pressure Drop
None
35° to 155°
0.02 sec.

3/4

"
1

3/16

"
No
5
2-56

0000000
00000