Solid Wire Duct with
Snap-On

Cover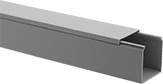 This wire duct completely encloses wire and cable. It's often used as an alternative to cable ties to guide and organize short runs of electrical wiring in enclosures, control panels, and machines. The cover snaps on and is removable. This duct meets UL 94 V-0 for flame retardance.
For longer runs, lengths can be mounted end-to-end, but they are not connectable. To mount the duct without mounting holes, drill your own holes for screws or use adhesive.
For technical drawings and 3-D models, click on a part number.
Ht.

Wd.

Material
Mount Type
Specifications Met
Color

3 1/4

ft.

6 ft.

6 1/2

ft.

5/8

"

1/2

"
PVC

Screw On
UL 94 V-0, UL Recognized Component, CSA Certified
Gray
00000000

3/4

"

3/4

"
PVC

Screw On
UL 94 V-0, UL Recognized Component, CSA Certified
Gray
00000000
1"

1/2

"
PVC

Screw On
UL 94 V-0, UL Recognized Component, CSA Certified
Gray
00000000
1"
1"
PVC

Screw On
UL 94 V-0, UL Recognized Component, CSA Certified
Gray
00000000
1

1/2

"
1"
PVC

Screw On
UL 94 V-0, UL Recognized Component, CSA Certified
Gray
00000000
1

1/2

"
1

1/2

"
PVC

Screw On
UL 94 V-0, UL Recognized Component, CSA Certified
Gray
00000000
2

1/4

"
1

1/2

"
PVC

Screw On
UL 94 V-0, UL Recognized Component, CSA Certified
Gray
00000000
2

1/4

"
2

1/4

"
PVC

Screw On
UL 94 V-0, UL Recognized Component, CSA Certified
Gray
00000000
2

1/4

"
3"
PVC

Screw On
UL 94 V-0, UL Recognized Component, CSA Certified
Gray
00000000
3"
1"
PVC

Screw On
UL 94 V-0, UL Recognized Component, CSA Certified
Gray
00000000
3"
1

1/2

"
PVC

Screw On
UL 94 V-0, UL Recognized Component, CSA Certified
Gray
00000000
3"
2

1/4

"
PVC

Screw On
UL 94 V-0, UL Recognized Component, CSA Certified
Gray
00000000
3"
3"
PVC

Screw On
UL 94 V-0, UL Recognized Component, CSA Certified
Gray
00000000
3"
4"
PVC

Screw On
UL 94 V-0, UL Recognized Component, CSA Certified
Gray
00000000
4"
3"
PVC

Screw On
UL 94 V-0, UL Recognized Component, CSA Certified
Gray
00000000
4"
4"
PVC

Screw On
UL 94 V-0, UL Recognized Component, CSA Certified
Gray
00000000