Drill Bushings for Soft Metal and Wood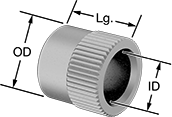 The serrations at the top of the bushing grip to prevent rotation and spin out. Install in a fixture for precise drilling.
Also Available: Other sizes. Please select 3377A999 and specify ID, OD, and length.
For technical drawings and 3-D models, click on a part number.
OD

Lg.

For Drill
Bit Size
ID
OD
Drill
Bushing
Type
Material
Hardness
Each

5/16

"

5/16

"

1/8

"
0.0001" to 0.0004"
-0.0002" to 0"
SP
1144 Carbon Steel
Rockwell C61
00000000
000000

5/16

"

1/2

"

1/8

"
0.0001" to 0.0004"
-0.0002" to 0"
SP
1144 Carbon Steel
Rockwell C61
00000000
00000

5/16

"

5/16

"

5/32

"
0.0001" to 0.0004"
-0.0002" to 0"
SP
1144 Carbon Steel
Rockwell C61
00000000
00000

5/16

"

1/2

"

5/32

"
0.0001" to 0.0004"
-0.0002" to 0"
SP
1144 Carbon Steel
Rockwell C61
00000000
00000

5/16

"

5/16

"

3/16

"
0.0001" to 0.0004"
-0.0002" to 0"
SP
1144 Carbon Steel
Rockwell C61
00000000
00000

5/16

"

1/2

"

3/16

"
0.0001" to 0.0004"
-0.0002" to 0"
SP
1144 Carbon Steel
Rockwell C61
00000000
00000

1/2

"

5/16

"

3/16

"
0.0001" to 0.0004"
-0.0002" to 0"
SP
1144 Carbon Steel
Rockwell C61
00000000
0000

1/2

"

1/2

"

3/16

"
0.0001" to 0.0004"
-0.0002" to 0"
SP
1144 Carbon Steel
Rockwell C61
00000000
00000

5/16

"

3/8

"
No. 10
0.0001" to 0.0004"
-0.0002" to 0"
SP
1144 Carbon Steel
Rockwell C61
00000000
00000

5/16

"

1/2

"
No. 10
0.0001" to 0.0004"
-0.0002" to 0"
SP
1144 Carbon Steel
Rockwell C61
00000000
00000

1/2

"

1/2

"

7/32

"
0.0001" to 0.0004"
-0.0002" to 0"
SP
1144 Carbon Steel
Rockwell C61
00000000
00000

13/32

"

3/8

"

1/4

", E
0.0001" to 0.0004"
-0.0002" to 0"
SP
1144 Carbon Steel
Rockwell C61
00000000
00000

1/2

"

5/16

"

1/4

", E
0.0001" to 0.0004"
-0.0002" to 0"
SP
1144 Carbon Steel
Rockwell C61
00000000
0000

1/2

"

1/2

"

1/4

", E
0.0001" to 0.0004"
-0.0002" to 0"
SP
1144 Carbon Steel
Rockwell C61
00000000
00000

1/2

"

1/2

"

17/64

"
0.0001" to 0.0005"
-0.0002" to 0"
SP
1144 Carbon Steel
Rockwell C61
00000000
00000

1/2

"

1/2

"

9/32

"
0.0001" to 0.0005"
-0.0002" to 0"
SP
1144 Carbon Steel
Rockwell C61
00000000
00000

1/2

"

5/16

"

5/16

"
0.0001" to 0.0005"
-0.0002" to 0"
SP
1144 Carbon Steel
Rockwell C61
00000000
0000

1/2

"

1/2

"

5/16

"
0.0001" to 0.0005"
-0.0002" to 0"
SP
1144 Carbon Steel
Rockwell C61
00000000
00000

1/2

"

3/4

"

5/16

"
0.0001" to 0.0005"
-0.0002" to 0"
SP
1144 Carbon Steel
Rockwell C61
00000000
00000

5/8

"

3/4

"

5/16

"
0.0001" to 0.0005"
-0.0002" to 0"
SP
1144 Carbon Steel
Rockwell C61
00000000
00000

5/8

"

1/2

"

3/8

"
0.0001" to 0.0005"
-0.0002" to 0"
SP
1144 Carbon Steel
Rockwell C61
00000000
00000

5/8

"

3/4

"

3/8

"
0.0001" to 0.0005"
-0.0002" to 0"
SP
1144 Carbon Steel
Rockwell C61
00000000
00000

3/4

"

1/2

"

3/8

"
0.0001" to 0.0005"
-0.0002" to 0"
SP
1144 Carbon Steel
Rockwell C61
00000000
00000

3/4

"

1/2

"

1/2

"
0.0001" to 0.0005"
-0.0002" to 0"
SP
1144 Carbon Steel
Rockwell C61
00000000
00000

3/4

"

3/4

"

1/2

"
0.0001" to 0.0005"
-0.0002" to 0"
SP
1144 Carbon Steel
Rockwell C61
00000000
00000