Metal Ratcheting Gears

Pawl and Gear Sold Separately
Compared to plastic gears, these metal ratcheting gears are better for high-load, high-speed, and heavy duty applications. Used to prevent unwanted motion in jacks, tie downs, clutches, and winches, ratchet gears have sloped teeth that allow motion in one direction and prevent it in the other.
Gears with hardened teeth are more wear resistant than gears with teeth that are not hardened. Gears with teeth that are not hardened can be hardened to fit your application. Hardening a gear's teeth increases its wear resistance.
A pawl is required to prevent backward motion.
For technical drawings and 3-D models, click on a part number.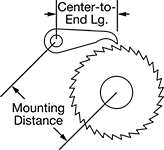 Face


Wd.

Number
of
Teeth
OD
For
Shaft


Dia.

Mounting
Distance
Material
Teeth
Heat
Treatment
Overall


Wd.

Dia.

Wd.

Each

Round Bore

1/4

"
18
0.75"

3/8

"
0.74"
303 Stainless Steel
Not Hardened
__
__
__
0000000
000000

1/4

"
24
1"

3/8

"
0.83"
303 Stainless Steel
Not Hardened
__
__
__
0000000
00000

1/4

"
30
1.25"

1/4

"
0.92"
303 Stainless Steel
Not Hardened
__
__
__
0000000
00000

3/8

"
24
1.5"

11/16

"
1.6"
303 Stainless Steel
Not Hardened
__
__
__
0000000
00000

3/8

"
32
2"

11/16

"
1.75"
303 Stainless Steel
Not Hardened
__
__
__
0000000
00000

3/8

"
48
3"

11/16

"
2.1"
303 Stainless Steel
Not Hardened
__
__
__
0000000
00000

3/8

"
64
4"

11/16

"
2.5"
303 Stainless Steel
Not Hardened
__
__
__
0000000
00000
6mm
50
33.3mm
10mm
33.8mm
1045 Carbon Steel
Hardened
6 mm
__
__
0000000
00000
6mm
50
33.3mm
10mm
33.8mm
1045 Carbon Steel
Hardened
16 mm
25 mm
10 mm
0000000
00000
6mm
60
40mm
10mm
35.5mm
1045 Carbon Steel
Hardened
6 mm
__
__
0000000
00000
6mm
80
53.3mm
12mm
39.5mm
1045 Carbon Steel
Hardened
16 mm
35 mm
10 mm
0000000
00000
6mm
100
66.6mm
12mm
44.1mm
1045 Carbon Steel
Hardened
6 mm
__
__
0000000
00000
6mm
100
66.6mm
12mm
44.1mm
1045 Carbon Steel
Hardened
16 mm
40 mm
10 mm
0000000
00000
12mm
50
50mm
12mm
45.5mm
1045 Carbon Steel
Hardened
12 mm
__
__
0000000
00000
12mm
50
50mm
12mm
45.5mm
1045 Carbon Steel
Hardened
24 mm
35 mm
12 mm
0000000
00000
12mm
60
60mm
15mm
48.2mm
1045 Carbon Steel
Hardened
12 mm
__
__
0000000
00000
12mm
60
60mm
15mm
48.2mm
1045 Carbon Steel
Hardened
24 mm
40 mm
12 mm
0000000
00000
12mm
80
80mm
15mm
54.7mm
1045 Carbon Steel
Hardened
12 mm
__
__
0000000
00000
12mm
80
80mm
15mm
54.7mm
1045 Carbon Steel
Hardened
24 mm
50 mm
12 mm
0000000
00000
12mm
100
100mm
15mm
62.2mm
1045 Carbon Steel
Hardened
12 mm
__
__
0000000
00000
12mm
100
100mm
15mm
62.2mm
1045 Carbon Steel
Hardened
24 mm
50 mm
12 mm
0000000
00000
15mm
30
60mm
15mm
61.2mm
1045 Carbon Steel
Hardened
15 mm
__
__
0000000
00000
15mm
60
120mm
15mm
79.1mm
1045 Carbon Steel
Hardened
15 mm
__
__
0000000
00000
20mm
30
90mm
15mm
76.3mm
1045 Carbon Steel
Hardened
20 mm
__
__
0000000
00000
20mm
40
120mm
20mm
85.2mm
1045 Carbon Steel
Hardened
20 mm
__
__
0000000
000000
20mm
50
150mm
20mm
95.5mm
1045 Carbon Steel
Hardened
20 mm
__
__
0000000
000000
25mm
30
120mm
20mm
95.7mm
1045 Carbon Steel
Hardened
25 mm
__
__
0000000
000000
25mm
50
200mm
20mm
122.4mm
1045 Carbon Steel
Hardened
43 mm
100 mm
18 mm
00000000
000000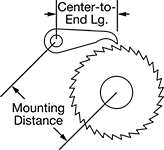 For Face


Wd.

For Shaft


Dia.

Overall


Lg.

Material

Center-to-End




Lg.

Each

Round Bore

1/4

"

3/32

"

3/4

"
303 Stainless Steel

9/16

"
0000000
000000

3/8

"

1/4

"
1

9/16

"
17-4 PH Stainless Steel
1

5/16

"
0000000
00000
6mm
5mm
38mm
1045 Carbon Steel
30mm
0000000
00000
12mm
8mm
49mm
1045 Carbon Steel
39mm
0000000
00000
15mm
10mm
67.5mm
1045 Carbon Steel
55mm
0000000
00000
20mm
12mm
80mm
1045 Carbon Steel
65mm
0000000
00000
25mm
13mm
98mm
1045 Carbon Steel
80mm
0000000
00000