Plastic Bevel Gears
Gear and Pinion Sold Separately
Reduce speeds where noise, corrosion, and frequent lubrication are a concern. Compared to metal gears, these nylon gears run more quietly, won't rust, and don't need to be lubricated. Because they're self-lubricating, these bevel gears are commonly used in food machinery. They should not, however, come in direct contact with food or chemicals that will come in contact with food.
A complete set consists of a gear and pinion (sold separately). For a gear and pinion to mesh correctly, they must have the same pressure angle, module, and face width. Plastic pinions can also be mated with metal gears, and plastic gears with metal pinions.
Speed ratio is the ratio by which shaft speed is reduced when transferring motion from pinion to gear. To increase shaft speed, transfer motion from gear to pinion. Changing shaft speed also changes torque: as speed decreases, torque increases.
For technical drawings and 3-D models, click on a part number.

Gear


Face


Width,


mm
Module

Pressure
Angle
Speed
Ratio
Number
of
Teeth
Gear
Pitch


Dia.,

mm

OD,


mm
Overall


Width,


mm
For Shaft


Diameter,


mm
Mounting
Distance


(A),

mm
Material
Fabrication
Color

Diameter,


mm

Width,


mm
Each

Round Bore

6
1

20°
2:1
40
40
40.6
15
8
22
Nylon Plastic

Molded
Blue
25
8
00000000
000000
8
1.25

20°
2:1
40
50
50.7
19
10
27
Nylon Plastic

Molded
Blue
32
10
00000000
00000
Gear and Pinion Sold Separately
Pinion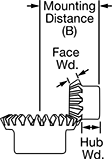 Face


Width,


mm
Module

Pressure
Angle
Speed
Ratio
Number
of
Teeth
Gear
Pitch


Dia.,

mm

OD,


mm
Overall


Width,


mm
For Shaft


Diameter,


mm
Mounting
Distance


(B),

mm
Material
Fabrication
Color

Diameter,


mm

Width,


mm
Each

Round Bore

6
1

20°
2:1
20
20
22.4
14
6
28
Nylon Plastic

Molded
Blue
16
7
00000000
000000
8
1.25

20°
2:1
20
25
28
19
8
36
Nylon Plastic

Molded
Blue
22
10
00000000
00000