Pulley Aligning Lasers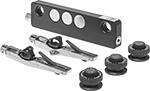 Green Laser
Check for proper alignment of pulley systems with these magnetic-mount lasers. Place them on pulleys, gears, or sprockets made of ferrous metals, such as steel.
Red lasers are best for indoor environments, since they're dimmer than green lasers.
Green lasers appear up to 10 times brighter than red lasers, so they're easier to see outdoors or in bright indoor lighting, as well as from far away.
Spacing

Dia.

Accuracy
Range
Line
Size
Laser
Class

Wavelength,


nm
Tolerance
per
Foot

Lg.

Wd.

Ht.

Container
Type
Batteries
Included
Includes
Each

Red Laser

3"-20 ft.
3"-36"

1/16

" @ 10 ft.
50 ft.
12 ft. @ 10 ft.
Class II
635
-0.002" to 0.002"
6

3/4

"

5/8

"
1

3/4

"
Plastic Case
Yes
One 30-150 lb. Capacity Belt Tension Tester, One 100-300 lb. Capacity Belt Tension Tester, Three Adjustable Targets
0000000
000000000

Green Laser

3"-20 ft.
3"-36"

1/16

" @ 10 ft.
50 ft.
12 ft. @ 10 ft.
Class II
532
-0.002" to 0.002"
6

3/4

"

5/8

"
1

3/4

"
Plastic Case
Yes
Three Adjustable Targets
0000000
00000000