Steel and Cast Iron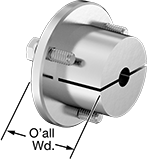 Stainless Steel
The tapered barrel on these bushings is split on both sides, allowing them to contract more tightly around the shaft than quick-disconnect and taper-lock bushings. They're for use with split-tapered sprockets and pulleys of the same bushing style. As you tighten the included screws, the bushing grips the shaft and pulls it into the sprocket or pulley.
Bushings with a machine key fit into a matching keyway on a sprocket or pulley for high-torque applications.
304 stainless steel bushings are often used in food-processing plants and other frequently-cleaned areas because washdowns and humidity won't corrode them. They have a pilot hole instead of a finished keyway, so you can bore them to the exact dimensions of your shaft.
For technical drawings and 3-D models, click on a part number.
For Shaft


Dia.

Overall


Wd.

Wd.

Dp.

Taper
Fastener Tightening


Torque,

in.-lbs.

Each

Steel

3/8

"
1"
__
__
3°
95
00000000
000000

1/2

"
1"

1/8

"

1/16

"
3°
95
00000000
00000

5/8

"
1"

3/16

"

3/32

"
3°
95
00000000
00000

3/4

"
1"

3/16

"

3/32

"
3°
95
00000000
00000

7/8

"
1"

3/16

"

3/32

"
3°
95
00000000
00000
1"
1"

1/4

"

1/8

"
3°
95
00000000
00000

3/8

"
1

1/4

"
__
__
3°
95
00000000
00000

1/2

"
1

1/4

"

1/8

"

1/16

"
3°
95
00000000
00000

5/8

"
1

1/4

"

3/16

"

3/32

"
3°
95
00000000
00000

3/4

"
1

1/4

"

3/16

"

3/32

"
3°
95
00000000
00000

7/8

"
1

1/4

"

3/16

"

3/32

"
3°
95
00000000
00000
1"
1

1/4

"

1/4

"

1/8

"
3°
95
00000000
00000
1

1/8

"
1

1/4

"

1/4

"

1/8

"
3°
95
00000000
00000
1

3/16

"
1

1/4

"

1/4

"

1/8

"
3°
95
00000000
00000
1

1/4

"
1

1/4

"

1/4

"

1/8

"
3°
95
00000000
00000
1

3/8

"
1

1/4

"

5/16

"

1/16

"
3°
95
00000000
00000
1

7/16

"
1

1/4

"

3/8

"

7/64

"
3°
95
00000000
00000
1

1/2

"
1

1/4

"

3/8

"

5/64

"
3°
95
00000000
00000
10mm
1

1/4

"
__
__
3°
95
00000000
00000
12mm
1

1/4

"
__
__
3°
95
00000000
00000
14mm
1

1/4

"
5mm
2mm
3°
95
00000000
00000
16mm
1

1/4

"
5mm
2mm
3°
95
00000000
00000
18mm
1

1/4

"
6mm
3mm
3°
95
00000000
00000
19mm
1

1/4

"
6mm
3mm
3°
95
00000000
00000
20mm
1

1/4

"
6mm
3mm
3°
95
00000000
00000
22mm
1

1/4

"
6mm
3mm
3°
95
00000000
00000
24mm
1

1/4

"
8mm
3mm
3°
95
00000000
00000
25mm
1

1/4

"
8mm
3mm
3°
95
00000000
00000
28mm
1

1/4

"
8mm
3mm
3°
95
00000000
00000
30mm
1

1/4

"
8mm
3mm
3°
95
00000000
00000

H Style

Bushing with Machine Key

32mm
1

1/4

"
8mm
3mm
3°
95
00000000
00000
35mm
1

1/4

"
__
__
3°
95
00000000
00000
38mm
1

1/4

"
__
__
3°
95
00000000
00000

P1 Style Bushing with Machine Key

5/8

"
1

15/16

"

3/16

"

3/32

"
3°
192
00000000
00000

3/4

"
1

15/16

"

3/16

"

3/32

"
3°
192
00000000
00000

7/8

"
1

15/16

"

3/16

"

3/32

"
3°
192
00000000
00000
1"
1

15/16

"

1/4

"

1/8

"
3°
192
00000000
00000
1

1/8

"
1

15/16

"

1/4

"

1/8

"
3°
192
00000000
00000
1

3/16

"
1

15/16

"

1/4

"

1/8

"
3°
192
00000000
00000
1

1/4

"
1

15/16

"

1/4

"

1/8

"
3°
192
00000000
00000
1

3/8

"
1

15/16

"

5/16

"

5/32

"
3°
192
00000000
00000
1

1/2

"
1

15/16

"

3/8

"

11/32

"
3°
192
00000000
00000
1

5/8

"
1

15/16

"

3/8

"

5/16

"
3°
192
00000000
00000
35mm
1

15/16

"
10mm
4mm
3°
192
00000000
00000

P2 Style Bushing with Machine Key

3/4

"
2

15/16

"

3/16

"

3/32

"
3°
192
00000000
00000
1"
2

15/16

"

1/4

"

1/8

"
3°
192
00000000
00000
1

1/8

"
2

15/16

"

1/4

"

1/8

"
3°
192
00000000
00000
1

1/4

"
2

15/16

"

1/4

"

1/8

"
3°
192
00000000
00000
1

3/8

"
2

15/16

"

5/16

"

5/32

"
3°
192
00000000
00000
1

1/2

"
2

15/16

"

3/8

"

11/32

"
3°
192
00000000
00000
1

5/8

"
2

15/16

"

3/8

"

5/16

"
3°
192
00000000
00000

Q1 Style Bushing with Machine Key

1"
2

1/2

"

1/4

"

1/8

"
3°
348
00000000
00000
1

1/8

"
2

1/2

"

1/4

"

1/8

"
3°
348
00000000
00000
1

3/16

"
2

1/2

"

1/4

"

1/8

"
3°
348
00000000
00000
1

1/4

"
2

1/2

"

1/4

"

1/8

"
3°
348
00000000
00000
1

3/8

"
2

1/2

"

5/16

"

5/32

"
3°
348
00000000
00000
1

1/2

"
2

1/2

"

3/8

"

3/16

"
3°
348
00000000
00000
1

5/8

"
2

1/2

"

3/8

"

3/16

"
3°
348
00000000
00000
1

3/4

"
2

1/2

"

3/8

"

3/16

"
3°
348
00000000
00000
1

7/8

"
2

1/2

"

1/2

"

1/4

"
3°
348
00000000
00000
2"
2

1/2

"

1/2

"

1/4

"
3°
348
00000000
00000

Cast Iron

P1 Style Bushing with Machine Key

22mm
1

15/16

"
6mm
3mm
3°
192
00000000
00000
24mm
1

15/16

"
8mm
3mm
3°
192
00000000
00000
28mm
1

15/16

"
8mm
3mm
3°
192
00000000
00000
30mm
1

15/16

"
8mm
3mm
3°
192
00000000
00000

Q1 Style Bushing with Machine Key

40mm
2

1/2

"
12mm
3mm
3°
348
00000000
00000
60mm
2

1/2

"
18mm
4mm
3°
348
00000000
00000

304 Stainless Steel

3/8

"-1

1/2

"
1

1/4

"
__
__
3°
95
00000000
000000