Ultra-Conductive

Graphene Sheets

This highly conductive graphene material is often used in electronic devices, such as cell phones, laptop computers, digital cameras, and LEDs. It can be folded without tearing or damaging the sheet and can be cut into smaller pieces with scissors. Thickness, width, and length tolerances are not rated.
For technical drawings and 3-D models, click on a part number.
Thickness
Thickness
Tolerance
Width
Length
Each
0.001"
Not Rated
8"
8"
000000
000000
Ultra-Conductive

Graphene on Copper Foil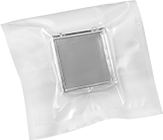 Grown by chemical vapor deposition (CVD) on copper foil, this highly conductive graphene material can be transferred using chemical methods such as polymer-supported metal etching, and mechanical methods such as thermal release tape and direct transfer. This graphene foil is 200 times stronger than steel by weight and is also flexible. It comes taped to the corners of a plastic container in a double vacuum-sealed bag to maintain shelf life. Do not remove the packaging until ready to use. Gently peel the tape or cut the corners of the foil to release. Use rolling blades or precision knives to cut the foil.

Certificates with a traceable lot number are available for these products. Download certificates from ORDER HISTORY after your order ships.