Multipurpose 304 Stainless Steel
From cookware to chemical-processing equipment, 304 stainless steel is a good all-around choice for a wide range of applications. It maintains its corrosion resistance in temperatures up to 1500° F.
Bars with sheared edges are also known as Gauer bar and are sheared from plate.
H-bars have larger flange widths and thicknesses than I-beams, so they're stronger and carry heavier loads, yet also weigh more.
For technical drawings and 3-D models, click on a part number.

Certificates with a traceable lot number are available for these products. Download certificates from ORDER HISTORY after your order ships.
304 Stainless Steel H Bars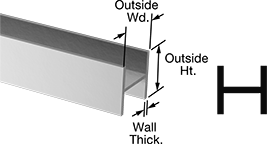 Yield

Strength:

35,

000 psi

Hardness:

Rockwell B80

(Medium)

Heat

Treatment:

Annealed

(Softened)

Heat

Treatable:

No
Specifications

Met:

ASTM A240
Ht.

Ht.


Tolerance

Wd.

Wd.


Tolerance
Inside


Wd.

Fabrication
Edge
Fabrication
Outside
Inside
Straightness
Tolerance

3 ft.




Lg.

6 ft.




Lg.

5.99"
-

1/8

" to

1/8

"
5.99"
-0.188" to

1/4

"
5.47"
Welded
Sheared
Square
Square
0.0625" per 6 ft.
0000000
5

1/4

"
-

1/8

" to

1/8

"
8.14"
-0.188" to

1/4

"
7.48"
Welded
Sheared
Square
Square
0.0625" per 6 ft.
0000000
4.06"
-

1/8

" to

1/8

"
4.16"
-0.188" to

1/4

"
3.47"
Welded
Sheared
Square
Square
0.0625" per 6 ft.
0000000
6.02"
-

1/8

" to

1/8

"
6.2"
-0.188" to

1/4

"
5.47"
Welded
Sheared
Square
Square
0.0625" per 6 ft.
0000000
6.495"
-

1/8

" to

1/8

"
7.93"
-0.188" to

1/4

"
7.13"
Welded
Sheared
Square
Square
0.0625" per 6 ft.
0000000
7.995"
-

1/8

" to

1/8

"
8"
-0.188" to

1/4

"
7.13"
Welded
Sheared
Square
Square
0.0625" per 6 ft.
0000000