Stainless Steel Workbench Tops
A corrosion-resistant, stainless steel surface and sealed, plastic laminate bottom make these tops suitable for food service. All are oil and stain resistant and meet NSF/ANSI 2 for sanitary design.
These workbench tops must be used with Stainless Steel Workbench Legs
The 96" wide workbench tops require at least three workbench legs.
For technical drawings and 3-D models, click on a part number.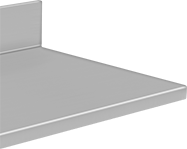 With Backstop

Radius
Wd.

Dp.

Backstop


Ht.

Cap.,




lbs.

Material
Gauge

Thick.

Mtg.

Fasteners
Included
Specifications
Met
Each

Radius Edge

48"
24"
6"
3,200
Stainless Steel
16
1

1/2

"
Yes
NSF/ANSI 2

0000000
0000000
48"
30"
6"
4,000
Stainless Steel
16
1

1/2

"
Yes
NSF/ANSI 2

0000000
000000
60"
30"
6"
5,000
Stainless Steel
16
1

1/2

"
Yes
NSF/ANSI 2

0000000
000000
72"
30"
6"
6,000
Stainless Steel
16
1

1/2

"
Yes
NSF/ANSI 2

0000000
000000
96"
30"
6"
8,000
Stainless Steel
16
1

1/2

"
Yes
NSF/ANSI 2

0000000
000000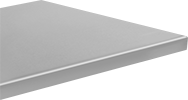 Without Backstop

Radius
Wd.

Dp.

Cap.,




lbs.

Material
Gauge

Thick.

Mtg.

Fasteners
Included
Specifications
Met
Each

Radius Edge

48"
24"
3,200
Stainless Steel
16
1

1/2

"
Yes
NSF/ANSI 2

0000000
0000000
48"
30"
4,000
Stainless Steel
16
1

1/2

"
Yes
NSF/ANSI 2

0000000
000000
60"
30"
5,000
Stainless Steel
16
1

1/2

"
Yes
NSF/ANSI 2

0000000
000000
72"
30"
6,000
Stainless Steel
16
1

1/2

"
Yes
NSF/ANSI 2

0000000
000000
96"
30"
8,000
Stainless Steel
16
1

1/2

"
Yes
NSF/ANSI 2

0000000
000000