About
Flow-Adjustment

Valves
High-Pressure

Threaded

Flow-Adjustment

Valves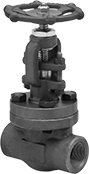 Valve

Type:

Globe

For Use

With:

Water,

Oil,

Air,

Argon,

Helium,

Krypton,

Neon,

Xenon
Specifications

Met:

API

602,

ASTM A105N
Rated for twice the pressure of other threaded flow-adjustment valves, these are often used in refineries and other demanding environments. They gradually open and close with multiple turns of the wheel handle to adjust and regulate flow. All have a rising stem that lifts as the valve opens and lowers as the valve closes to provide a visual indication of whether flow is on or off.
Flow coefficient (Cv) is the amount of water (in gallons per minute) at 60° F that will flow through a fully open valve with a difference of 1 psi between the inlet and the outlet.
For technical drawings and 3-D models, click on a part number.
Pipe
Size

Flow
Coefficient

(Cv)

Pressure
Class

Max.

Pressure
Temperature


Range,

°F

End-to-End




Lg.

Stem
Type
Each

Steel Body

NPT Female × NPT Female

1/4

2
800

1975 psi @ 100° F
-20° to 800°
3

3/16

"
Rising
0000000
0000000

3/8

3.5
800

1975 psi @ 100° F
-20° to 800°
3

3/16

"
Rising
0000000
000000

1/2

3.5
800

1975 psi @ 100° F
-20° to 800°
3

3/16

"
Rising
0000000
000000

3/4

4.5
800

1975 psi @ 100° F
-20° to 800°
3

9/16

"
Rising
0000000
000000
1

7.2
800

1975 psi @ 100° F
-20° to 800°
4

5/16

"
Rising
0000000
000000
1

1/4

17
800

1975 psi @ 100° F
-20° to 800°
6"
Rising
0000000
000000
1

1/2

17
800

1975 psi @ 100° F
-20° to 800°
6"
Rising
0000000
000000
2

25
800

1975 psi @ 100° F
-20° to 800°
7

1/8

"
Rising
0000000
000000