Clamp-On

Workstops for Machine Vises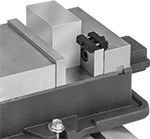 Mount to your vise jaws to create a stop for positioning parts. Turn the spring-loaded screw to adjust and secure on the jaws.
For Jaw


Thick.

Lg.

Wd.

Ht.

Material
Each

1/2

"-1"
1

7/16

"
1"

1/2

"
Steel
00000000
000000
Sensor and Reflector Brackets for Conveyors
Mount sensors and reflectors on your conveyor frame.
Clamp-on brackets attach on a mounting rod. Styles A and B adjust vertically 180°.
Styles A, E, F, and H—Bolt sensors or reflectors to the face of the bracket using the universal mounting holes.
Style B—Glue sensors or reflectors on the face of the bracket.
Attach reflectors into the stem on Style C brackets.
Insert a proximity sensor into Style D and G brackets.
For technical drawings and 3-D models, click on a part number.

A

B

C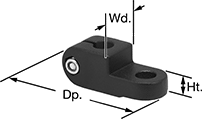 D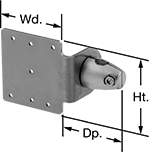 E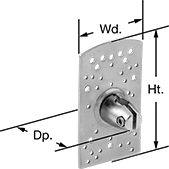 F
Style
For
Rod


Dia.

For
Sensor


OD,

mm
For
Reflector
Stem

Dia.

Wd.

Dp.

Ht.

Dia.

Features
Each

Plastic

A

1/2

"
__
__
__
2.56"
__
4.92"
Universal Mounting Hole Pattern
00000000
000000
B

1/2

"
__
__
3.54"
1.98"
2.95"
__
__
00000000
00000
C

1/2

"
__
0.23"
0.70"
2.3"
1.17"
__
__
00000000
00000

Aluminum

D
12mm
12
__
0.98"
2.52"
0.45"
__
__
00000000
00000
D
12mm
18
__
0.98"
2.52"
0.45"
__
__
00000000
00000

Stainless Steel

E
12mm,

1/2

"
__
__
2.36"
1.8"
2.56"
__
Universal Mounting Hole Pattern
00000000
00000
F
12mm,

1/2

"
__
__
2.60"
1.56"
4.33"
__
Universal Mounting Hole Pattern
00000000
00000