High-Strength

Cut-to-Length

Cable Ties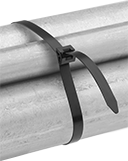 A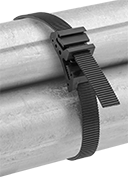 B
Create custom-length cable ties for large bundles and heavy materials. Cut the strap and attach a buckle. Use the optional tensioning tool to create more tension than with hand tightening.
Style B have teeth that grip as the strap is pushed through the buckle.
Acetal ties resist moisture and chemicals.
Style

Lg.,




ft.

Breaking


Strength,




lbs.

Useful
Life

Wd.

Thick.

Buckle
Type

No.

of
Buckles
Included
For
Use
Outdoors
Specifications
Met

Temp.




Range,




°F

Color
Each
Each

Acetal Plastic

A
50
400
One-Time Use
0.50"
0.06"
Feed Through
25
Yes
UL 94 HB
-40° to 190°
Black
0000000
000000
0000000
0000000
A
100
400
One-Time Use
0.50"
0.06"
Feed Through
25
Yes
UL 94 HB
-40° to 190°
Black
0000000
00000
0000000
000000

Nylon Plastic

A
50
400
One-Time Use
0.50"
0.06"
Feed Through
25
No
UL 94 V-2
-40° to 190°
Black
0000000
00000
0000000
000000
A
100
400
One-Time Use
0.50"
0.06"
Feed Through
25
No
UL 94 V-2
-40° to 190°
Black
0000000
00000
0000000
000000
B
100
960
Reusable
0.75"
0.14"
Feed Through
100
No
UL 94 V-2
-20° to 250°
Black
0000000
000000
0000000
000000