Offset-Surface

Strut Channel Brackets
Zinc-plated steel brackets are more corrosion resistant in wet environments than powder-coated and painted steel.
Galvanized steel brackets have better corrosion resistance in wet environments than zinc-plated steel and can be used outdoors.
304 stainless steel brackets are more corrosion resistant than galvanized steel. They also have good chemical resistance.
316 stainless steel brackets have excellent resistance to chemicals and salt water.
Plastic brackets are nonconductive and lightweight with good resistance to chemicals.
For technical drawings and 3-D models, click on a part number.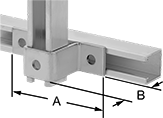 For 13/16",
2 7/16",
and
3 1/4"
Channel
Ht.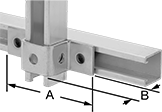 For Strut
Channel

Ht.

(A)

(B)

Thick.

Temperature


Range,

°F

Hole


Dia.

Fasteners
Included
Each

13/16

"
5

3/8

"
1"

1/4

"
__

9/16

"
No
00000000
00000
1

5/8

"
5

3/8

"
1

7/8

"

1/4

"
__

9/16

"
No
00000000
0000
2

7/16

"
5

3/8

"
2

3/4

"

1/4

"
__

9/16

"
No
00000000
00000
3

1/4

"
5

3/8

"
3

1/2

"

1/4

"
__

9/16

"
No
00000000
00000

Green

Powder-Coated

Steel

13/16

"
5

3/8

"
1"

1/4

"
__

9/16

"
No
00000000
0000
1

5/8

"
5

3/8

"
1

7/8

"

1/4

"
__

9/16

"
No
00000000
0000
2

7/16

"
5

3/8

"
2

3/4

"

1/4

"
__

9/16

"
No
00000000
00000
3

1/4

"
5

3/8

"
3

1/2

"

1/4

"
__

9/16

"
No
00000000
00000

Black

Powder-Coated

Steel

13/16

"
5

3/8

"
1

1/16

"

1/4

"
__

9/16

"
No
000000000
0000
1

5/8

"
5

3/8

"
1

7/8

"

1/4

"
__

9/16

"
No
000000000
00000

White

Powder-Coated

Steel

13/16

"
5

3/8

"
1

1/16

"

1/4

"
__

9/16

"
No
000000000
0000
1

5/8

"
5

3/8

"
1

7/8

"

1/4

"
__

9/16

"
No
000000000
00000

Yellow

Powder-Coated

Steel

13/16

"
5

3/8

"
1

1/16

"

1/4

"
__

9/16

"
No
000000000
0000
1

5/8

"
5

3/8

"
1

7/8

"

1/4

"
__

9/16

"
No
000000000
00000

Galvanized Steel

13/16

"
5

3/8

"
1

1/8

"

1/4

"
__

9/16

"
No
000000000
00000
1

5/8

"
5

3/8

"
1

7/8

"

1/4

"
__

9/16

"
No
000000000
00000
2

7/16

"
5

3/8

"
2

3/4

"

1/4

"
__

9/16

"
No
000000000
00000
3

1/4

"
5

3/8

"
3

1/2

"

1/4

"
__

9/16

"
No
000000000
00000

304 Stainless Steel

13/16

"
5

3/8

"
1

1/16

"

1/4

"
__

9/16

"
No
000000000
00000
1

5/8

"
5

3/8

"
1

7/8

"

1/4

"
__

9/16

"
No
000000000
00000
2

7/16

"
5

3/8

"
2

11/16

"

1/4

"
__

9/16

"
No
000000000
00000
3

1/4

"
5

3/8

"
3

1/2

"

1/4

"
__

9/16

"
No
000000000
00000

Gray Plastic

1

5/8

"
5

7/16

"
1

7/8

"

1/4

"
-40° to 140°

7/16

"
No
000000000
00000

For Strut
Channel

Ht.

(A)

(B)

Thick.

Hole


Dia.

Fasteners
Included
Each
1

5/8

"
1

7/8

"
1

7/8

"

1/4

"

9/16

"
No
000000000
000000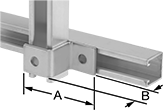 For Strut
Channel

Ht.

(A)

(B)

Thick.

Temperature


Range,

°F

Hole


Dia.

Fasteners
Included
Each

13/16

"
3

3/4

"
1

1/8

"

1/4

"
__

9/16

"
No
00000000
00000
1

5/8

"
3

1/2

"
2

1/8

"

1/4

"
__

9/16

"
No
00000000
0000
2

7/16

"
3

3/4

"
2

3/4

"

1/4

"
__

9/16

"
No
00000000
0000
3

1/4

"
3

1/2

"
3

1/2

"

1/4

"
__

9/16

"
No
00000000
0000

Green

Powder-Coated

Steel

13/16

"
3

3/4

"
1

1/8

"

1/4

"
__

9/16

"
No
00000000
0000
1

5/8

"
3

1/2

"
1

7/8

"

1/4

"
__

9/16

"
No
00000000
00000
2

7/16

"
3

3/4

"
2

3/4

"

1/4

"
__

9/16

"
No
00000000
00000
3

1/4

"
3

1/2

"
3

1/2

"

1/4

"
__

9/16

"
No
00000000
00000

Black

Powder-Coated

Steel

13/16

"
3

1/2

"
1

1/16

"

1/4

"
__

9/16

"
No
000000000
00000
1

5/8

"
3

1/2

"
1

7/8

"

1/4

"
__

9/16

"
No
000000000
0000

White

Powder-Coated

Steel

13/16

"
3

1/2

"
1

1/16

"

1/4

"
__

9/16

"
No
000000000
0000
1

5/8

"
3

1/2

"
1

7/8

"

1/4

"
__

9/16

"
No
000000000
0000

Yellow

Powder-Coated

Steel

13/16

"
3

1/2

"
1

1/16

"

1/4

"
__

9/16

"
No
000000000
0000
1

5/8

"
3

1/2

"
1

7/8

"

1/4

"
__

9/16

"
No
000000000
0000

Galvanized Steel

13/16

"
3

3/4

"
1

1/8

"

1/4

"
__

9/16

"
No
000000000
0000
1

5/8

"
3

3/4

"
1

7/8

"

1/4

"
__

9/16

"
No
000000000
00000
2

7/16

"
3

3/4

"
2

3/4

"

1/4

"
__

9/16

"
No
000000000
00000
3

1/4

"
3

3/4

"
3

1/2

"

1/4

"
__

9/16

"
No
000000000
00000

304 Stainless Steel

13/16

"
3

1/2

"
1

1/16

"

1/4

"
__

9/16

"
No
000000000
00000
1

5/8

"
3

1/2

"
1

7/8

"

1/4

"
__

9/16

"
No
000000000
00000
2

7/16

"
3

1/2

"
2

11/16

"

1/4

"
__

9/16

"
No
000000000
00000
3

1/4

"
3

1/2

"
3

1/2

"

1/4

"
__

9/16

"
No
000000000
00000

316 Stainless Steel

1

5/8

"
3

1/4

"
1

5/8

"

1/4

"
__

9/16

"
No
000000000
00000

Gray Plastic

1

5/8

"
3

1/2

"
1

7/8

"

1/4

"
-40° to 140°

9/16

"
No
000000000
00000