Bulk Bags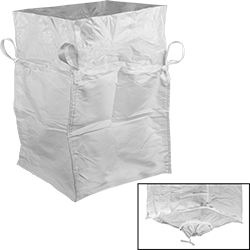 B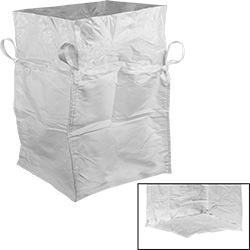 C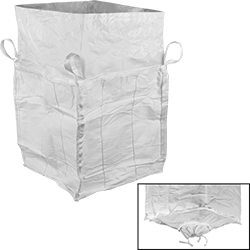 D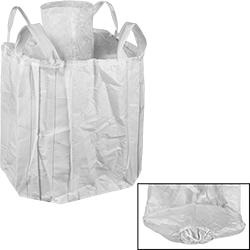 E
Also known as flexible intermediate bulk containers, these bags are an economical way to contain and ship a variety of materials. They have four corner straps for convenient forklift lifting; no special equipment or pallets required.
Skirt-top bags are reinforced with extra material at the top to help catch anything that might fall out.
Closed-top with inlet bags have a tube for controlled pouring, and are otherwise closed on top. Use them with filling station equipment, such as bulk bag fillers.
Bags with a bottom outlet with drawstring closure open and close to release and hold the material stored in them.
Octagonal-base bags remain stable regardless of how much they're filled. Compared to rectangular bags, their shape is less prone to rounding out as they're filled. There's no need to transport these bags on a pallet because they hold their shape when moved.
Antistatic bags protect against static discharges and don't need a grounding tab. Use them if flammables or explosives are nearby.
Style C has a woven construction that allows water drainage and airflow. It is often used for filtering sludge and dust collection.
Style D is reinforced to hold its shape so it can be stacked on a pallet.
Use pallets to stack bags during transit and storage. They have raised columns in the center to help bags stay upright and keep their edges from flowing over the side.
Polypropylene Plastic Bags

Polyethylene
Plastic Liners

Style

Wd.

Dp.

Ht.

Cap.,




cu.




ft.

Weight


Cap.,




lbs.

Color
Strap
ID

Wd.

Dp.

Wd.

Dp.

Space
Saving
Features
Features
Each
Each
Each

Skirt Top

B
35"
35"
35"
25
2,000
White
6

1/2

"
18"
16"
__
__
__
Bottom Outlet with Drawstring Closure, Corner Straps
0000000
000000
0000000
000000
0000000
000000
B
35"
35"
35"
25
3,300
White
6

1/2

"
14"
18"
__
__
__
Bottom Outlet with Drawstring Closure, Corner Straps
0000000
00000
0000000
00000
0000000
00000
B
35"
35"
45"
32
3,300
White
6

1/2

"
14"
18"
__
__
__
Bottom Outlet with Drawstring Closure, Corner Straps
0000000
00000
0000000
00000
0000000
00000
B
35"
35"
55"
39
3,300
White
6

1/2

"
14"
18"
__
__
__
Bottom Outlet with Drawstring Closure, Corner Straps
0000000
00000
0000000
00000
0000000
00000
B
41"
41"
63"
62
3,300
White
6

1/2

"
14"
18"
__
__
__
Bottom Outlet with Drawstring Closure, Corner Straps
0000000
00000
0000000
00000
0000000
00000
B
41"
41"
75"
73
3,300
White
6

1/2

"
14"
18"
__
__
__
Bottom Outlet with Drawstring Closure, Corner Straps
0000000
000000
0000000
00000
0000000
00000
C
35"
35"
35"
25
2,000
White
6

1/2

"
__
__
__
__
__
Corner Straps
0000000
00000
0000000
00000
0000000
00000
D
35"
35"
35"
25
3,000
White
6

1/2

"
14"
18"
__
__
Stackable
Bottom Outlet with Drawstring Closure, Reinforced Walls, Corner Straps
0000000
00000
0000000
00000
0000000
00000

Closed Top with Inlet

E
35"
35"
35"
25
2,000
White
7

1/2

"
14"
16"
14"
16"
Stackable
Bottom Outlet with Drawstring Closure, Top Inlet with Drawstring Closure, Corner Straps
0000000
00000
0000000
00000
000000
00

Antistatic

Octagonal-Base

Bags

Closed Top with Inlet

E
35"
35"
35"
25
2,000
Blue
7

1/2

"
15"
14"
15"
14"
Stackable
Bottom Outlet with Drawstring Closure, Top Inlet with Drawstring Closure, Corner Straps
0000000
00000
000000
00
000000
00