Nylon Mesh Cushioned Sanding Belts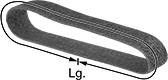 The abrasive-embedded nylon mesh gives you maximum control over sanding pressure, creating finer and more consistent finishes. These belts resist deterioration when used with water or cutting fluids.
Coarse grade is for deburring and removing heavy rust and surface imperfections.
Medium grade is for light cleaning and blending.
Very fine grade is for removing fine scratch marks and lines, final finishing, polishing, and preparing surfaces for painting.
Wd.

Lg.

Color
Abrasive Material
Abrasive
Backing Material
For Use On
Each

Coarse

Grade—

For Rough Finish

1/4

"
18"
Brown
Aluminum Oxide
Nylon Mesh
Steel, Wood
000000000
00000

1/4

"
24"
Brown
Aluminum Oxide
Nylon Mesh
Steel, Wood
000000000
0000

3/8

"
13"
Brown
Aluminum Oxide
Nylon Mesh
Steel, Wood
000000000
0000

1/2

"
12"
Brown
Aluminum Oxide
Nylon Mesh
Steel, Wood
000000000
0000

1/2

"
18"
Brown
Aluminum Oxide
Nylon Mesh
Steel, Wood
000000000
0000

1/2

"
24"
Brown
Aluminum Oxide
Nylon Mesh
Steel, Wood
000000000
00000

3/4

"
18"
Brown
Aluminum Oxide
Nylon Mesh
Steel, Wood
000000000
00000

3/4

"
20

1/2

"
Brown
Aluminum Oxide
Nylon Mesh
Steel, Wood
000000000
00000
1"
18"
Brown
Aluminum Oxide
Nylon Mesh
Steel, Wood
000000000
0000
1"
30"
Brown
Aluminum Oxide
Nylon Mesh
Steel, Wood
000000000
00000
1"
42"
Brown
Aluminum Oxide
Nylon Mesh
Steel, Wood
000000000
00000
1

1/8

"
21"
Brown
Aluminum Oxide
Nylon Mesh
Steel, Wood
000000000
00000
1

1/2

"
60"
Brown
Aluminum Oxide
Nylon Mesh
Steel, Wood
000000000
00000
2"
18

15/16

"
Brown
Aluminum Oxide
Nylon Mesh
Steel, Wood
000000000
00000
2"
42"
Brown
Aluminum Oxide
Nylon Mesh
Steel, Wood
000000000
00000
2"
48"
Brown
Aluminum Oxide
Nylon Mesh
Steel, Wood
000000000
00000
2"
60"
Brown
Aluminum Oxide
Nylon Mesh
Steel, Wood
000000000
00000
2"
72"
Brown
Aluminum Oxide
Nylon Mesh
Steel, Wood
000000000
00000
2"
132"
Brown
Aluminum Oxide
Nylon Mesh
Steel, Wood
000000000
00000
2

1/2

"
60"
Brown
Aluminum Oxide
Nylon Mesh
Steel, Wood
000000000
00000
2

3/4

"
15

1/2

"
Brown
Aluminum Oxide
Nylon Mesh
Steel, Wood
000000000
00000
3"
10

11/16

"
Brown
Aluminum Oxide
Nylon Mesh
Steel, Wood
000000000
00000
3"
18"
Brown
Aluminum Oxide
Nylon Mesh
Steel, Wood
000000000
00000
3"
21"
Brown
Aluminum Oxide
Nylon Mesh
Steel, Wood
000000000
00000
3"
24"
Brown
Aluminum Oxide
Nylon Mesh
Steel, Wood
000000000
00000
3"
132"
Brown
Aluminum Oxide
Nylon Mesh
Steel, Wood
000000000
00000
3

1/2

"
15

1/2

"
Brown
Aluminum Oxide
Nylon Mesh
Steel, Wood
000000000
00000
4"
24"
Brown
Aluminum Oxide
Nylon Mesh
Steel, Wood
000000000
00000
4"
36"
Brown
Aluminum Oxide
Nylon Mesh
Steel, Wood
000000000
00000
4"
54"
Brown
Aluminum Oxide
Nylon Mesh
Steel, Wood
000000000
00000
4"
60"
Brown
Aluminum Oxide
Nylon Mesh
Steel, Wood
000000000
00000
4"
132"
Brown
Aluminum Oxide
Nylon Mesh
Steel, Wood
000000000
000000
6"
48"
Brown
Aluminum Oxide
Nylon Mesh
Steel, Wood
000000000
00000

Medium

Grade—

For Smooth Finish

1/4

"
18"
Maroon
Aluminum Oxide
Nylon Mesh
Steel, Wood
000000000
0000

1/4

"
24"
Maroon
Aluminum Oxide
Nylon Mesh
Steel, Wood
000000000
0000

3/8

"
13"
Maroon
Aluminum Oxide
Nylon Mesh
Steel, Wood
000000000
0000

1/2

"
12"
Maroon
Aluminum Oxide
Nylon Mesh
Steel, Wood
000000000
0000

1/2

"
18"
Maroon
Aluminum Oxide
Nylon Mesh
Steel, Wood
000000000
0000

1/2

"
24"
Maroon
Aluminum Oxide
Nylon Mesh
Steel, Wood
000000000
00000

3/4

"
18"
Maroon
Aluminum Oxide
Nylon Mesh
Steel, Wood
000000000
00000

3/4

"
20

1/2

"
Maroon
Aluminum Oxide
Nylon Mesh
Steel, Wood
000000000
00000
1"
18"
Maroon
Aluminum Oxide
Nylon Mesh
Steel, Wood
000000000
0000
1"
30"
Maroon
Aluminum Oxide
Nylon Mesh
Steel, Wood
000000000
00000
1"
42"
Maroon
Aluminum Oxide
Nylon Mesh
Steel, Wood
000000000
00000
1

1/8

"
21"
Maroon
Aluminum Oxide
Nylon Mesh
Steel, Wood
000000000
00000
1

1/2

"
60"
Maroon
Aluminum Oxide
Nylon Mesh
Steel, Wood
000000000
00000
2"
18

15/16

"
Maroon
Aluminum Oxide
Nylon Mesh
Steel, Wood
000000000
00000
2"
42"
Maroon
Aluminum Oxide
Nylon Mesh
Steel, Wood
000000000
00000
2"
48"
Maroon
Aluminum Oxide
Nylon Mesh
Steel, Wood
000000000
00000
2"
60"
Maroon
Aluminum Oxide
Nylon Mesh
Steel, Wood
000000000
00000
2"
72"
Maroon
Aluminum Oxide
Nylon Mesh
Steel, Wood
000000000
00000
2"
132"
Maroon
Aluminum Oxide
Nylon Mesh
Steel, Wood
000000000
00000
2

1/2

"
60"
Maroon
Aluminum Oxide
Nylon Mesh
Steel, Wood
000000000
00000
2

3/4

"
15

1/2

"
Maroon
Aluminum Oxide
Nylon Mesh
Steel, Wood
000000000
00000
3"
10

11/16

"
Maroon
Aluminum Oxide
Nylon Mesh
Steel, Wood
000000000
00000
3"
18"
Maroon
Aluminum Oxide
Nylon Mesh
Steel, Wood
000000000
00000
3"
21"
Maroon
Aluminum Oxide
Nylon Mesh
Steel, Wood
000000000
00000
3"
24"
Maroon
Aluminum Oxide
Nylon Mesh
Steel, Wood
000000000
00000
3"
132"
Maroon
Aluminum Oxide
Nylon Mesh
Steel, Wood
000000000
00000
3

1/2

"
15

1/2

"
Maroon
Aluminum Oxide
Nylon Mesh
Steel, Wood
000000000
00000
4"
24"
Maroon
Aluminum Oxide
Nylon Mesh
Steel, Wood
000000000
00000
4"
36"
Maroon
Aluminum Oxide
Nylon Mesh
Steel, Wood
000000000
00000
4"
54"
Maroon
Aluminum Oxide
Nylon Mesh
Steel, Wood
000000000
00000
4"
60"
Maroon
Aluminum Oxide
Nylon Mesh
Steel, Wood
000000000
00000
4"
132"
Maroon
Aluminum Oxide
Nylon Mesh
Steel, Wood
000000000
000000
6"
48"
Maroon
Aluminum Oxide
Nylon Mesh
Steel, Wood
000000000
00000

Very Fine

Grade—

For

Extra-Smooth

Finish

1/4

"
18"
Blue
Aluminum Oxide
Nylon Mesh
Steel, Wood
000000000
0000

1/4

"
24"
Blue
Aluminum Oxide
Nylon Mesh
Steel, Wood
000000000
0000

3/8

"
13"
Blue
Aluminum Oxide
Nylon Mesh
Steel, Wood
000000000
0000

1/2

"
12"
Blue
Aluminum Oxide
Nylon Mesh
Steel, Wood
000000000
0000

1/2

"
18"
Blue
Aluminum Oxide
Nylon Mesh
Steel, Wood
000000000
0000

1/2

"
24"
Blue
Aluminum Oxide
Nylon Mesh
Steel, Wood
000000000
00000

3/4

"
18"
Blue
Aluminum Oxide
Nylon Mesh
Steel, Wood
000000000
00000

3/4

"
20

1/2

"
Blue
Aluminum Oxide
Nylon Mesh
Steel, Wood
000000000
00000
1"
18"
Blue
Aluminum Oxide
Nylon Mesh
Steel, Wood
000000000
0000
1"
30"
Blue
Aluminum Oxide
Nylon Mesh
Steel, Wood
000000000
00000
1"
42"
Blue
Aluminum Oxide
Nylon Mesh
Steel, Wood
000000000
00000
1

1/8

"
21"
Blue
Aluminum Oxide
Nylon Mesh
Steel, Wood
000000000
00000
1

1/2

"
60"
Blue
Aluminum Oxide
Nylon Mesh
Steel, Wood
000000000
00000
2"
18

15/16

"
Blue
Aluminum Oxide
Nylon Mesh
Steel, Wood
000000000
00000
2"
42"
Blue
Aluminum Oxide
Nylon Mesh
Steel, Wood
000000000
00000
2"
48"
Blue
Aluminum Oxide
Nylon Mesh
Steel, Wood
000000000
00000
2"
60"
Blue
Aluminum Oxide
Nylon Mesh
Steel, Wood
000000000
00000
2"
72"
Blue
Aluminum Oxide
Nylon Mesh
Steel, Wood
000000000
00000
2"
132"
Blue
Aluminum Oxide
Nylon Mesh
Steel, Wood
000000000
00000