Voltage

Current,


A

Temp.




Setting,

°F

Switch
Type

Ht.

Wd.

Dp.

Mounting
Fasteners Included
Specifications
Met
Each

For Heaters

120V AC-277V AC
22
50° to 90°
SPST

4

1/2

"
2

3/4

"
1

1/2

"
No
ETL Listed

00000000
000000
Plug-In

Line-Voltage

Thermostats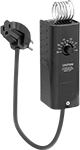 Plug in the thermostat, then plug your line-voltage heater into the socket on the thermostat's plug. Use the included metal hanger for mounting.
Voltage

Current,


A

Temp.




Setting,

°F

Switch
Type
Cord


Lg.,

ft.

Plug Type

Ht.

Wd.

Dp.

Specifications
Met
Each

For Heaters

120V AC
13
40° to 90°
SPST

6
Three Prong
5

1/2

"
2

1/8

"
2

5/8

"
UL Listed

000000
0000000

Also known as snap discs, these thermostats switch on cooling systems or switch off heating systems when equipment gets too hot. Each thermostat has five temperature options for switch activation; choose the one that best suits your application.
Unlike heat-actuated switches, these thermostats reset automatically, saving you the effort of replacing a melted fusible link. To calculate their reset temperature, subtract their differential temperature from the temperature you set them at. For example, a thermostat set at 100° F with a 20° F differential will reset at 80° F.
Normally open thermostats are also known as low-limit thermostats—they turn on at a set temperature. They're good for use with fans and blowers.
Normally closed thermostats are also known as high-limit thermostats—they turn off at a set temperature. They're often used with electric water heaters, stoves, and furnaces.
Temperature
Setting
Temperature
Differential
Switch
Type
Switch
Starting
Position
Voltage
Current
Wire
Connection
Type
Terminal
Size
Face


Dia.

Ht.

Wd.

Dp.

Hole


Dia.




(No. of)

Fasteners
Included
Each

Close at Temperature Setting

90° F, 100° F, 110° F, 120° F, 130° F
20° F
SPST

1 Off (Normally Open)

120V AC/240V AC
25A
Quick-Disconnect Terminals

1/4

"

3/4

"
1

3/4

"
2"
1

3/8

"

3/16

" (2)
No
0000000
000000
140° F, 150° F, 160° F, 170° F, 180° F
20° F
SPST

1 Off (Normally Open)

120V AC/240V AC
25A
Quick-Disconnect Terminals

1/4

"

3/4

"
1

3/4

"
2"
1

3/8

"

3/16

" (2)
No
0000000
00000

Open at Temperature Setting

135° F, 145° F, 155° F, 165° F, 175° F
20° F
SPST

1 On (Normally Closed)

120V AC/240V AC
25A
Quick-Disconnect Terminals

1/4

"

3/4

"
1

3/4

"
2"
1

3/8

"

3/16

" (2)
No
0000000
00000
135° F, 145° F, 155° F, 165° F, 175° F
40° F
SPST

1 On (Normally Closed)

120V AC/240V AC
25A
Quick-Disconnect Terminals

1/4

"

3/4

"
1

3/4

"
2"
1

3/8

"

3/16

" (2)
No
0000000
00000
175° F, 185° F, 195° F, 205° F, 215° F
40° F
SPST

1 On (Normally Closed)

120V AC/240V AC
25A
Quick-Disconnect Terminals

1/4

"

3/4

"
1

3/4

"
2"
1

3/8

"

3/16

" (2)
No
0000000
00000
210° F, 220° F, 230° F, 240° F, 250° F
40° F
SPST

1 On (Normally Closed)

120V AC/240V AC
25A
Quick-Disconnect Terminals

1/4

"

3/4

"
1

3/4

"
2"
1

3/8

"

3/16

" (2)
No
0000000
00000
250° F, 260° F, 270° F, 280° F, 290° F
40° F
SPST

1 On (Normally Closed)

120V AC/240V AC
25A
Quick-Disconnect Terminals

1/4

"

3/4

"
1

3/4

"
2"
1

3/8

"

3/16

" (2)
No
0000000
00000