T‐Slotted Framing Handles

Pull Handle

Choose-a-Color
Pull Handle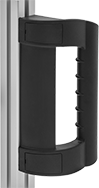 Offset
Sure-Grip
Pull Handle

Cut-to-Length
Pull Handle
Add a convenient grip to steer carts or open and close doors, windows, and drawers made of T-slotted framing.
Choose-a-color pull handles allow you to identify equipment and components at a glance.
Sure-grip pull handles have finger indentations for a more secure grip than other handles.
Offset sure-grip pull handles are offset from the mounting surface so there's room to fully grasp the handle, even in tight spaces and on double doors.
Cut-to-length pull handles work well on carts and machine doors. Remove the end caps and cut the grip to the length you need before mounting.
For technical drawings and 3-D models, click on a part number.
Single

Double,


Quad
Triple

Lg.

Projection
Mounting
Fasteners
Included
Choose
a
Color
Each

Pull Handles

Aluminum

1", 1

1/2

"
2", 3"
3", 4

1/2

"
5

1/4

"
2

1/16

"
Yes
Black
000000000
000000
1", 1

1/2

"
2", 3"
3", 4

1/2

"
5

1/4

"
2

1/16

"
Yes
Silver
000000000
00000
1", 1

1/2

"
2", 3"
3", 4

1/2

"
7

3/16

"
2

1/4

"
Yes
Black
000000000
00000
1", 1

1/2

"
2", 3"
3", 4

1/2

"
7

3/16

"
2

1/4

"
Yes
Silver
000000000
00000
40mm
80mm
120mm
5

1/4

"
2

1/8

"
Yes
Black
000000000
00000
40mm
80mm
120mm
5

1/4

"
2

1/8

"
Yes
Silver
000000000
00000

Plastic

1

1/2

", 40mm
3", 80mm
4

1/2

", 120mm
4

1/2

"
1

5/8

"
Yes
Black
00000000
00000
1

1/2

", 40mm
3", 80mm
4

1/2

", 120mm
5

1/2

"
1

5/8

"
Yes
Red
000000000
00000
1"
2"
3"
4

7/16

"
1

7/16

"
Yes
Black
000000000
0000
1"
2"
3"
4

7/16

"
1

7/16

"
Yes
Red
000000000
00000
20mm
40mm
__
5

3/16

"
1

5/8

"
Yes
Black
0000000
0000
30mm
60mm
__
5

3/16

"
1

5/8

"
Yes
Black
00000000
0000
45mm
90mm
__
5

3/16

"
1

5/8

"
Yes
Black
00000000
00000

Choose-a-Color

Pull Handles

Plastic

1

1/2

", 40mm
3", 80mm
4

1/2

", 120mm
5

3/4

"
1

11/16

"
Yes
0000000
00000
1

1/2

", 40mm
3", 80mm
4

1/2

", 120mm
6

11/16

"
2"
Yes
0000000
00000

Plastic

1

1/2

", 40mm
3", 80mm
4

1/2

", 120mm
9

7/16

"
2

15/16

"
Yes
Black
00000000
00000
1"
2"
3"
4

11/16

"
1

15/16

"
Yes
Black
000000000
00000
40mm, 45mm
80mm, 90mm
120mm
7

3/8

"
2

3/8

"
Yes
Black
0000000
00000
20mm
40mm
__
5

5/8

"
1

7/8

"
Yes
Black
00000000
00000
30mm
60mm
__
7

3/8

"
2

3/8

"
Yes
Black
00000000
00000
45mm
90mm
__
9

7/16

"
2

15/16

"
Yes
Black
00000000
00000

Offset

Sure-Grip

Pull Handles

Plastic

1

1/2

", 40mm
3", 80mm
4

1/2

", 120mm
9

7/16

"
3

1/8

"
Yes
Black
00000000
00000
30mm
60mm
__
5

5/16

"
2

9/16

"
Yes
Black
00000000
00000
45mm
90mm
__
9

7/16

"
3

1/8

"
Yes
Black
0000000
00000

Cut-to-Length

Pull Handles

Aluminum

1

1/2

", 40mm
3", 80mm
4

1/2

", 120mm
14"
2

15/16

"
Yes
Silver
000000000
00000
45mm
90mm
__
14"
2

15/16

"
Yes
Silver
00000000
00000