T-Slotted

Framing Conveyors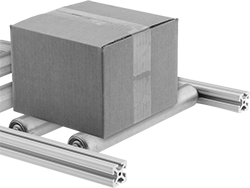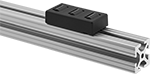 Roller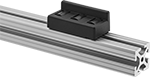 Roller with Guide Rail

Roller Mounting Bracket for Round Axles

Roller Mounting Bracket for Hex Axles

Ball Transfer

Add rollers to T-slotted framing to create flow rails, ball transfer tables, and other manual conveyors.
Screw-on and snap-in rollers mount to the surface of T-slot rails to create manual and gravity conveyors. Snap-in rollers do not require fasteners. Rollers with guide rails keep parts from falling off the side.
Use roller mounts in pairs to support conveyor rollers in T-slotted framing.
Ball transfers make it easy to rotate loads and change direction. Mount with ball up to create flow rails, with ball down to use as casters, or at an angle to hold pipe and other round stock.
End stops hold totes, boxes, and other objects at the end of the line.
For technical drawings and 3-D models, click on a part number.
Single
Double
and
Quad
Triple
Shape

Dia.

Lg.

Ball


Dia.

Capacity,




lbs.

Working
Orientation
Color
Material
Mounting
Fasteners
Included
Each
1

1/2

", 40mm
3", 80mm
4

1/2

"
__
__
3

1/8

"
__
__
__
Black
Plastic
Yes
00000000
00000

Screw-On

Roller with Guide Rail

1

1/2

", 40mm
3", 80mm
4

1/2

"
__
__
3

1/8

"
__
__
__
Black
Plastic
Yes
00000000
0000
45mm
90mm
__
__
__
3

1/8

"
__
__
__
Black
Plastic
__
00000000
0000

Snap-In

Roller with Guide Rail

45mm
90mm
__
__
__
3

1/8

"
__
__
__
Black
Plastic
__
00000000
0000

Roller Mounting Bracket

1

1/2

", 40mm
3", 80mm
4

1/2

"
Round

5/16

"
2"
__
__
__
Black
Fiberglass
Yes
000000
0000
1

1/2

", 40mm, 45mm
3", 80mm, 90mm
4

1/2

"
Hex

7/16

"
2"
__
__
__
Black
Plastic
No
00000000
0000
1

1/2

", 40mm, 45mm
3", 80mm, 90mm
4

1/2

"
Round

1/4

"
2"
__
__
__
Black
Plastic
No
00000000
0000
45mm
90mm
__
Round

5/16

"
2"
__
__
__
Black
Fiberglass
Yes
000000
0000

Ball Transfer

1

1/2

", 40mm
3", 80mm
4

1/2

"
__
__
__
1"
150
Ball Up, Ball Down, Angle
Black
Black Oxide Steel
Yes
000000000
0000

End Stop

1

1/2

", 40mm
3", 80mm
4

1/2

"
__
__
2

13/16

"
__
__
__
Silver
Aluminum
Yes
00000000
00000