Securely transport confidential documents, money, and other materials—these bags show clear signs of tampering if they have been opened. Unlike other bags with unreliable adhesives and burdensome keys, these are sealed with locking pins or tags. All have serial numbers on the bag or tag, so you can verify that the receiver got the correct bag. Made of polyethylene or PVC, these bags are strong enough to resist tears and punctures. They also repel water, oil, and solvents to keep contents dry.
Disposable bags are designed for one-time use. All have locking pins that you push into place to create a secure seal. To remove the contents, the bags must be cut open. All of these bags have a write-on address area.
To help reduce waste, reusable bags can be used multiple times. All require locking tags (sold separately) to secure the contents. To use, zip these bags closed and then insert a tag to lock the zipper in place. To remove the contents, the tag must be pulled out of the zipper. The tag will break when it's pulled, so it can't be reused. All of these bags have a pocket for inserting an address slip.
Disposable with Locking Pins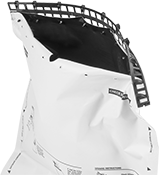 Locking Pins in Use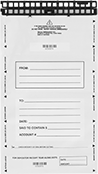 Disposable with Locking Pins
Width
Height

Thickness,


mil
Clarity
Color
Material
Message
Message
Color
Writing
Surface
Color
Features

Pkg.




Qty.

Pkg.

8"
11"
3
Clear
Clear
Polyethylene Plastic
From; To
Black
White
Tear-Off Serial Numbers
25
00000000
000000
8"
11"
3
Opaque
White
Polyethylene Plastic
From; To
Black
White
Tear-Off Serial Numbers
25
00000000
00000
10"
14"
3
Clear
Clear
Polyethylene Plastic
From; To
Black
White
Tear-Off Serial Numbers
25
00000000
00000
10"
14"
3
Opaque
White
Polyethylene Plastic
From; To
Black
White
Tear-Off Serial Numbers
25
00000000
00000
10"
16"
3
Clear
Clear
Polyethylene Plastic
From; To
Black
White
Tear-Off Serial Numbers
25
00000000
00000
10"
16"
3
Opaque
White
Polyethylene Plastic
From; To
Black
White
Tear-Off Serial Numbers
25
00000000
00000
16"
19"
3
Clear
Clear
Polyethylene Plastic
From; To
Black
White
Tear-Off Serial Numbers
25
00000000
00000
16"
19"
3
Opaque
White
Polyethylene Plastic
From; To
Black
White
Tear-Off Serial Numbers
25
00000000
00000
Reusable with Locking Tags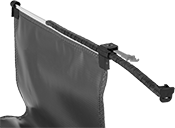 Locking Tags in Use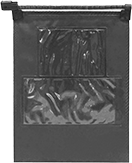 Reusable with Locking Tags
Locking Tags for Reusable Bags

Locking Tag
Width
Height
Color
Material
Features

Pkg.




Qty.

Pkg.

1/2

"
2"
Orange
Polypropylene Plastic

Molded Serial Numbers
250
00000000
000000