Arresters for Flammable Vapors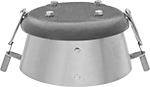 Minimize fire hazard from flammable vapors. Mount an arrester to your vent pipe to stop flames from traveling back into your tank. If the ambient temperature reaches 165° F, the fusible links melt, and the cover closes to block flames from the arrester. To reuse the arrester, replace the fusible links (sold separately).
For technical drawings and 3-D models, click on a part number.