Open-Tank

Heat Exchangers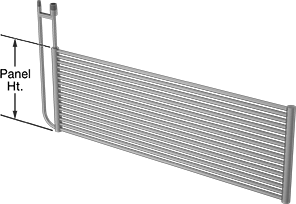 Place these heat exchangers in open tanks to heat or cool their contents by transferring heat from water or steam that flows through passageways in the panel. Pipe connections are located above the fluid level, so the heat exchangers can be removed without emptying the tank.
316 stainless steel heat exchangers are more corrosion resistant than steel heat exchangers.
For technical drawings and 3-D models, click on a part number.
Open-Tank

Heat Exchangers

Surface


Area,




sq.

ft.

Flow


Cap.,


gpm

Max.




Pressure,


psi

Min.




Temp.,




°F

Max.




Temp.,




°F

Heat
Exchanger
Type
Pipe
Size

Thread
Type
Gender
Pipe
Size

Thread
Type
Gender
Overall


Ht.

Wd.

Panel


Ht.

Each
Each

Steel

3.8
9
100
Not Rated
Not Rated
Coil Panel

3/4

NPT

Male

3/4

NPT

Male
24"
24"
12"
00000000
0000000
00000000
0000000
3.8
24
100
Not Rated
Not Rated
Coil Panel
1

NPT

Male

3/4

NPT

Male
24"
24"
12"
00000000
000000
00000000
000000
4.8
9
100
Not Rated
Not Rated
Coil Panel

3/4

NPT

Male

3/4

NPT

Male
24"
30"
12"
00000000
000000
00000000
000000
5.6
24
100
Not Rated
Not Rated
Coil Panel
1

NPT

Male

3/4

NPT

Male
30"
24"
18"
00000000
00000000
00000000
000000
5.8
9
100
Not Rated
Not Rated
Coil Panel

3/4

NPT

Male

3/4

NPT

Male
24"
36"
12"
00000000
000000
00000000
000000
5.8
24
100
Not Rated
Not Rated
Coil Panel
1

NPT

Male

3/4

NPT

Male
24"
36"
12"
00000000
000000
00000000
000000
7.5
24
100
Not Rated
Not Rated
Coil Panel
1

NPT

Male

3/4

NPT

Male
36"
24"
24"
00000000
00000000
00000000
000000
9.6
9
100
Not Rated
Not Rated
Coil Panel

3/4

NPT

Male

3/4

NPT

Male
36"
30"
24"
00000000
00000000
00000000
000000
9.6
24
100
Not Rated
Not Rated
Coil Panel
1

NPT

Male

3/4

NPT

Male
36"
30"
24"
00000000
00000000
00000000
000000
11.7
9
100
Not Rated
Not Rated
Coil Panel

3/4

NPT

Male

3/4

NPT

Male
36"
36"
24"
00000000
00000000
00000000
000000
11.7
24
100
Not Rated
Not Rated
Coil Panel
1

NPT

Male

3/4

NPT

Male
36"
36"
24"
00000000
00000000
00000000
000000
15.9
9
100
Not Rated
Not Rated
Coil Panel

3/4

NPT

Male

3/4

NPT

Male
36"
48"
24"
00000000
00000000
00000000
000000
15.9
24
100
Not Rated
Not Rated
Coil Panel
1

NPT

Male

3/4

NPT

Male
36"
48"
24"
00000000
00000000
00000000
000000
20.1
41
100
Not Rated
Not Rated
Coil Panel
1

1/2

NPT

Male

3/4

NPT

Male
36"
60"
24"
00000000
00000000
00000000
000000
24.3
41
100
Not Rated
Not Rated
Coil Panel
1

1/2

NPT

Male

3/4

NPT

Male
36"
72"
24"
00000000
00000000
00000000
000000

316 Stainless Steel

3.8
9
100
Not Rated
Not Rated
Coil Panel

3/4

NPT

Male

3/4

NPT

Male
24"
24"
12"
00000000
000000
00000000
000000
3.8
24
100
Not Rated
Not Rated
Coil Panel
1

NPT

Male

3/4

NPT

Male
24"
24"
12"
00000000
000000
00000000
000000
4.8
9
100
Not Rated
Not Rated
Coil Panel

3/4

NPT

Male

3/4

NPT

Male
24"
30"
12"
00000000
000000
00000000
000000
5.6
24
100
Not Rated
Not Rated
Coil Panel
1

NPT

Male

3/4

NPT

Male
30"
24"
18"
00000000
00000000
00000000
000000
5.8
9
100
Not Rated
Not Rated
Coil Panel

3/4

NPT

Male

3/4

NPT

Male
24"
36"
12"
00000000
000000
00000000
000000
5.8
24
100
Not Rated
Not Rated
Coil Panel
1

NPT

Male

3/4

NPT

Male
24"
36"
12"
00000000
000000
00000000
000000
7.5
24
100
Not Rated
Not Rated
Coil Panel
1

NPT

Male

3/4

NPT

Male
36"
24"
24"
00000000
00000000
00000000
000000
9.6
9
100
Not Rated
Not Rated
Coil Panel

3/4

NPT

Male

3/4

NPT

Male
36"
30"
24"
00000000
00000000
00000000
000000
9.6
24
100
Not Rated
Not Rated
Coil Panel
1

NPT

Male

3/4

NPT

Male
36"
30"
24"
0000000
00000000
00000000
000000
11.7
9
100
Not Rated
Not Rated
Coil Panel

3/4

NPT

Male

3/4

NPT

Male
36"
36"
24"
00000000
00000000
00000000
000000
11.7
24
100
Not Rated
Not Rated
Coil Panel
1

NPT

Male

3/4

NPT

Male
36"
36"
24"
00000000
00000000
00000000
000000
15.9
9
100
Not Rated
Not Rated
Coil Panel

3/4

NPT

Male

3/4

NPT

Male
36"
48"
24"
00000000
00000000
00000000
000000
15.9
24
100
Not Rated
Not Rated
Coil Panel
1

NPT

Male

3/4

NPT

Male
36"
48"
24"
00000000
00000000
00000000
000000
20.1
41
100
Not Rated
Not Rated
Coil Panel
1

1/2

NPT

Male

3/4

NPT

Male
36"
60"
24"
00000000
00000000
00000000
000000
24.3
41
100
Not Rated
Not Rated
Coil Panel
1

1/2

NPT

Male

3/4

NPT

Male
36"
72"
24"
00000000
00000000
00000000
000000