ASME-Code

Expansion Tanks for Water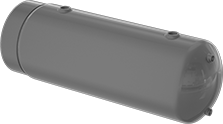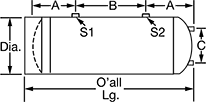 Manufactured in accordance with ASME BPVC.VIII.1, these tanks accommodate the expansion of heated water and provide a cushion of compressed air in closed water-heating systems. They prevent water loss by eliminating the need to expel hot water from systems during each heating cycle.
For technical drawings and 3-D models, click on a part number.
Tank End
Connection
Pipe Size

Tank Side
Connection
Pipe Size

Capacity,




gal.

Dia.

Overall


Lg.

Lg.




(A)

Lg.




(B)

Lg.




(C)

(E1)

(E2)

(S1)

(S2)

Pipe
Connection
Thread Type
Pipe
Connection
Gender
Wall


Gauge,




ga.

Max.




Temp.,




°F

Max.




Pressure,


psi
Expansion
Tank
Type
Each
15
12"
34

1/8

"
7"
19"
8"

1/2

1/2

1

1

NPT

Female
13
450°
150
Bladderless
00000000
0000000
30
14"
49

3/8

"
8

3/8

"
31

1/4

"
10"

1/2

1/2

1

1/2

1

1/2

NPT

Female
12
450°
150
Bladderless
00000000
000000
40
14"
64

3/8

"
8

3/8

"
46

1/4

"
10"

1/2

1/2

1

1/2

1

1/2

NPT

Female
12
450°
150
Bladderless
00000000
000000
80
20"
64

5/16

"
10"
42"
16"

1/2

1/2

2

2

NPT

Female
11
450°
150
Bladderless
00000000
000000