Narrow Body Eye
Hooks—

For Lifting
A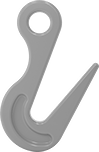 B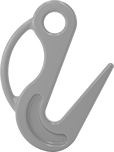 C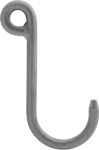 D

E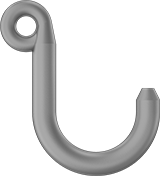 F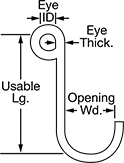 Insert in eyes, links, rings, and other connectors with small openings. Also known as J-hooks.
Forged hooks are stronger than welded hooks. Welded hooks are an economical alternative to forged hooks, but they're not as strong.
Steel hooks are stronger than stainless steel hooks. Powder-coated hooks are mildly corrosion resistant. 316 stainless steel hooks have excellent resistance to salt water and chemicals.
Styles B and C have a deep, straight opening. Flat plates sit well in the opening and the thin hook is good for attaching to the ends of large cylinders. Style C have a handle, giving you a spot to grab the hook and direct the load, keeping your hand out of harm's way.
Note: Capacities are for vertical lifting only.
For technical drawings and 3-D models, click on a part number.
Style

Capacity,




lbs.

Opening


Wd.

Usable


Lg.

ID

Thick.

Max.




Temperature,

° F

With
Handle
Specifications
Met
Each

Forged Alloy Steel

A
2,200
2

1/2

"
4

3/8

"

3/4

"

7/16

"
400°
No
ASME B30.10
0000000
0000000
A
3,600
3

5/8

"
6

3/4

"

3/4

"

7/16

"
400°
No
ASME B30.10
0000000
000000

Forged Orange

Powder-Coated

Alloy Steel

B
4,000
3

3/4

"
7

5/16

"
1

7/16

"

3/4

"
400°
No
ASME B30.10
0000000
00000
C
4,000
3

3/4

"
7

5/16

"
1

7/16

"

3/4

"
400°
Yes
ASME B30.10
0000000
000000

Welded Alloy Steel

A
250
1

1/4

"
5"

3/4

"

5/16

"
400°
No
ASME B30.10
0000000
00000
A
350
1

1/2

"
6"

3/4

"

3/8

"
400°
No
ASME B30.10
0000000
00000
A
650
2"
8"

3/4

"

1/2

"
400°
No
ASME B30.10
0000000
000000
A
850
2

1/2

"
9"
1"

5/8

"
400°
No
ASME B30.10
0000000
000000
A
1,200
3"
10"
1"

3/4

"
400°
No
ASME B30.10
0000000
000000
A
2,000
4"
14"
1

1/4

"
1"
400°
No
ASME B30.10
0000000
000000
A
2,750
5"
16"
1

1/2

"
1

1/4

"
400°
No
ASME B30.10
0000000
000000
D
250
1

1/4

"
5"

3/4

"

5/16

"
400°
No
ASME B30.10
0000000
00000
D
350
1

1/2

"
6"

3/4

"

3/8

"
400°
No
ASME B30.10
0000000
00000
D
500
2

1/2

"
6"

3/4

"

1/2

"
400°
No
ASME B30.10
0000000
00000
D
800
3

1/2

"
8

1/2

"

3/4

"

5/8

"
400°
No
ASME B30.10
0000000
00000
D
1,300
3

1/2

"
8

1/2

"

3/4

"

3/4

"
400°
No
ASME B30.10
0000000
00000
D
1,600
3

1/2

"
8

1/2

"

7/8

"

13/16

"
400°
No
ASME B30.10
0000000
00000
D
2,500
4"
8

1/2

"
1"
1"
400°
No
ASME B30.10
0000000
000000
E
250
1

1/4

"
5"

3/4

"

5/16

"
400°
No
ASME B30.10
0000000
00000
E
350
1

1/2

"
6"

3/4

"

3/8

"
400°
No
ASME B30.10
0000000
00000
E
650
2"
8"

3/4

"

1/2

"
400°
No
ASME B30.10
0000000
00000
E
850
2

1/2

"
9"
1"

5/8

"
400°
No
ASME B30.10
0000000
000000
E
1,200
3"
10"
1"

3/4

"
400°
No
ASME B30.10
0000000
000000
E
1,500
3

1/2

"
12"
1"

7/8

"
400°
No
ASME B30.10
0000000
000000
E
2,000
4"
14"
1

1/4

"
1"
400°
No
ASME B30.10
0000000
000000
E
3,000
5

1/2

"
17"
1

1/2

"
1

3/8

"
400°
No
ASME B30.10
0000000
000000
F
3,500
4"
8

1/2

"
1"

3/4

"
400°
No
ASME B30.10
0000000
000000
F
4,500
4"
8

1/2

"
1

1/4

"
1"
400°
No
ASME B30.10
0000000
000000
F
6,000
5"
8

1/2

"
1

1/4

"
1"
400°
No
ASME B30.10
0000000
000000

Welded 316 Stainless Steel

D
200
3"
6"

9/16

"

1/2

"
400°
No
ASME B30.10
0000000
000000
D
300
3"
6"

9/16

"

5/8

"
400°
No
ASME B30.10
0000000
000000
D
500
3"
6"

3/4

"

3/4

"
400°
No
ASME B30.10
0000000
000000
F
1,500
3"
6"
1"
1"
400°
No
ASME B30.10
0000000
000000