About
Nuts,

Materials,

and Finishes
Mil.

Spec.

Rivet-Mount

Nuts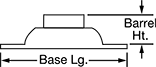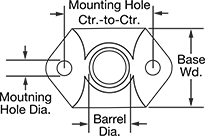 Create threads in hard-to-work areas—where you can't reach the back of a workpiece, or material is too thin to be tapped. For a strong grip, these nuts have distorted threads that increase friction with bolts. Because they mount with two rivets, they won't spin when you're tightening screws. However, these nuts do move inside their retainers, which lets you install bolts at a slight angle; use them to align with off-center parts. All meet military guidelines for dimensions and material.
Cadmium-plated nuts resist corrosion in industrial and saltwater environments, although will lose their corrosion resistance over 450° F. The cadmium plating also adds lubricity, making these nuts easy to install.
A286 stainless steel nuts are corrosion resistant. Silver-plated stainless steel nuts withstand temperatures up to 800° F. The silver plating also adds lubricity and prevents seizing caused by friction between nuts and bolts.
Lubricated nuts thread onto bolts smoothly.
For technical drawings and 3-D models, click on a part number.
Thread
Size

Lg.

Wd.

Thick.

Dia.

Ht.

No.

of
Holes
Hole


Dia.

Hole


Ctr.-to-Ctr.

Specifications Met
Each
4-40

21/32

"

5/16

"

3/32

"
0.125"

1/16

"
2
0.098"

13/32

"
MS21075-04N
000000000
00000
6-32

11/16

"

11/32

"

3/32

"
0.172"

5/64

"
2
0.098"

7/16

"
MS21075-06N
000000000
0000
8-32

45/64

"

23/64

"

3/32

"
0.203"

5/32

"
2
0.098"

15/32

"
MS21075-08N
000000000
0000
10-32

47/64

"

13/32

"

3/32

"
0.234"

5/32

"
2
0.098"

1/2

"
MS21075-3N
000000000
0000

1/4

"-28

51/64

"

1/2

"

3/32

"
0.313"

3/16

"
2
0.098"

9/16

"
MS21075-4N
000000000
0000

Cadmium-Plated

Steel—

Lubricated

4-40

21/32

"

5/16

"

3/32

"
0.125"

1/16

"
2
0.098"

13/32

"
MS21075L04N
000000000
0000
6-32

11/16

"

11/32

"

3/32

"
0.172"

5/64

"
2
0.098"

7/16

"
MS21075L06N
000000000
0000
8-32

45/64

"

23/64

"

3/32

"
0.203"

5/32

"
2
0.098"

15/32

"
MS21075L08N
000000000
0000
10-32

47/64

"

13/32

"

3/32

"
0.234"

5/32

"
2
0.098"

1/2

"
MS21075L3N
000000000
0000

1/4

"-28

51/64

"

1/2

"

3/32

"
0.313"

3/16

"
2
0.098"

9/16

"
MS21075L4N
000000000
0000

Carbon

Steel—

Unlubricated

6-32

61/64

"

13/32

"

1/32

"
0.172"

11/64

"
2
0.098"

11/16

"
MS21059-06
000000000
0000
8-32

61/64

"

13/32

"

1/32

"
0.203"

7/32

"
2
0.098"

11/16

"
MS21059-08
000000000
0000
10-32

61/64

"

13/32

"

1/32

"
0.234"

7/32

"
2
0.098"

11/16

"
MS21059-3
000000000
0000

1/4

"-28

1

19/64

"

33/64

"

1/32

"
0.313"

1/4

"
2
0.098"
1"
MS21059-4
000000000
0000

5/16

"-24

1

19/64

"

39/64

"

3/64

"
0.375"

9/32

"
2
0.13"
1"
MS21059-5
000000000
00000

Cadmium-Plated

Carbon

Steel—

Lubricated

4-40

61/64

"

13/32

"

1/32

"
0.141"

9/64

"
2
0.098"

11/16

"
MS21059L04
000000000
0000
6-32

61/64

"

13/32

"

1/32

"
0.172"

11/64

"
2
0.098"

11/16

"
MS21059L06
000000000
0000
8-32

61/64

"

13/32

"

1/32

"
0.203"

7/32

"
2
0.098"

11/16

"
MS21059L08
000000000
0000
10-32

61/64

"

13/32

"

1/32

"
0.234"

7/32

"
2
0.098"

11/16

"
MS21059L3
000000000
0000

1/4

"-28

1

19/64

"

33/64

"

1/32

"
0.313"

1/4

"
2
0.098"
1"
MS21059L4
000000000
0000

5/16

"-24

1

19/64

"

39/64

"

3/64

"
0.375"

9/32

"
2
0.13"
1"
MS21059L5
000000000
00000

3/8

"-24

1

19/64

"

43/64

"

1/16

"
0.453"

19/64

"
2
0.13"
1"
MS21059L6
000000000
00000

A286 Stainless

Steel—

Lubricated

4-40

21/32

"

5/16

"

3/32

"
0.125"

1/16

"
2
0.098"

13/32

"
MS21076L04N
000000000
00000
6-32

11/16

"

11/32

"

3/32

"
0.172"

5/64

"
2
0.098"

7/16

"
MS21076L06N
000000000
0000
6-32

61/64

"

13/32

"

1/32

"
0.172"

11/64

"
2
0.098"

11/16

"
MS21060L06
000000000
00000
8-32

45/64

"

23/64

"

3/32

"
0.203"

5/32

"
2
0.098"

15/32

"
MS21076L08N
000000000
0000
8-32

61/64

"

13/32

"

1/32

"
0.203"

7/32

"
2
0.098"

11/16

"
MS21060L08
000000000
0000
10-32

47/64

"

13/32

"

3/32

"
0.234"

5/32

"
2
0.098"

1/2

"
MS21076L3N
000000000
0000
10-32

61/64

"

13/32

"

1/32

"
0.234"

7/32

"
2
0.098"

11/16

"
MS21060L3
000000000
0000

1/4

"-28

51/64

"

1/2

"

3/32

"
0.313"

3/16

"
2
0.098"

9/16

"
MS21076L4N
000000000
0000

1/4

"-28

1

19/64

"

33/64

"

1/32

"
0.313"

1/4

"
2
0.098"
1"
MS21060L4
000000000
00000

5/16

"-24

1

1/64

"

37/64

"

7/64

"
0.391"

7/32

"
2
0.13"

23/32

"
MS21076L5N
000000000
00000

5/16

"-24

1

19/64

"

39/64

"

3/64

"
0.375"

9/32

"
2
0.13"
1"
MS21060L5
000000000
00000

3/8

"-24

1

19/64

"

43/64

"

1/16

"
0.453"

19/64

"
2
0.13"
1"
MS21060L6
000000000
00000

Silver-Plated

A286 Stainless

Steel—

Unlubricated

4-40

21/32

"

5/16

"

3/32

"
0.125"

1/16

"
2
0.098"

13/32

"
MS21076-04N
000000000
00000
6-32

61/64

"

13/32

"

1/32

"
0.172"

11/64

"
2
0.098"

11/16

"
MS21060-06
000000000
00000
8-32

45/64

"

23/64

"

3/32

"
0.203"

5/32

"
2
0.098"

15/32

"
MS21076-08N
000000000
00000
10-32

47/64

"

13/32

"

3/32

"
0.234"

5/32

"
2
0.098"

1/2

"
MS21076-3N
000000000
0000
10-32

61/64

"

13/32

"

1/32

"
0.234"

7/32

"
2
0.098"

11/16

"
MS21060-3
000000000
0000

1/4

"-28

51/64

"

1/2

"

3/32

"
0.313"

3/16

"
2
0.098"

9/16

"
MS21076-4N
000000000
00000

1/4

"-28

1

19/64

"

33/64

"

1/32

"
0.313"

1/4

"
2
0.098"
1"
MS21060-4
000000000
00000

5/16

"-24

1

1/64

"

37/64

"

7/64

"
0.391"

7/32

"
2
0.13"

23/32

"
MS21076-5N
000000000
00000