Squeeze-and-Strip

Flat Electrical Cable Strippers

One squeeze strips outer and inner insulation and pulls it off Romex and other types of flat cable. Feed cable through the front of the stripper—the blades automatically adjust to the cable size and strip insulation in the middle or at the end.
Solid
Stranded
For

Wire/Cable

Type
For

Max.


Cable

Wd.

Lg.

Blade
Material
Material
Each
18-10
18-10
Power, Telephone

15/32

"
5

1/4

"
Steel
ABS Plastic

0000000
000000
Ethernet Cable Crimpers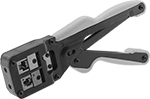 For technical drawings and 3-D models, click on a part number.
For Cable Industry Designation
For

Max.


Cable OD

Lg.

Material
Each

For

RJ11,

RJ12/25,

RJ45 Connectors

Category 3, Category 5, Category 5E, Category 6, Category 6A
0.30"
9"
Steel
00000000
0000000